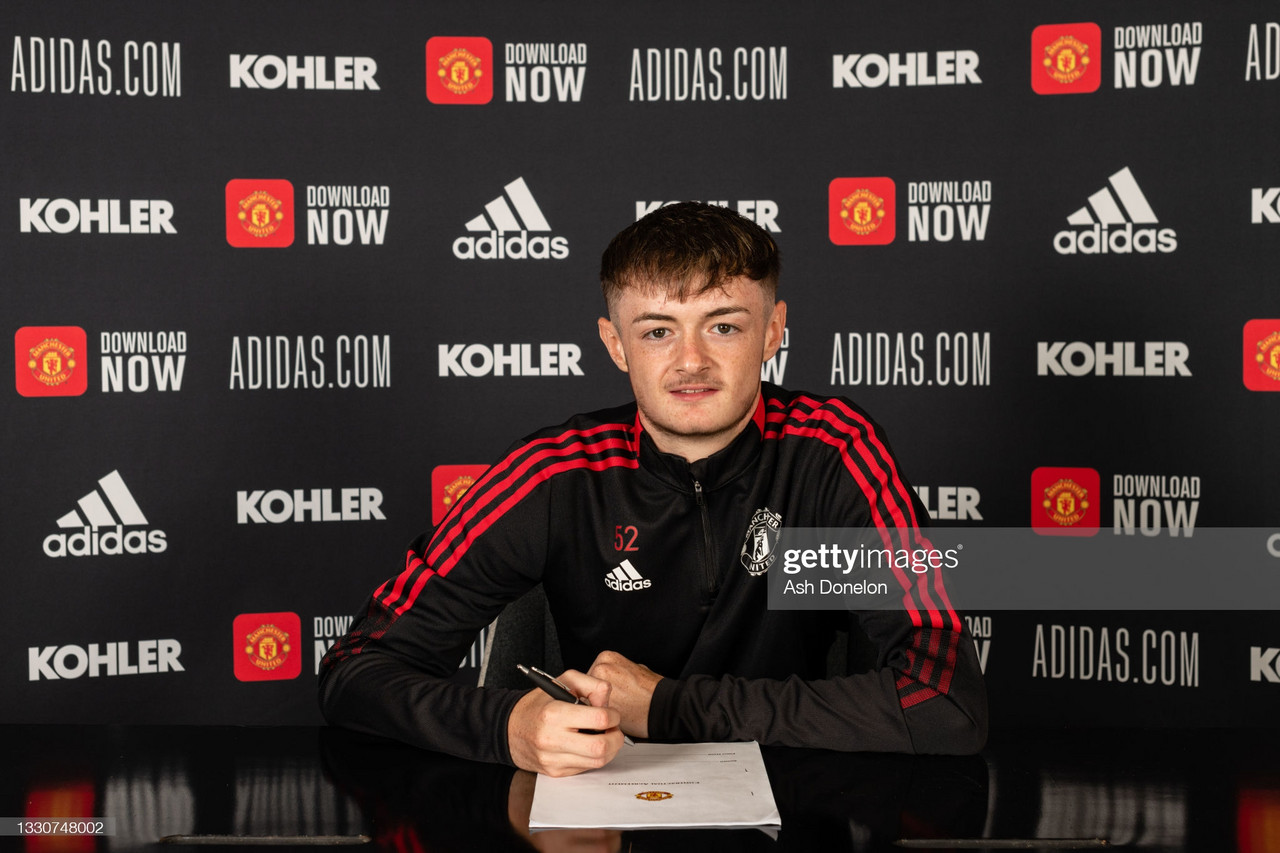 "He's a top striker – we're looking forward to seeing his development," was what Ole Gunnar Solskjaer had to say after Manchester United's development side swept rivals Liverpool aside in the Premier League 2 competition; the elite division for academy players in England.
It would be fair to presume that the Norwegian was discussing his newly-arrived starlet from Italy, as Amad Diallo netted twice against Liverpool shortly after his £17m move from Atalanta in January. But Solskjaer was discussing a different forward, a seventeen-year-old who had indeed arrived that season, but from a relatively more local area.
That man was Joe Hugill.
Solskjær on #mufc Under-23s win over Liverpool: "Four goals by Hugill, he's a top striker as well, we're looking forward to seeing his development. Amad [Diallo] gets a good start and why Joe didn't take the penalty himself to get five goals I'm going to ask him." #mulive [mutv]

— utdreport (@utdreport) January 30, 2021
How did Hugill emerge onto United's first-team radar?
A four-goal haul for the youngster saw United overcome their North-West rivals, and it isn't difficult to see why Solskjaer was impressed – three of his four goals in the victory over Liverpool were eerily reminiscent of the type of efforts Solskjaer himself would net at the Stretford End in his own playing days.
🏁 FT — #MUAcademy U23s: Liverpool 3 #MUFC 6.

A scintillating performance from Neil Wood's side included FOUR goals for Joe Hugill and two for @AmadDiallo_19. Well played, boys! 👏#MUFC pic.twitter.com/LLJ0wo8tbe

— Manchester United (@ManUtd) January 30, 2021
The two strikers strike different figures however; with Hugill standing at 6"2 to Solskjaer's 5"8, but their relentless pursuit of goal is the same. Hugill was namechecked by Solskjaer in press conferences last term – no mean feat with the manager focussing on his own side for the large majority of his week.
But Hugill, the slender but physical forward, had impressed the manager – and United's capture of the Durham-born forward is looking to be well worth the £300,000 paid to Sunderland.
The Academy of Light has been a beacon of hope in some dark days for Sunderland in recent years, with the likes of Jordan Pickford and Josh Maja emerging as promising prospects in the last decade or so. In fact, despite relegation to the third tier, then-chairman Stewart Donald committed the club to retaining a category one status despite the expensive costs it would take to maintain.
But Hugill benefitted from that development with the Black Cats; while the first team slid down the divisions, the youth that developed continued to contend in the U18 Premier League. The striker himself is a Sunderland fan, with just fifteen miles separating his birthplace of Durham and the Stadium of Light.
Though Hugill spent the majority of his youth with the Black Cats, he did spend a year on the other side of the Tyne-Wear divide at Newcastle United, before deciding that black-and-white didn't suit him.
His current club spent years tracking the development of the youngster, with a hat-trick for Sunderland against Chelsea in the under-14s national finals being the first sign of talent for United's academy recruitment.
Fast forward to 2021, and Hugill, despite being aged only seventeen, is well on his way to competing on the fringes of the first-team squad - especially so after a new contract was signed earlier this week.
Could Hugill delay United's pursuit of a striker?
In short, it's unlikely. Rarely do top-level strikers emerge at seventeen, and those that do are often anomalies to an extreme degree – the likes of Wayne Rooney are special cases and do not occur every year.
But United's 'Championship window', to borrow an Americanism, is just opening after their second-placed finish last term, and Solskjaer's new contract commits him and the club to his project that is beginning to reap its rewards.
United's priorities have been on the wing and in defence this summer – the signings of Jadon Sancho and Raphael Varane respectively have confirmed this. A striker isn't expected to arrive this summer, with top target Erling Haaland's release clause kicking in this time next year – the Red Devils will rely on the trio of Mason Greenwood, Edinson Cavani and Anthony Martial to provide goals through the middle this campaign.
But with United fighting on four fronts, and Greenwood and Martial adept at coming off either wing – and Marcus Rashford looking to be injured until October at the earliest – Hugill's chance at first-team minutes could arrive sooner rather than later.
Solskjaer has shown no reluctance to throw youngsters into the first-team if necessary; he seems to be quite keen on the likes of Shola Shoretire and Anthony Elanga – the latter of whom netted twice in two games in United's pre-season campaign, against QPR and Brentford respectively.
Photographs of Hugill from pre-season training have caused excitement among those who follow the academy, with the extended offseason provided by youth football allowing the striker to gain muscle that will only help him as he flirts with first-team opportunities.
However, it's not like Hugill hasn't faced adversity at U23 level – his appearances in last season's EFL Trophy saw him come up against seasoned defenders such as Rochdale's Jim McNulty, the thirty-five-year-old struggling to overpower the then-sixteen-year-old Hugill.
It's a testament to Hugill's youthful professionalism that he has worked to improve himself, as he will no doubt understand chances will be limited with improvements to the first-team coming from his own level and from elsewhere.
But when you've received an endorsement from Ole Gunnar Solskjaer, you must be doing something right.