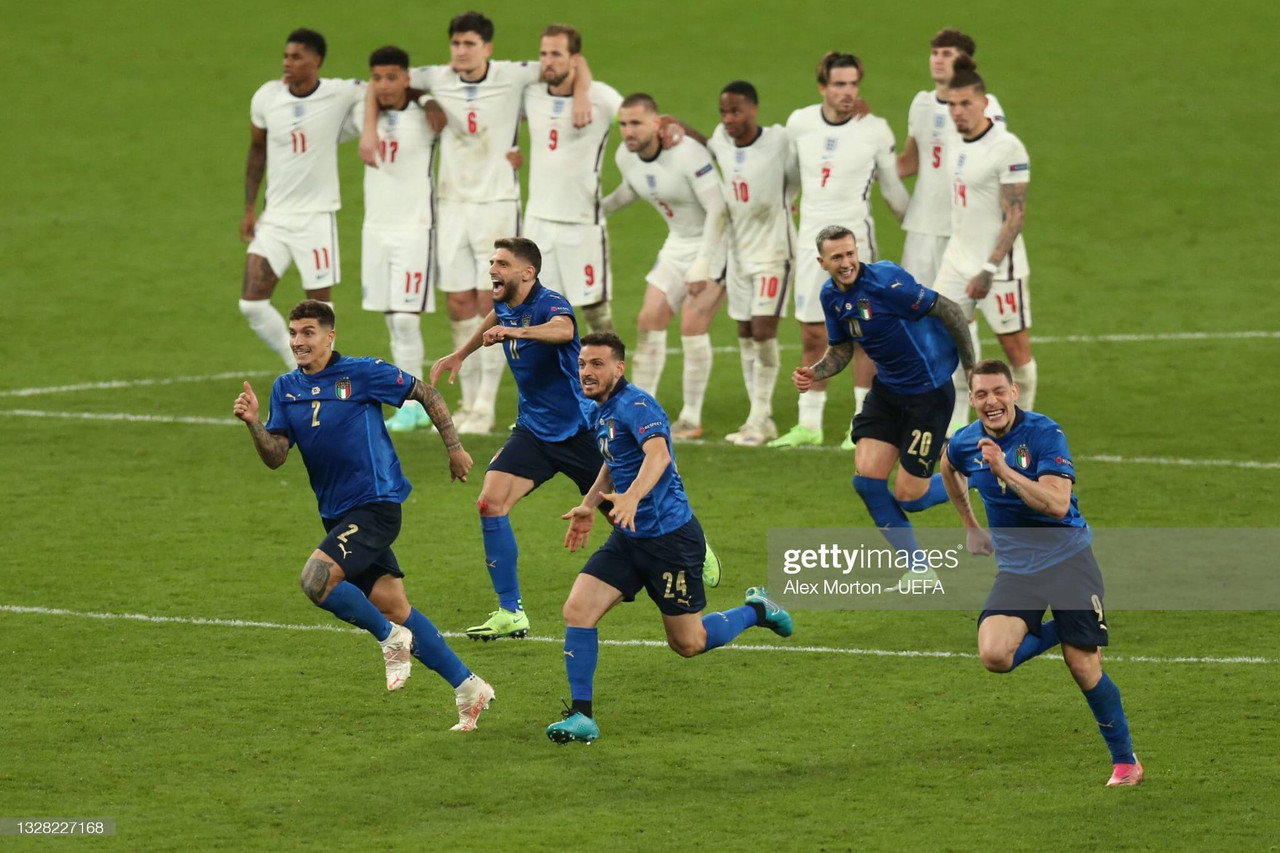 Fine margins, yet again. One misplaced spot-kick, that's all it takes to move from the edge of something so special to prolonging the wait for silverware by a little time longer. Such pressure, such magnitude that no one can begrudge the weight on the shoulders of Marcus Rashford, Jadon Sancho and Bukayo Saka, who stepped up but missed.
With it, 55 years of waiting for the next trophy to be lifted aloft by an England captain will tick over into 56 years. So close yet so far. However, in the cold light of day, England must move on from this. They must realise that, in the end, they lost out to the better team in the final and the tournament. Some may say that this was the best opportunity England had at arresting their long wait, but these players' time will come again.
Few thought anything would top the semi-final appearance in the 2018 World Cup and yet just three years, and one competition, later England not only bettered that achievement but took the country on an even greater journey. No one can deny that what the national team has brought has been something special in itself.
The most hardened football observers will often say that it's the journeys to these climatic finals that provide the true memories. There will still be photos and videos of English celebrations after defeating Germany for the first time in a major tournament since 1966, the memory bank will bulk with visualisations of England's destruction of Ukraine in Rome, and, of course, the aftermath of the semi-final win over Denmark will stay with those present for many years to come.
Yes, losing the final came in the cruellest way and will provide a sour note at the end of a tournament that has offered so much - not least the return of fans to stadiums - but England will learn from this. Just as they did after losing to Croatia in Russia, they will come again under Gareth Southgate.
Even in this final, where England's momentum slipped away after taking an ultra-early lead, there were positives, such as Declan Rice playing out of his skin and Kalvin Phillips alongside him covering more ground than anyone else and so often providing a crucial tackle, vital interception or useful pass.
What's more, the way in which Southgate set up his team, reverting to a wing-back system and maintaining this astonishing sequence of 67 games without sticking to the same XI, instigated the goal with Kieran Trippier finding Luke Shaw who did the rest.
Likewise, the system allowed Harry Kane to drop a little deeper and this was effective in the first half as Giorgio Chiellini and Leonardo Bonucci didn't know whether to go with the England captain or maintain their position - it brought England attacking joy.
Furthermore, in defence, John Stones and Harry Maguire were rock solid in defending Jordan Pickford's goal with Stones making one crucial block to deny a goal-bound Italian shot. Pickford also ends this tournament having only conceded two goals: one a free-kick and the other a Bonucci finish at the back post in the final.
Yet, the only slight qualm from an England perspective was the performance of Raheem Sterling who had his quietest night in a Three Lions shirt for some time and one sensed that had the player of the tournament been on his game then England could have scored more in the opening half an hour.
Despite all of that positivity flowing through England, it is quite counterintuitive to say that Italy were just about the better side at Wembley. They managed 66 per cent possession, more chances and greater shots at goal than England as they warmed into the game once the crowd lowered their voices somewhat.
Roberto Mancini's men will rightly take the plaudits of being the best team of the tournament. They have literally entertained since day one of Euro 2020 and provided a handful of the standout performers across the four weeks in Federico Chiesa, Leonardo Spinazzola and Gianluigi Donnarumma.
Yet, England must look beyond this defeat and at the wider picture. Southgate's clarity, decency and willingness to speak across football has been an uplifting thing to observe.
The current England manager can sometimes seem like the last sensible person left, which takes some doing given the stresses of the job. But what's evident is that England are in good hands. His tactical tweaks, substitutions and astute man-management have been hallmarks of England's flourishing in this tournament.
The structure around the national team is another reason to be positive. The ability to make this younger generation of players feel comfortable representing England is to be applauded. There is no question that England have a cohort of players with supreme talent but Southgate, his coaches and fellow FA staff are clearly able to get the best out of them.
The brotherly love around the enlarged 26-man squad has been apparent from when they first met up. Even those handful of players who didn't even make it onto the pitch during the competition still gave so much in training and urged those selected to be the best they can be. The 'tribal elders' and the young tiros all play their part in Southgate's England.
That is why with another 18 months experience England will be in an even better place heading into the World Cup in Qatar in November 2022. It may seem like a lifetime away now and not particularly something that the players, or supporters, want to think about given the agony of the ending of this tournament, but England will be in a good position by then.
England will come back stronger from this: hungrier, more experienced and street-wise, and definitely as one with Southgate leading the way. There have been huge strides forward during the past five years and especially the last five weeks; this most agonising of defeats must not cloud the progress that has been made.