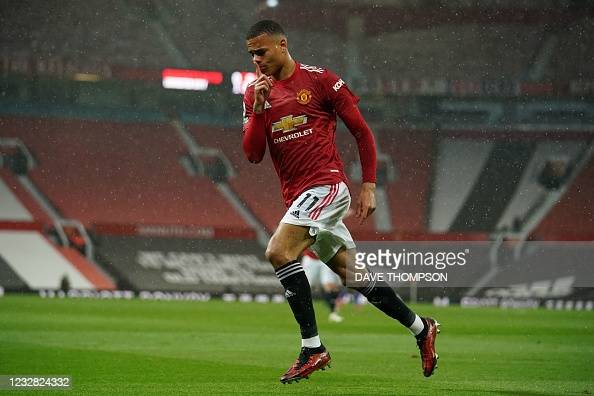 Even before he made it into Manchester United's first-team, it was clear that Mason Greenwood was special.
During the 2017-18 season, he finished as the top scorer of the U18 Premier League North despite still being eligible for the U16's. Goalscoring ability is not a gift that everyone has, especially at a young age, but Greenwood has proved it's a talent that he possesses.
In the summer of 2018, he travelled with the first-team on a pre-season tour to the United States. Jose Mourinho saw the star potential in Greenwood and brought him into the first-team mix, although the Bradford-born forward didn't make his competitive debut for the club until Ole Gunnar Solskjær was named as manager. The debut came in the famous victory over Paris Saint-Germain in the Champions League in 2019. That was the start for Greenwood of what will - hopefully - be a successful career with the club he's been at since the age of six.
Breakthrough
Greenwood opened his scoring for the Red Devils' first-team during the pre-season before the 2019-20 season. He scored against Leeds United and Inter in friendlies and excited fans with his performances. Solskjær decided to put faith in the youngster for a Europa League game against Kazakhstani side Astana early in the season. Greenwood repaid the faith with the game's only goal as he wrote his name in the history books. He became the club's youngest ever goalscorer in European competition at 17 years, 353 days old.
That season was a big breakout season for the teenager. He thrived in the Europa League before Christmas becoming the youngest ever United player to score five goals in a European competition.
🔴 Youngest players to reach 5 European goals for Man Utd:
Mason Greenwood - 18 years, 163 days
George Best – 19 years, 291 days
Marcus Rashford – 19 years, 316 days
Wayne Rooney – 21 years, 162 days pic.twitter.com/PY8vSRGF6p

— Sky Sports Statto (@SkySportsStatto) March 12, 2020
That season was a big breakout season for the teenager. Before Christmas, he thrived in the Europa League, becoming the youngest ever United player to score five goals in a European competition.
Difficult months
However, it's not all been highs for Greenwood. In September 2020, he got called up to the England squad for the first time. He travelled to Iceland for a Nations League game and made his international debut at Laugardalsvöllur in a 1-0 win over Iceland. After the game, Greenwood and Manchester City's Phil Foden made the news for breaking Coronavirus guidelines.
They brought girls into their hotel rooms in Reykjavík, breaking the England squad bubble in the ongoing pandemic. Both Greenwood and Foden were sent home from international duty after breaking the rules.
Everybody makes mistakes, especially when you're as young as Greenwood and Foden. The story got a lot of publicity, and Greenwood received a lot of criticism. The media questioned his attitude, and for an 18-year-old - at the time - that's bound to be difficult.
Greenwood also lost a friend in October of last year. Former Manchester City academy player Jeremy Wisten passed away and that clearly affected Greenwood. He dedicated a goal against RB Leipzig in the Champions League to Wisten.
That one was for you bro ❤️ RIP Jeremy Wisten 🕊 pic.twitter.com/Njc2eRFcHk

— Mason Greenwood (@masongreenwood) October 28, 2020
He's found his footing again
Life is not all sunshine and rainbows. Greenwood has had to grow up fast at a massive club where the spotlight is big. He went through a challenging period off the pitch in the early months of this season. That showed on the pitch as he struggled to recapture his form from the end of last season.
Lately, though, he's been brilliant and a crucial part of the team fighting to finish second in the Premier League and winning the first trophy under Solskjær by going all the way in the Europa League. United has a final later this month against Villarreal.
From the 1st of April, he's scored seven and made one assist in ten games. Amongst the goals is a winner against Brighton and a goal plus an assist after coming off the bench in a 3-1 win over Tottenham. According to Statman Dave, he's been involved in a goal every 89 minutes during this period.
Yesterday he scored the goal as United fell to a 1-2 defeat against Leicester at home. Arguably the biggest weapon in his arsenal is his two-footedness. He doesn't have a weak foot, and that was on display once again yesterday with his goal. He scored with his right foot, which is supposedly his weaker foot. It makes it so difficult to stop him.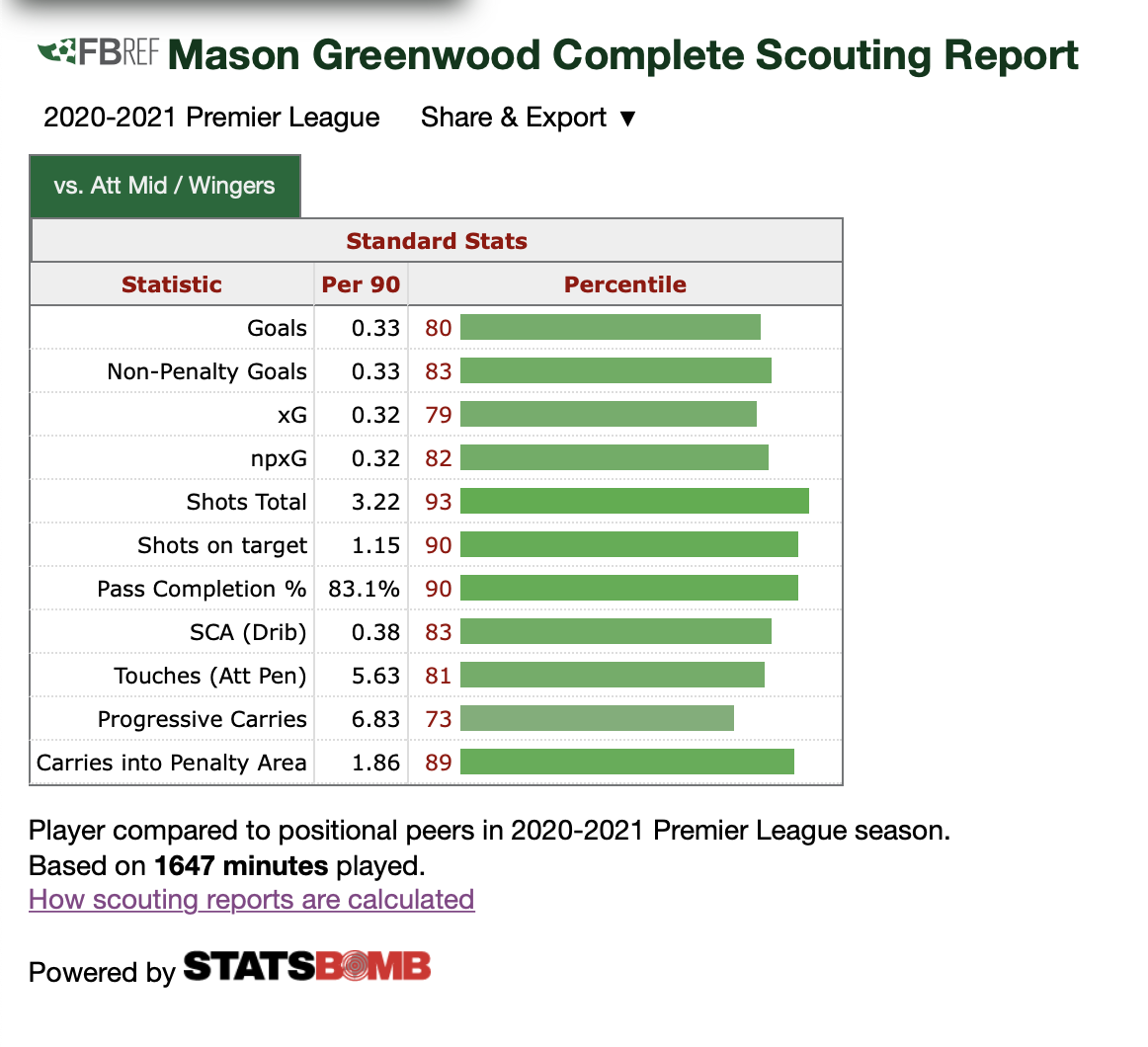 The per90 stats for Greenwood are very impressive, as can be seen in the picture above. The stats are in comparison to other wingers/attacking midfielders in the Premier League this season. Greenwood has mostly acted as a winger for the first-team, while he can also play as a striker.
On the FBref website, the percentile feature is explained as: "Percentiles are calculated by comparing a player's statistics to the players in the comparison pool. For example, when calculating the Goals percentile for Robert Lewandowski, we find the percentage of Forwards whose goals are lower than his, and the percentage of Forwards whose goals are lower than or equal to his. The average of these two percentages is his Goals percentile."
He's got seven league goals this season which is the most by any teenager in the top five leagues in Europe this season. A very impressive achievement by the young Englishman.
A leader on the pitch - Euro 2020?
Greenwood has had tough times, but he's always had great support from his manager, Solskjær. The Norwegian, who played as a striker back in the day, has always supported his young forward and shown him faith.

Last year his attitude was questioned and it was reported that Man United had concerns over his attitude. Yesterday, Greenwood was a leader on the pitch with a lot of maturity according to Solskjær.
"I think he's played really, really well for a long, long spell and today, when he looks to his right and his left and has got Amad (Diallo) and Anthony (Elanga) next to him, two lads making their Premier League starts, debuts, he thinks he's got to be the main man and take responsibility and he did. He was very mature. He looked like a 29-year-old, not a 19-year-old. You saw some definite leadership in the way he had to take responsibility, he knows that," Solskjær said after the game versus Leicester.
Greenwood didn't only show leadership and support on the pitch to Amad and Elanga, he showed his support visibly on social media after the match. He is a role model for these young players - despite being very young himself - after playing more than 100 matches for the first team so far.

Now with the final few games of the season left, Greenwood will be determined to show Gareth Southgate that he's learned from his mistakes and that he belongs in the 26-man squad for the Euros in the summer.
Greenwood is an exceptional talent and it's easy to forget that he's only 19 years old. There have been bumps on the road for him but the future is bright.