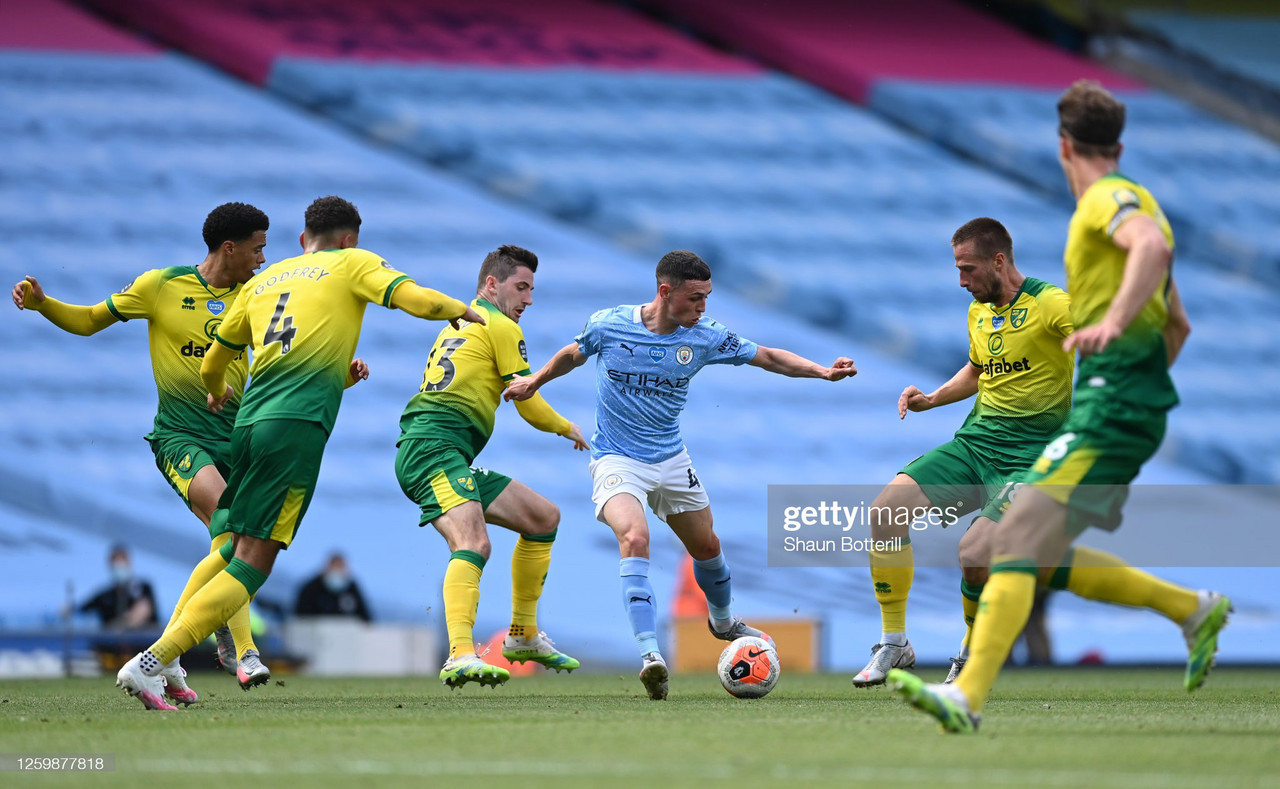 Following on from The Citizens two consecutive 1-0 defeats to Leicester City in the FA Cup and away to Tottenham Hotspur in the Premier League, Pep Guardiola will be expecting nothing less than 3 points against the Canaries to start their campaign of defending their Premier League title.
It's no secret that Manchester City has had a difficult start to the season, with two defeats and their pursuit for Tottenham talisman and England Captain, Harry Kane appearing to be dead in the water at this moment in time.
Man City's need for a new striker showed as they lost 1-0 to Spurs at the Tottenham Hotspur Stadium, and with the reigning Premier League champions gearing up to face Arsenal, Leicester, Chelsea and Liverpool in four of their next five matches after facing Daniel Farke's Canaries on Saturday afternoon. 3 points will be crucial.
Norwich City was beaten 3-0 on their home turf on opening day against Liverpool, a disappointing but expected result given The Canaries disrupted pre-season. Unfortunately, it doesn't get any easier for the Canaries as they face Leicester, Arsenal, Watford and Everton in their next four fixtures after they play a hungry Man City side looking for blood.
However, this may be a good time to face Man City to simply get the big hitters out of the way, and more importantly for Daniel Farke to get his team up to speed before they face relegation rivals, Watford in what could be their first 3 points of the season.
The Citizens will be without Phil Foden due to a foot problem, but they may have Ilkay Gundogan available after what had seemed to be an uncomfortable shoulder injury suffered against Spurs, it seems as if he's been able to shake it off for Saturday's fixture.
It seems there will be plenty of changes to the side that lost to Spurs, with defensive reinforcements in Kyle Walker, John Stones and Oleksandr Zinchenko set to return to the back four and Kevin De Bruyne set to make his return to the starting XI after coming off the bench in his last outing.
£100 million signing, Jack Grealish is expected to keep his place in midfield while Riyad Mahrez and Raheem Sterling are looking likely to keep their place in the wide playmaker roles.
As for Norwich, they will still be without Sam Byram due to a thigh problem, also doubts around the fitness of trio Onel Hernandez, Jordan Hugill and Przemyslaw Placheta due to having to self isolate with Covid-19 protocols. While Andrew Omabamidele may return to the squad after tonsillitis.
There seem to be no fresh injury concerns following on from the defeat to Liverpool, so it would seem that the Norwich head coach has plenty of choices to make. Resting ever-reliable, Teemu Pukki for recruit Josh Sargent may be a good idea given his impressive and bullish cameo from the bench and his on-field connection with Milot Rashica during their time at Werder Breman.
Billy Gilmour looks set to keep his place in midfield after a tough Premier League debut for Norwich, with not many changes expected to be made to Farke's side. Todd Cantwell and Milot Rashica look set to operate on the flanks with a counter-attacking style in mind, with Max Aarons and Dimitris Giannouilis to be deployed in the full-back role to provide the width.
Manchester City: Ederson, Zinchenko, Stones, Dias, Walker, Grealish, Rodri, Gundogan, Sterling, Mahrez, De Bruyne
Norwich City: Krul, Aarons, Hanley, Gibson, Giannoulis, Gilmour, Lees-Melou, Rupp, Rashica, Cantwell, Sargent
Manchester City: Kevin De Bruyne
Despite returning to full fitness Kevin De Bruyne will undoubtedly be terrifying to the opposition. Last time out, scoring twice, both right- footed efforts landing in the top right corner in a 5-0 thrashing against the Canaries.
The PFA Players' Player of the Year, tallying 42 goals and 78 assists in 181 appearences (Premier League). Although, De Bruyne only recorded 6 goals but assisted 12 times last season.
De Bruyne is one of those players that has an eye of the needle pass, with Sterling and Mahrez looking to get in behind Norwich's defence it could be a potent threat.
Norwich City: Milot Rashica
Making his Premier League debut against Liverpool and providing a promising spark on the counter, Rashica might be a key component if Norwich is looking to scrape anything against the Premier League champions.
Rashica is a new member of the Norwich squad in a club-record signing of £9.4 million from relegated 2. Bundesliga side Werder Breman. Exciting, electric and possesses a rocket of a shot, hence the nickname "Rocket Man' given to him from Breman supporters.
Rashica netted 27 times in 100 appearences, including impressive goals against Bundesliga giants Bayern Munich and Borussia Dortmund. Daniel Farke will be looking to use Rashica's speed and eagerness to take on his man throughout this season, a crucial player in Farke's new counter-attacking format.
Going head to head, Guardiola has beaten Daniel Farke's side only once, and Daniel Farke has an impressive win against Man City back in the 2019/2020 season. That day, Norwich made club history. 8 players missing and 2 goalkeepers on the bench at the time in what seemed to be a thankless task. Farke's men defeated the odds and deservedly beat Man City 3-2 at Carrow Road playing them at their own game. Goals from Pukki, Cantwell and Mclean proving to be the difference.
Last meeting was a torrid afternoon for Norwich as they were walloped 5-0 at the Etihad Stadium behind closed doors. Goals from De Bruyne, Jesus, Sterling and Mahrez were the difference. Meeting back in 2015, Norwich nearly scraped a point away from home, but an 89th minute penalty from Yaya Toure secured all 3 points for the Citizens. Before that, Norwich impressively beat the Citizens 3-2 with a solo run goal from the half-way line scored by Johnny Howson.
So surprisingly, Norwich do have history of competing well against the top sides. We shall see wether the Canaries can outsmart a driven Pep Guardiola at 15:00 BST on Saturday 21st August.
What the managers have said
Both are friends. Both are admirers of how they go about their business. Farke and Guardiola as always, have plenty of postive thoughts about one another. However, when the whistle blows it's all about the 3 points.
"Daniel is an exceptional manager," said the Spanish head coach of his friendly counterpart. "I enjoy a lot watching his teams play. They have the quality and this is a team that is going to try to play. We are going to face a really good team, their proposal is always so interesting."
Guardiola insists that he knows what is expected of his Man City side and hopes the team will produce an improved performance than last time out against Spurs. "We want to be close to the top of the league, but it is the second fixture. Many things will happen this season. Hopefully, we will win the game, but i hope to see the team better in many aspects from Spurs."
Norwich head coach Farke had this to say about his Spanish counterpart. "No coach over the past 15 years has influenced football the way Pep has influenced football. He is a trendsetter. He was playing with a false nine before anybody knew what a false nine was. I think he is a genius with what he is doing."
The German head coach isn't "naieve" as he likes to say in many of his press conferences, he is aware of the tough task at hand but his team are well prepared for a battle. "My players are not stupid," he said, "they will know who they are facing."
"I don't believe in hiding behind these facts. They know they are facing a world-class side. I think the best way is to be analytical. We will speak about their strengths. The times as a coach you say: 'We won't worry about them, we just concentrate on ourselves', those times are gone. The players want information, but it is about finding that balance."
Farke hasn't forgotten about his "little yellow wall" he believes the 1450 Norwich fans have a massive part to play if they are to get anything from the match.
With the match taking place at (15:00) BST on Saturday 21st, unfortuantely the game won't be available to watch in the United Kingdom. However, In the United States, the game will be available on NBCSN and the NBC Sports App. beIN Sports Premium and beIN Sports English will broadcast the match live in the United Arab Emirates.