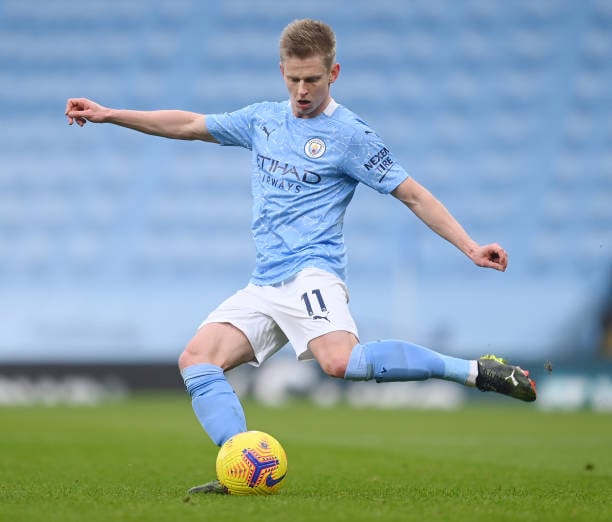 This season
Oleksandr Zinchenko has been slightly out-of-favour so far this campaign, with the reinvention of Joao Cancelo as a right-footed left-back keeping the attacking midfielder-turned-defender out of the side.
However, the injury of Kyle Walker gave the Ukraine international a chance to play to his true potential. A place in the City Starting XI in a 3-1 win against Chelsea at Stamford Bridge proceeded six consecutive games for Zinchenko, before losing his place to Aymeric Laporte at Turf Moor.
His recent run in the side has boosted his number of appearances in this Premier League season to eight, whilst keeping Benjamin Mendy on the City bench - a man who signed for a then world-record transfer fee for a defender back in 2017.
Pep Guardiola has recently praised the young defender saying: "He pays a lot of attention, he doesn't make mistakes about what he has to do to help the central defenders and the other ones."
"He has made an incredible step forward in the last weeks and is playing in important games at Stamford Bridge and [Sheffield] United. He's playing at a high level."
At City overall
After starting in City's rather convincing win over current Premier League champions Liverpool, Zinchenko has reached the milestone of 50 league appearances.
These appearances alongside the other competitions, including the Champions League, the total of appearances is closing in on 100 in City colours with 87 so far.
The Ukrainian has come a long way since his Ufa playing days in the Russian Premier League, with two Premier League titles to his name (and hopefully many more trophies to come).
The Ukrainian has one goal to his name, and what an emphatic goal it was. Despite being converted to a defensive-minded player, he is more than happy to get forward at any opportunity which led to his first goal coming in a 9-0 thrashing of League One side Burton Albion in the EFL Trophy.
Ukraine
Zinchenko primarily plays as an attacking midfielder for his country and is one of the first names on Andriy Shevchenko's team sheet.
After making his international debut back in 2015 against Spain in a UEFA Euro 2016 qualification match, he has since made a total of 35 appearances with five goals to his name.
His first goal, which came in a friendly against Romania, broke the record for Ukraine's youngest goalscorer, previously held by Shevchenko - the current Ukraine manager.
Future at City?
During the January transfer window, Citizens made it clear that they wanted change in Zinchenko's position - Theo Hernandez from AC Milan being the front-runner.
However, with the chance to buy a player gone until the Summer, Zinchenko seems set to be the primary left-back for the rest of the season but faces serious competition from Cancelo.
Although back from injury, Benjamin Mendy is being kept out of the side by the Ukranian and will need a drop of form from Zinchenko to have any chance of starting.
Being Guardiola's first choice will give him the chance to develop even further and adapt to the new role he is being played in, while winning the hearts of Citizens all over the world.