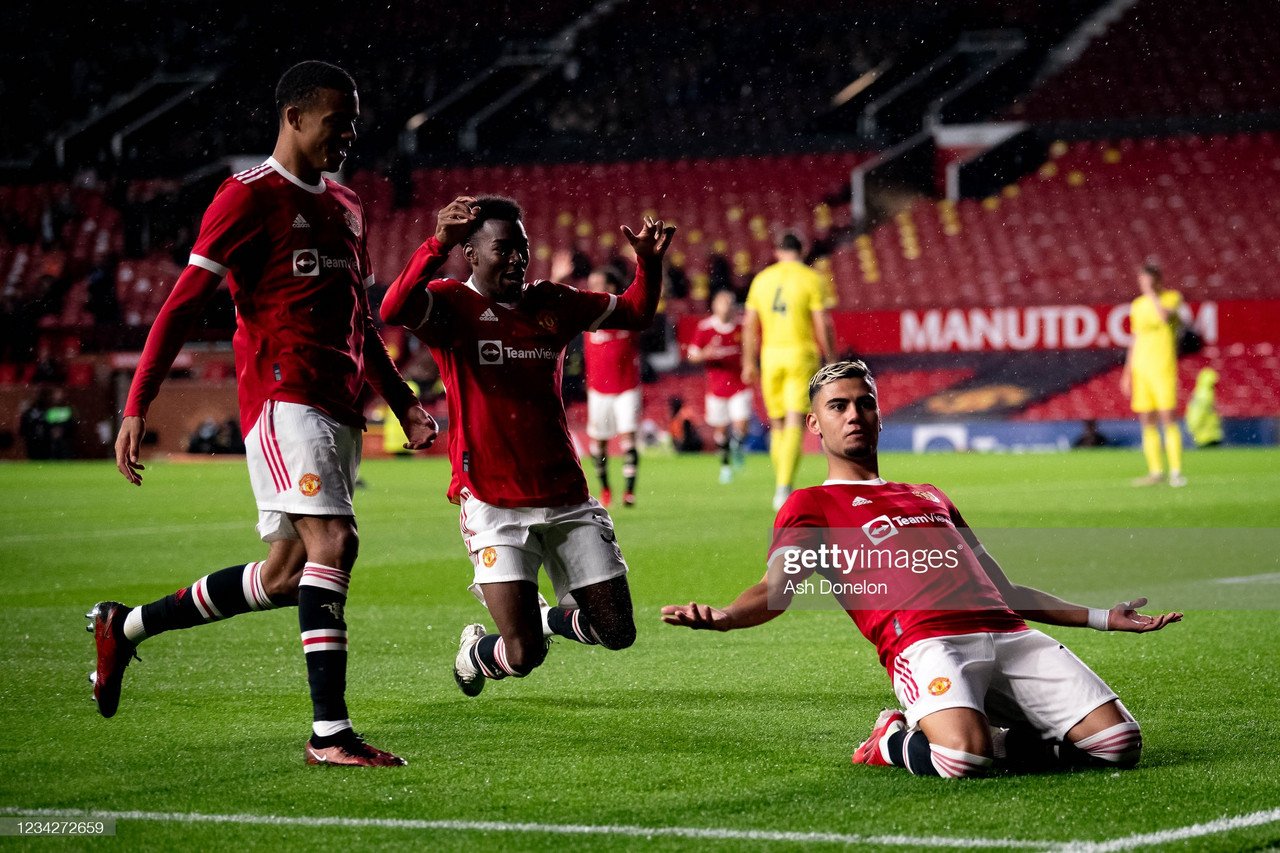 Manchester United were tested to the maximum against a Brentford side who came up against the Red Devils for the second time in their history, the last term Sir Alex Ferguson was at the helm back in 2013. Andreas Pereira took the headlines on the night with his thumping strike from just outside the box smashing into the top right hand corner of the net, helped on its way by the woodwork. Although questionably the same could have been said for both of Brentford goals at Old Trafford.
United started proceedings cautious of Brentford's approach as they were hungry to get into the faces of the hosts. The massive presence of the fans returning instantly boosted United's chances with 30,000 behind them cheering on every minute, Aaron Wan-Bissaka linking up nicely with Anthony Elanga, a well worked move ending in an expertly finished opener for the Red Devils after 12 minutes gone on the clock. United were secure in possession of the ball until Shandon Baptiste put Brentford level. Ivan Toney fighting to keep a corner alive, the ball dropping to Baptiste in the box who volleyed it home first time off the underside of the crossbar.
As a lively first half came to an end with both teams level pegging, United made sure they started taking off from the first period of the game, Pereira on hand to fire one into the top corner to gasp the United fans into voice, a ruthless hit from the 25 year old midfielder. Brentford did get a late goal through Bryan Mbeumo in the 78th minute beating Diogo Dalot to the ball cutting inside and curling the effort just inside the far post to end an exciting goal fest with fantastic goals either side.
The game was shared in possession but United just about had the better of it, the Red Devils utilising the ball pretty well able to pounce on their higher statistical shots on target, with Brentford looking to breakdown Man United right till the end to try and find the winner. Man United had 11 shots on goal during the game compared to Brentford's three, with five shots on target to the away sides three. The possession count for the Red Devils was higher with a 57% to 43% ratio at Old Trafford. The total pass count for United was a much higher 547 to Brentford's 411. The Manchester side also had the better passing accuracy of 90% to the visitors 88%.
Solskjaer praised Andreas Pereira's phenomenal goal and Anthony Elanga's performance
The United boss was intrigued by Pereira's fantastic strike from range and spoke about Anthony Elanga's personality, he said:
"That hit from Andreas was out of this world. I was thinking please take a touch, but he's skilful, Andreas has got technique. What a hit. Anthony Elanga is electric, his energy, enthusiasm. He's really enjoying himself. He can play wide right, wide left up front, anywhere across the front line, so he's going to be an asset."
With another pre-season friendly to come questions surrounded the involvement of a few players
Preston North End next on the roster for the Red Devils could mean game time for a few more, although a minority are due to miss out.
"The Preston game might be too soon for players who haven't featured in pre season yet. Maybe one or two sub appearances. Maybe we can start Diogo Dalot and Donny Van de Beek. Lets see how the boys have come back."
On Raphael Varane's deal which has been agreed in principle
Solskjaer gave his take on Raphael Varane as a professional and what this means for Manchester United as a football club.
"Very happy that we have managed to get a deal with Real Madrid for Raphael Varane, he is a proven winner. He is a player we have followed for many years. Sir Alex was very close to signing him. With him we have different ways of playing. Can't wait to get him in hopefully we can get him sorted as soon as possible and make him feel welcome. Raphael Varane is in his prime he is the same age as Harry Maguire, a year older than Eric Bailly and a couple of years older than Victor Lindelof, so there I have got a fantastic group of centre backs."