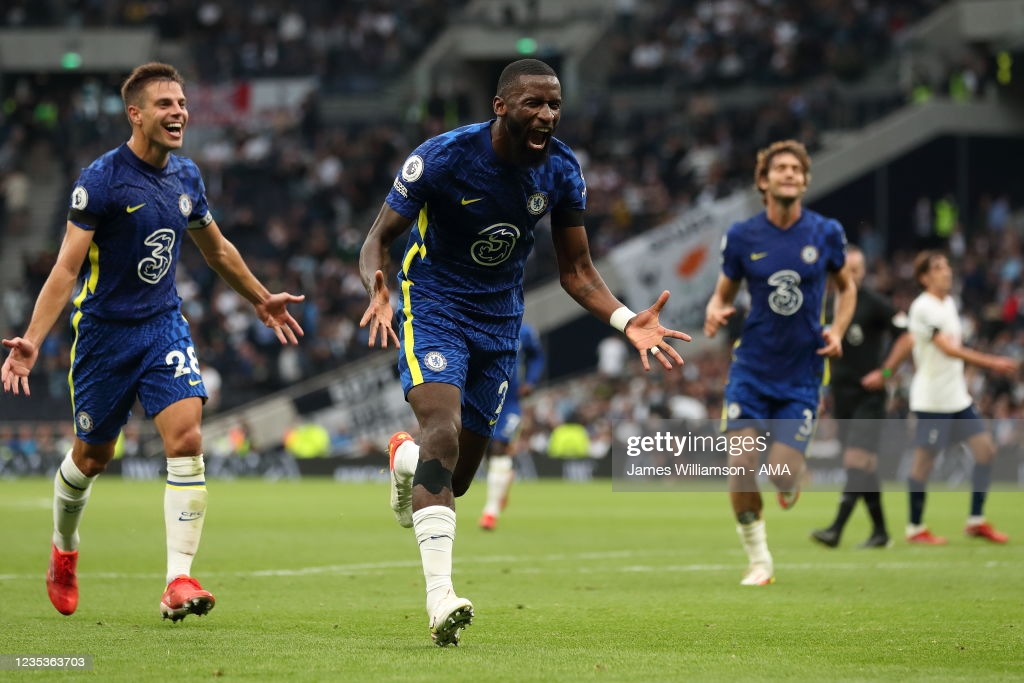 A clinical second half display from Chelsea saw them put their London rivals to the sword in what was the world's first carbon zero football match.
In what was a very tactically-led game, Chelsea managed to get the better of their North London counterparts thanks to goals from Thiago Silva, N'Golo Kante and Antonio Rudiger,, despite Tottenham dominating large periods of the first half.
The victory moves the much-fancied Chelsea up into second in the league, behind early leaders Liverpool only on goal difference.
The game itself was a groundbreaking one. A partnership between Sky, the Premier League, COP26 and Tottenham Hotspur attempted to make this game the world's first football match to be 'carbon neutral.'
This included the players being transported to the stadium in coaches powered by renewable fuel produced from food waste products, the use of LED lighting in the stadium as well as the installation of waterless urinals.
Chelsea's early struggles down to tactical brilliance from Nuno
Territorially atleast, Spurs got the better of Chelsea in the first half and probably should have made their advantage count. However, they failed to carve out any clearcut chances, although Heung-Min Son probably should've done better with a one-on-one opportunity against Kepa Arrizabalaga.
It was almost as if the Blues were caught out by Tottenham's intensity, who opted for a high tempo, pressing game rather than a counter-attacking approach that manager Nuno Espirito Santo normally prefers against the better sides.
Son was sent out to try and run Chelsea's 36-year-old centre-back ragged with his pace, whilst star striker Harry Kane occupied Antonio Rudiger on Chelsea's left-hand side.
The approach clearly caught Chelsea out, who had to resort to desperate defending at times. However, Spurs didn't make the most of this situation and still couldn't find a way past Chelsea's impressive defence, who are yet to concede a goal from open play this season.
Tuchel's half-time switch completely changed the game
Chelsea fans are used to their manager Thomas Tuchel getting things absolutely spot on, and today's game was no different.
Having seen his midfield getting overrun by the likes of Pierre-Emile Hojbjerg and Tanguy Ndombele in the first half, Tuchel decided to take star man Mason Mount off the pitch at half-time, and replaced him with N'golo Kante.
This gave Chelsea a three-man midfield and allowed Chelsea to gain control of the midfield area. This gave Jorginho more time on the ball, which can only be good from a Chelsea perspective.
It was only four minutes after the break that Chelsea then took the lead, after a corner from Marcos Alonso was brilliantly headed home by Thiago Silva.
The 36-year-old started from a position outside of the box but made a run into the area and climbed high above Spurs' Eric Dier and Dele Alli.
From that moment forward, Chelsea were completely on top and, just a few minutes later substitute N'Golo Kante scored to all but end Tottenham's hopes.
When Kante received the ball 25 yards out, no Spurs player were willing to close him down. So, Kante took that as an invitation to shoot and shoot he did, seeing his shot fly off Eric Dier to leave Hugo Lloris with no chance.
Tottenham appeared to drop their heads a bit after that, and Chelsea easily could have scored a hatful more. Antonio Rudiger capped off a brilliant afternoon for the Blues with a smart finish after some brilliant play from Timo Werner.
Heung-Min Son decided to target Silva in the first half, presumably because the 36-year-old has lost some of his pace and potentially Son felt as though he could exploit that.
But what Thiago Silva certainly hasn't lost is his experience, his footballing know-how. Son was restricted to just a couple of half-chances by a brilliant Chelsea defence.
As well as his excellence at the back, Silva was a clear threat from set-pieces and could have scored more than just the one he did get. But his goal was an exceptional header, climbing way higher than Dier and Alli, who are both several years his junior.
An all round brilliant performance by the Brazillian.