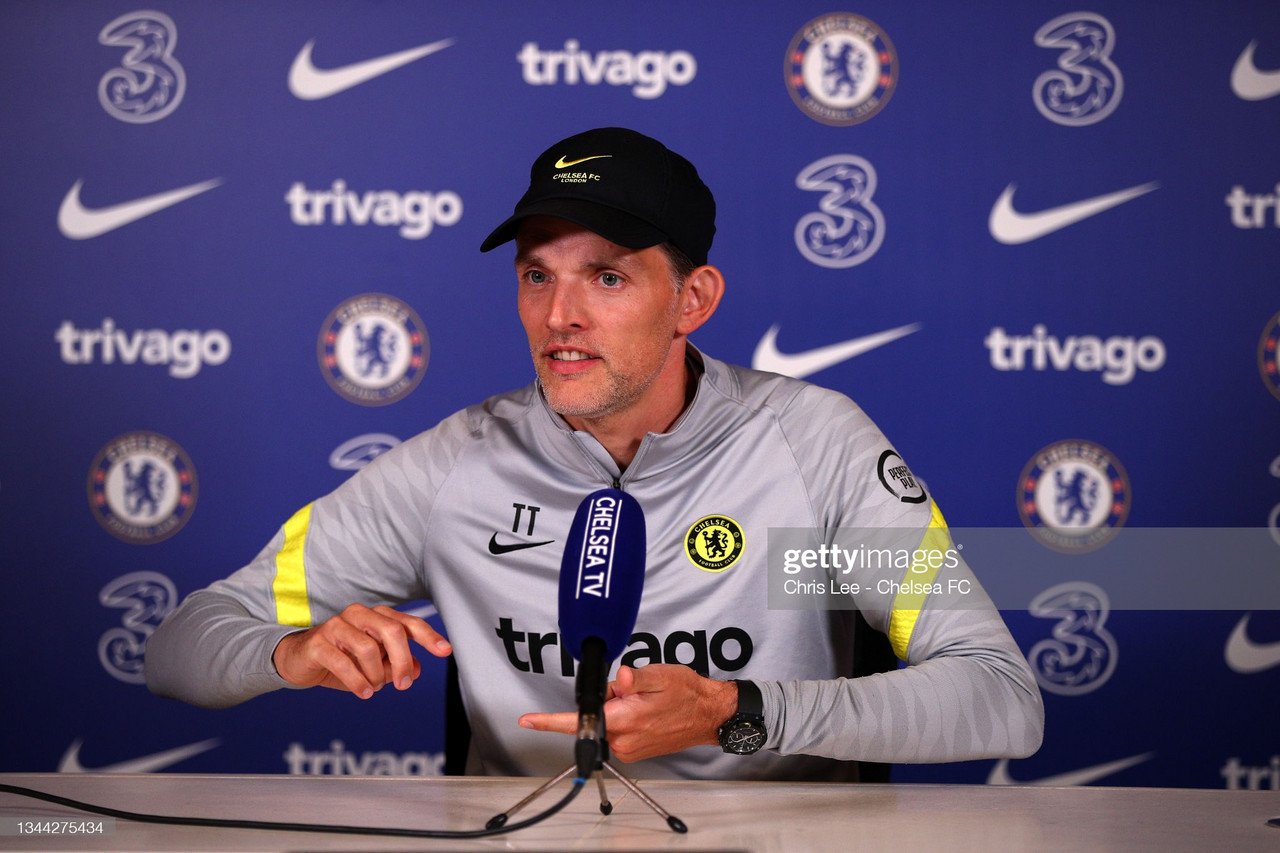 In the final game before October's international break arrives, Ralph Hasenhuttl's Southampton travel to Stamford Bridge to face Thomas Tuchel's Chelsea on Saturday afternoon.
The two teams have had contrasting starts, with the Blues sitting in third place, while the Saints are languishing in the bottom half with just four points in 16th, still without a win.
Nevertheless, Chelsea have slipped up recently with losses to Manchester City and Juventus in their past two games, so all hope is not lost for an otherwise pessimistic Southampton side.
Prior to Saturday's game, here are the five key quotes from Thomas Tuchel's press conference...
'We meet of course in coaches meetings but it's also a lot over the years, he's very friendly and we met in Paris for some days. So he's a very nice guy, humble, entertaining and funny.'
'The teams he has trained have always had the same philosophy: high intensity, high pressing and ball recoveries and on a very high level. They have a very fast, aggressive team.'
With both coaches having managed in the Bundesliga - Tuchel for Borussia Dortmund, Hasenhuttl for RB Leipzig, the two are familiar counterparts when it comes to being on the touchline against one another.
It's clear the two are on good terms with a genuine friendship between them from the similar career paths they have followed, though that of course will not be relevant when their sides face off on Saturday.
The familiarity of the opposition coach may even provoke more of a will to win for both managers, despite the obvious respect each one has for the other with regards to not only as a football tactician but also as a person.
Injury News
'When I saw it [the England squad announcement] I thought that maybe Reece [James] goes with the water polo team for England because right now he trains in the pool. So this will not happen [...].'
'And for Mason [he] is in the squad, he's back, it was not a long injury, a minor injury. We're happy that he's back and it's obviously a given that he's nominated [for England].'
Confirming your #ThreeLions squad for October! 🙌 pic.twitter.com/nY96EqnmpL

— England (@England) September 30, 2021
Firstly, with regards to Reece James it appears there has been some sort of communication mix-up between Chelsea and Gareth Southgate, with the right back still undergoing physiotherapy for an injury he suffered last weekend.
While he will be out, his compatriot Mason Mount will return to the side in a welcome boost for both the manager and Blues' fans alike, with the team evidently missing him in the last two games.
Judging by the lack of mention for Christian Pulisic, it seems he remains out, and N'Golo Kante is still isolating due to his positive Covid-19 test revealed earlier in the week.
Tino Livramento's Departure
'He was highly rated, we did everything to keep him here, to show him his future and his possibilities to compete also for a position in our team. He decided to go, that's his decision, that's one we have to accept with no hard feelings [...].'
'The group is not too big so there was a big chance also to make it all the way. If Tino [Livramento] decided to go that's fair enough, we wish him all the best and this is what it is.'
#SaintsFC is delighted to announce the signing of exciting young full-back Tino Livramento from #CFC:

— Southampton FC (@SouthamptonFC) August 2, 2021
It will be the first game between the two sides since highly-rated right back Tino Livramento made the switch from the capital to the South coast during the summer transfer window.
Touted as a possible replacement for Cesar Azpilicueta when the Spaniard moves on, there were high hopes for the 18-year-old at Stamford Bridge.
As it was however, he elected to go for the option of more guaranteed first team football, and so instead will get the chance to face the club he was at from seven years old on Saturday afternoon.
Struggles in last two games
'Did we play at our very best level? No. We had the feeling against Man City [that they] made us underperform on this very special day at Stamford Bridge.'
'We felt very well prepared in totally different circumstances to play against Juventus. Could we reach our very best level? No. It's hard if you're responsible for the rhythm, the energy, for the intensity. It's a concentration game in the end.'
After enjoying an almost perfect record in the first few games of the season, Tuchel's side have slipped up in the last week, with the German coach recognising his side's subpar performances.
As he mentioned, they were two very different games, with the first being a relatively convincing loss against a side who were clearly far better-drilled attacking-wise.
In contrast, the loss to Juventus was more frustrating due to the sheer amount of the ball the Blues were given, yet they failed to do very much with it, much to the annoyance of Tuchel himself as was evident watching him on the touchline.
Lukaku's lack of involvement
'Like I said, we have games where he was fully involved but now we have games like Manchester City where of course he was isolated, City made him that, our transition did that as well. There will always be matches like this.'
'Sometimes you have these games so maybe this one is not a reference game. It is right [that he has looked isolated] but nothing major to worry about. We are aware of it.'
While it may seem slightly too reactionary to suggest that Romelu Lukaku has stopped being part of Chelsea's attack based off of two games, there is some truth to the statement.
The Belgian has indeed looked surprisingly isolated from the rest of his teammates throughout the game, particularly when the opponent specifically finds a way of shutting him off, as City did.
However, with Tuchel unconcerned by the issue based on the very small sample size of the observation, particularly given the extremely brief time the 28-year-old has been at the club for, it seems the lack of involvement is nothing to worry about at this stage.