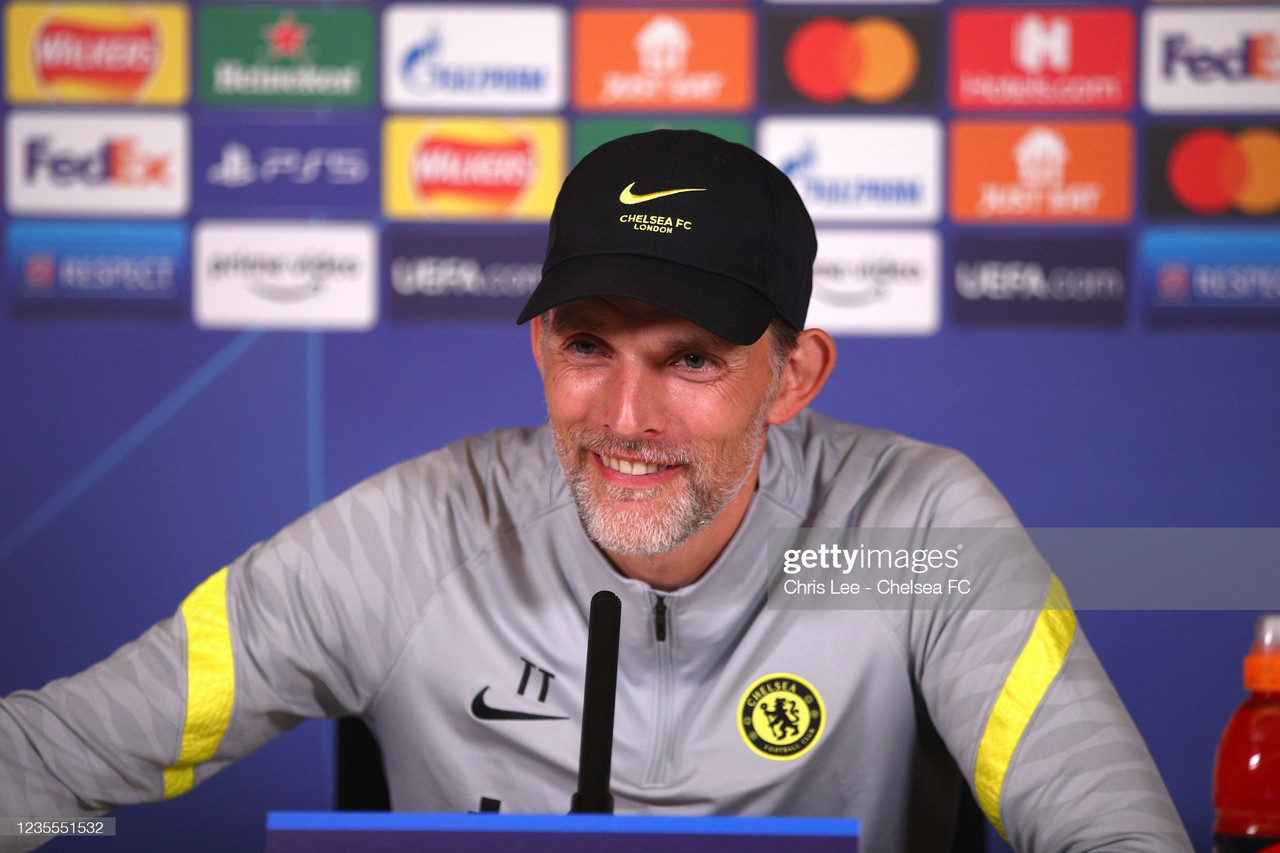 Thomas Tuchel faced questions from the press on Tuesday lunchtime, prior to Chelsea's trip to Italy to face Juventus in the Champions League group stage.
The two sides both won their opening games, against Zenit St Petersburg and Malmo respectively, so will be looking to kick on and secure another three points.
With responses ranging from his opinion on how the game might go to updates on injury news and the competition as a whole, here are the five key quotes from Tuchel during his press conference...
Team News
'Christian [Pulisic], Reece [James] and Mason [Mount] are out due to injury. N'Golo [Kante] unfortunately tested positive [for Covid-19], and needs to have time and follow the government protocols.'
'He was not in training today and of course was not with the group.'
#CFC midfielder N'Golo Kante has tested positive for Covid-19 and has gone into self-isolation.

— Sky Sports News (@SkySportsNews) September 28, 2021
After getting through the first few games of this season relatively unscathed in terms of injury issues, Tuchel now has a lot on his plate when it comes to those who are absent.
Christian Pulisic's ongoing injury saga will be frustrating as squad depth is thinner without the American being fit, as well as Mason Mount who continues to suffer from a knock picked up against Aston Villa.
Reece James' unavailability is less of surprise, given he went off injured in the first half on Saturday during the 1-0 loss to Manchester City.
However, the loss of N'Golo Kante will be a big blow, especially considering this likely means the Frenchman will also miss this weekend's Premier League fixture with Southampton at Stamford Bridge.
'Maybe the expectation, you know, it's hard to be seen as an underdog when you just won the title but I think we came from a role not as the favourites last season, we grew in confidence and got better every match.'
'We have the experience that there's a higher value to play against us, there's a higher motivation to play against us. We have to accept this, it's our fault - we have won this competition.'
With Tuchel rightly praised enormously for the speed at which he transitioned Chelsea into European Champions, there are far greater expectations on the team than there were just a few months ago.
The German boss clearly recognises that those assumptions now exist as a result of their own achievement - a slight catch 22 scenario inflicted upon themselves.
However, he also makes clear that such expectations are normal and in fact can be used to their advantage - after all, there's not much better motivation than knowing your side is categorically the best in Europe.
Thoughts on Juventus
'They are so experienced they will enjoy the different competition. Yes, they had some troubles in the start, a bit of a rough start according to results in Serie A, but they were very convincing in the Champions League [...].'
'We're playing Juventus at Juventus, it's a no-brainer that it demands respect for the quality and tradition of this club.'
Although Juventus haven't had the best start to the season in their domestic league, the change in competition may in fact provoke an unexpected performance.
Massimiliano Allegri's side still possess a large amount of quality, even with players like Paulo Dybala and former Blues' striker Alvaro Morata not fit for the game.
Therefore, it will be reassuring to Chelsea fans that Tuchel is not underestimating his opponent and will prepare for it with as much concentration as he would any other against a top European side.
New Pressing System With Lukaku
'Yes, because it's a normal thing, because you always adapt to the players you have with their strengths and weaknesses. We've already shown we can play a high-pressing game and have high ball recoveries with Romelu [Lukaku].'
'It's a very complex game where we have to be in all the spaces, but the best way to defend is having the ball and then to counter-press without the ball.'
With Chelsea's main summer signing Romelu Lukaku being a club record transfer fee, it is unsurprising that Tuchel has slightly adjusted his tactics to fit the Belgian.
The 28-year-old has already become an integral part of the team, not only in terms of scoring goals but also helping out defensively to press high up the pitch.
Clearly, this system involves many individual instructions that the Blues' boss will not share publicly, but being aware of the slight technicalities as a result of different players being on the pitch gives an insight into the tactical mind of Thomas Tuchel.
Players Getting Vaccinated
'I am vaccinated, I took the position for myself but I don't really see myself in a position to speak out proper recommendations, I think that would go too far.'
'I'm a football coach, I'm not a 100% expert in this and I would leave it up to them. I am absolutely not afraid of having bad reactions [to my views on the vaccine]. If I am convinced about something I will speak out publicly, but I'm a football coach.'
On what is evidently a contentious topic, Tuchel planted himself squarely on the uncontroversial area of the ongoing debate surrounding vaccinations.
With the loss of N'Golo Kante due to Covid, the issue of vaccines was brought up again, but evidently it is not the manager's place to give an ultimatum, or anything else of the sort, to those who are choosing not to have the jab.
As with many other coaches in the footballing world, the 48-year-old has had to strike a fine balance between expressing his views without causing too much debate - evidently something not in the 'manager's handbook' he would've expected when he started the job.