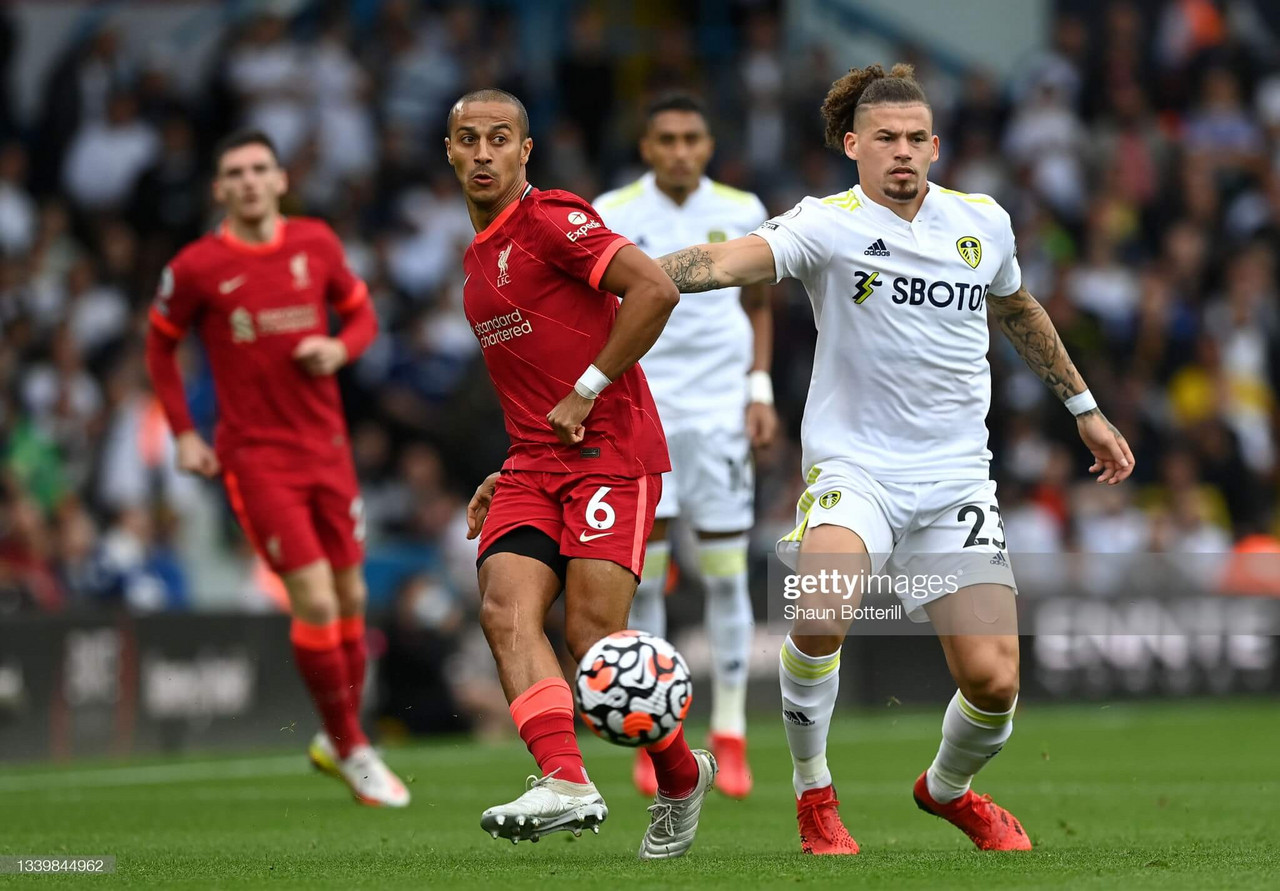 This was arguably Thiago Alcantara's best display in a Liverpool shirt to date. After a topsy-turvy first season at Anfield, which featured injury, a disrupted pre-season and at times an indifferent team, the Spaniard is becoming an instrumental part of Jurgen Klopp's starting lineup.
Thiago started his first game of the campaign at Elland Road and appeared to enjoy his afternoon in Yorkshire. It is clear that Fabinho being back in his regular position in the sitting midfielder role has allowed a relationship between the pair to develop. They sat as a two in a 4-2-4 formation against Leeds with Fabinho's sweeping up and covering of spaces affording Thiago the time to be a little braver further forward.
What was striking was Thiago's vision and passing quality despite being in the middle of the Leeds maelstrom. Whenever a team faces Marcelo Bielsa's side they know that there is going to be a heap of energy, a high tempo, plenty of man-marking and the odd chance to take advantage of. That was the case as time again Thiago picked a pass to release Sadio Mane or Mo Salah who continually turned their marker in the high octane first half.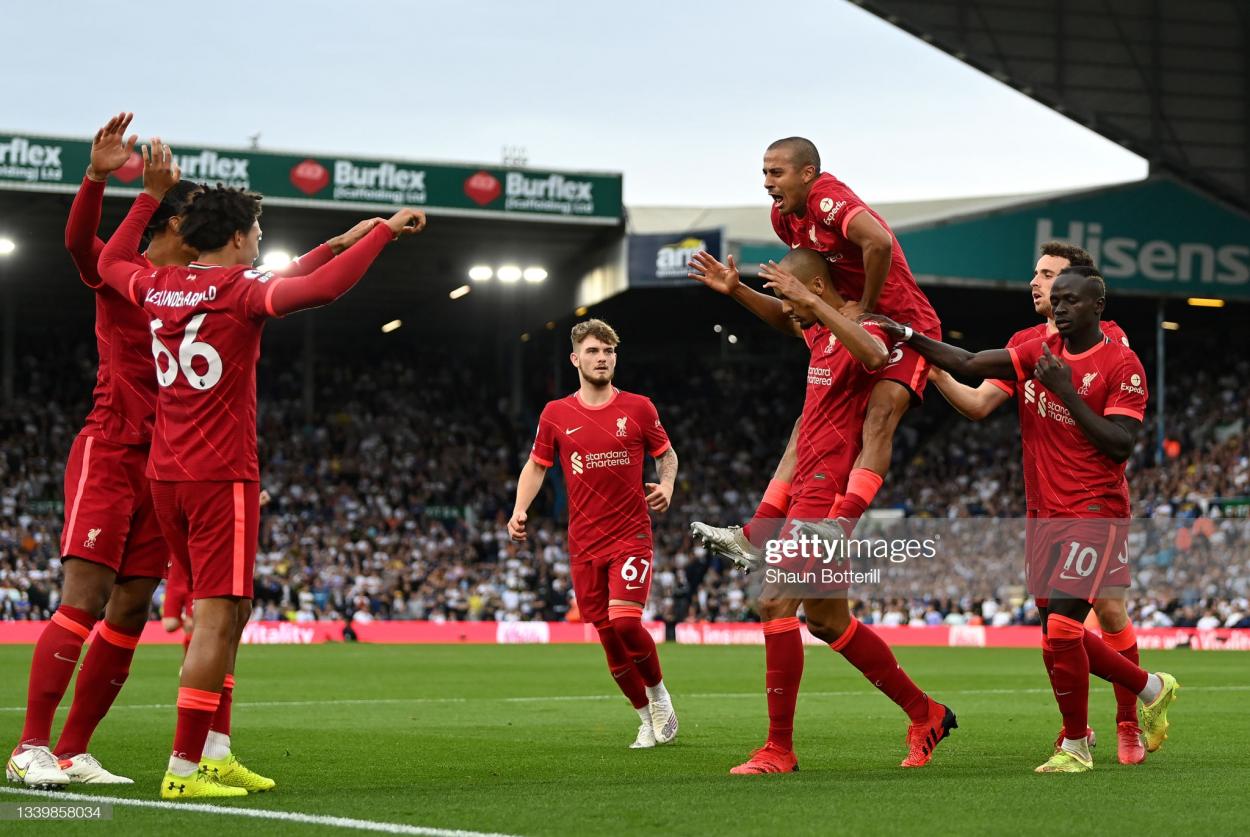 Thiago now appears to be at home in the Liverpool midfield: he played the pass that presented Joel Matip with the space to run into to instigate the visitors' opening goal. What's more, the Spaniard assisted Mane's long overdue goal with a lovely pull back after Jordan Henderson picjed him out with a lovely ball.
A game that pitted two very similar but quite different midfielders up against one another saw Thiago outshine Kalvin Phillips who, despite being involved constantly, couldn't quite match his Liverpool counterpart's skill when it counted.
The Liverpool midfielder accumulated a pass accuracy of 89 per cent, he won six of his seven duels both in the air and on the ground, had the most amount of touches behind only Andy Robertson, and also made four tackles and one key clearance. His afternoon's work could have been capped off with a rare headed goal too had Salah not been in an offside position earlier in the move.
The trio of Thiago, Fabinho and Harvey Elliott appeared to be Klopp's midfield of choice for the big games. That was until Elliott suffered a serious ankle injury in the second half, which was later diagnosed as a fractured dislocation, and puts a significant portion of his season in doubt. It's such a shame for the 18-year-old, who had become the youngest player to start three successive games for Liverpool.
Leeds still searching for win
Whilst Klopp will have to reconfigure his midfield in the short-to-medium term, with AC Milan being the visitors at Anfield this week, Bielsa will be wanting his team back on the training pitch as soon as possible.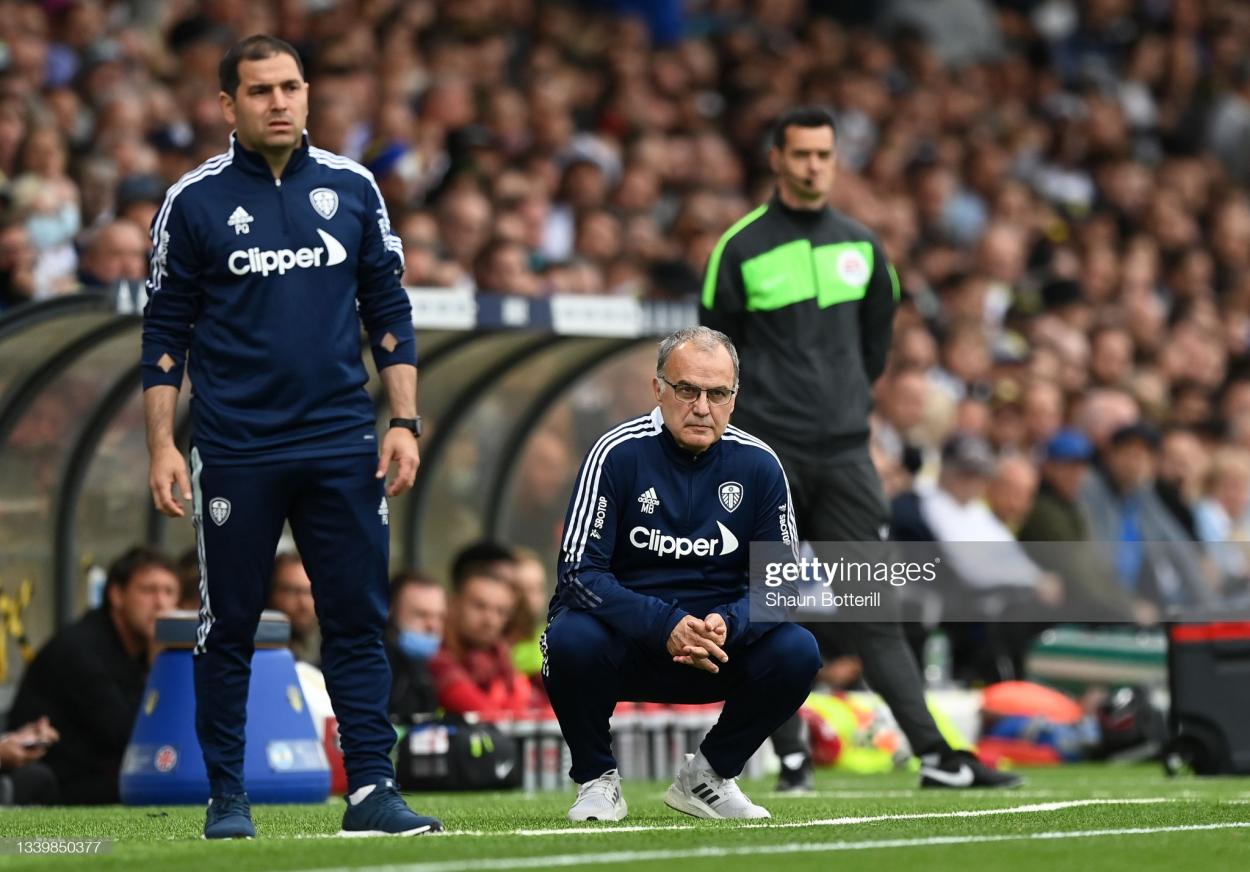 Leeds are yet to manage their first win of the league season after four attempts and although there doesn't appear to be anything drastically different to Bielsa's side compared to last season, they have presented their opponents with too many goalscoring chances. Liverpool scored three here but Mane alone could have amassed five or six. Manchester United netted five while Burnley and Everton managed three between them.
Bielsa's team have always played on the edge, blow for blow, but there were times when Mane and Salah were afforded so much space to run into once they had spun their defender that it was asking for trouble. Leeds were the perfect opponents for such silky speedsters.
When Leeds travel to Newcastle United on Friday they will hope to return with three points to give their season a lift. Either that or Bielsa will be working his players extra hard in the weeks to come.