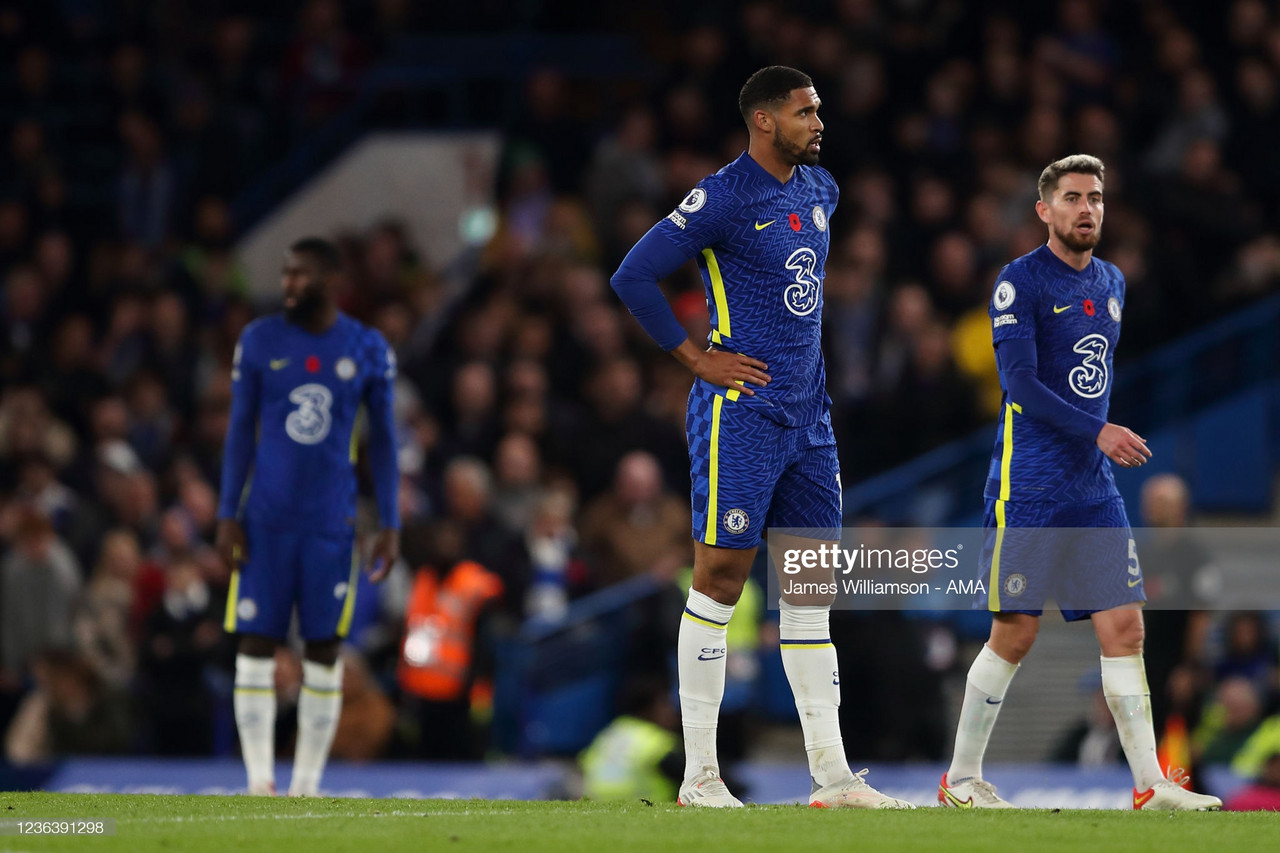 Chelsea were held to a 1-1 draw at home to Burnley in the Premier League as Thomas Tuchel's side failed to capitalise on a myriad of chances throughout the 90 minutes.
The home side began the game as they meant to go on, having the lion's share of possession in the opening half an hour, though not creating many chances during that time.
In fact, most of the Blues' best opportunities came in fleeting moments such as from corners, in which players such as Antonio Rudiger and Andreas Christensen couldn't keep their efforts down.
Eventually though, after all of the effort that had gone into creating chances, the goal came via rather basic means, primarily due to the crossing ability of right wing-back Reece James.
GET IN KAI!

💙 1-0 ⚪️ [33'] #CheBur pic.twitter.com/OFX6w6BOek

— Chelsea FC (@ChelseaFC) November 6, 2021
The 21-year-old swung in a pinpoint cross which Kai Havertz met with ease in the box, heading home to finally break the deadlock, seemingly about to set in motion a multitude of goals at the Bridge.
As it was however, such a flurry of goalscoring failed to materialise, though it was not for a lack of effort on the Chelsea forwards part, who continued to create chances throughout the second half.
Unfortunately for them, those aforementioned chances were never taken clinically enough, leading to a scenario in which Tuchel's team headed into the last quarter of an hour just one goal ahead.
80' GOOOOOALLLLLLL!!!!! VYDRA!!! 1-1

🎙- https://t.co/R0gUwYlt3N#CHEBUR | #UTC pic.twitter.com/n7IVzwLCcA

— Burnley FC (@BurnleyOfficial) November 6, 2021
That slim advantage proved not to be enough, as Burnley, on one of their rare attacks, snatched an equaliser in the 79th minute, when a Lee Westwood cross was headed down by Jay Rodriguez to Matej Vydra, with the striker poking home for 1-1.
A vague semblance of hurried attacking play followed by Chelsea, but the Clarets again stood up to the task, and got through another ten minutes, plus four of injury time, to take home a well-earned point for their side.
Chelsea left rueing missed chances
It may be a cliche in football, but it always seems to be the case that when a team is on top throughout but cannot finish off moves with a clinical finish, the opposition ends up coming back to bite them for doing so.
That was exactly the case at Stamford Bridge on Saturday afternoon, as chance after chance went begging for the Blues, each one bringing with it a new sense of inevitability about the final outcome.
In fairness, it's important to note that this was a starting eleven without a recognised striker, what with both Romelu Lukaku and Timo Werner both being absent due to injuries picked up in the Champions League just over a fortnight ago.
Critics may point to the fact this has been the case for the past few games, but it hasn't stopped the goalscoring form during those fixtures - after all, they put seven past Norwich a mere 14 days ago.
But, if anything, that suggests that Chelsea have been performing above where they ought to have expected to have been when you lack a clear frontman in attack.
As it was, while the creativity up front was evidently in abundance, the absence of any ruthless finisher in the box meant the hosts ended the game with a deep sense of frustration and regret above anything else.
Tuchel gives his assessment on the afternoon. 💬

— Chelsea FC (@ChelseaFC) November 6, 2021
Of course, with an international break now upon us, there is a chance for the West London outfit's injured players to get back to full fitness - and fans will hope they can do just that as soon as possible.
Because, while this may simply be looked back upon as a minor blip in the broader context of the season, it could also be reflected on as one of many other games in which Chelsea just weren't quite clinical enough.
Barkley impresses after surprise inclusion
One positive that Tuchel can take from the game is the performance of Ross Barkley who, prior to kick off, was the obvious outlier in a team otherwise full of regular starters in the league for the Blues.
The German coach's decision ended up being almost entirely justified, particularly in the opening 45 minutes as Barkley constantly looked positive whenever he was on the ball, carrying it forward with ease and setting up multiple chances (even if they weren't then capitalised upon).
He can point to multiple impressive statistics, from his performance, including the fact he made the joint-most key passes on the pitch (5) with teammates Reece James and Callum Hudson-Odoi, both of whom played at least 12 minutes longer than him.
Not only that, but the 28-year-old also had the second-most dribbles (2), only behind N'Golo Kante (3), showing his eagerness to push the team up the pitch, which was needed on multiple occasions when the tempo was starting to fall.
That said, it also wasn't the absolute perfect performance from the Englishman - which he himself will freely admit - with shooting in particular something of an issue that he will want to resolve.
In fact, while he had the joint-most shots of anybody on the field of play (4) alongside Thiago Silva, he didn't manage to get a single one on target throughout - a fairly damning indictment of his accuracy.
25 - Chelsea had 25 shots in their 1-1 draw with Burnley, their most in a Premier League home game they failed to win since August 2015 against Crystal Palace (26 shots, lost 2-1). Blue.

— OptaJoe (@OptaJoe) November 6, 2021
Even if you look at the shots themselves, they don't make his case look any better, with the first being a curling, looping effort from outside the box, the next a speculative long range effort and the third also coming from a long way out, suggesting his decisions on when to shoot aren't entirely thought out.
The worst of his quartet of efforts undoubtedly came moments before he was, arguably unfairly, substituted off in place of Ruben Loftus-Cheek, when the ball came to him in the centre of the box and he blazed his effort over the bar.
For all the criticism of his shooting however, the rest of his game was, as mentioned, extremely impressive, so if he can improve himself in front of goal, he can without doubt start planting questions in Thomas Tuchel's mind over just who he does put in his starting eleven.