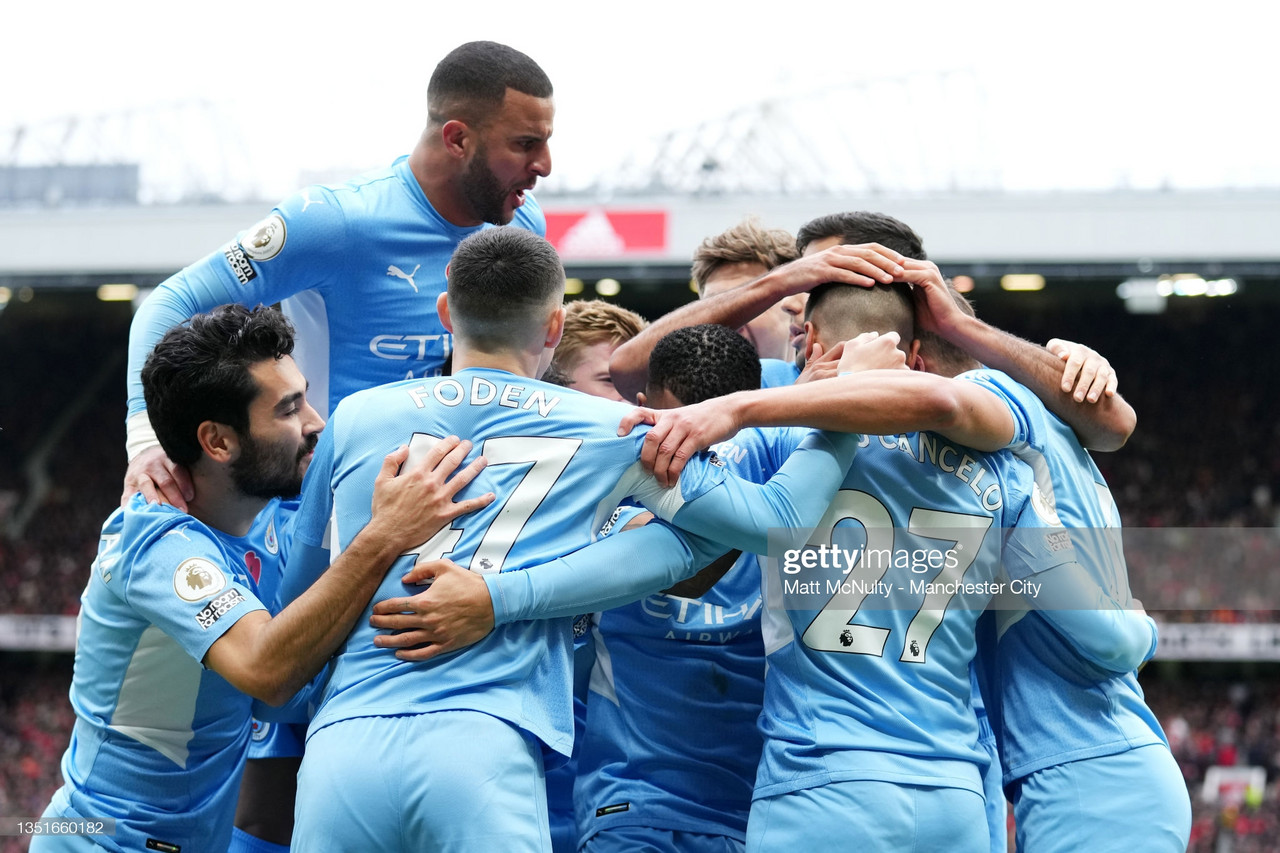 Manchester City eased past Manchester United 2-0 at Old Trafford.
It took just seven minutes for City to take the lead. Joao Cancelo, swung in a relatively weak cross and Eric Bailly tried to clear but turned it into his own net.
In injury time of the first half, City doubled their lead. Again, Cancelo lofted a ball into the box but this time one of his own players got on the end of it. Bernardo Silva stretched and got his toe to it which then rolled off David De Gea into the goal.
United's second-half display was a rather pathetic attempt at a comeback. Ederson could have held an umbrella to shield him from the pouring rain and United still wouldn't have been able to score.
City's dominant performance now means Ole Gunnar Solskjaer has lost six out of his last 12 games in charge of United and only managed one win from his last six Premier League games.
Story of the game
As they so often do, Pep Guardiola's side took immediate control of the game from the off. They strung passes together and gave United no sight of the ball. Within seven minutes, they led.
Cancelo, who was excellent in midweek, put in a rather soft delivery from the left. Bailly, who also enjoyed an impressive midweek cameo, tried to clear it with little to no pressure around him and ended up acrobatically turning it into his own net.
United's first chance in the opening 45 minutes came when Luke Shaw whipped in a cross for Cristiano Ronaldo to volley. The Portuguese striker used great technique to get his left-footed strike on target but it was hit straight at Ederson.
Ederson pushed the ball back into the middle of the 18-yard-box and Mason Greenwood followed it up but his effort went wide.
De Gea then made five outstanding saves in as many minutes. City were knocking on the door but the Spanish goalkeeper showed why he is a four-time player of the year winner at the club.
As the fourth official held up his board to announce an additional minute of play, Silva made it 2-0 to City. It was once again, Cancelo who brilliantly found Silva at the back-post who then managed to get his toe on the ball which rolled off De Gea's chest into the back of the net.
At half-time, Solskjaer reverted to a back-four as he brought on Jadon Sancho for Bailly.
United saw the ball significantly more in the opening stages of the second half but played far too many sideways passes and were excessively cautious. Greenwood decided to have a go from distance but dragged his shot well wide of the goal.
United's approach allowed City to sit back, deal with anything that came at them and counter quickly through De Bruyne and Foden.
Shaw came off injured after he suffered a knock to the head, Alex Telles came on as a 'concussion substitute'.
For a United side that has conjured up comebacks all season, this was by far their worst attempt. They could hardly get a touch of the ball for periods of the second half let alone test Ederson.
Foden nearly had their third as his strike skimmed off the outside of the post. It was a drilled strike across a slick surface from the left-hand side of the penalty area.