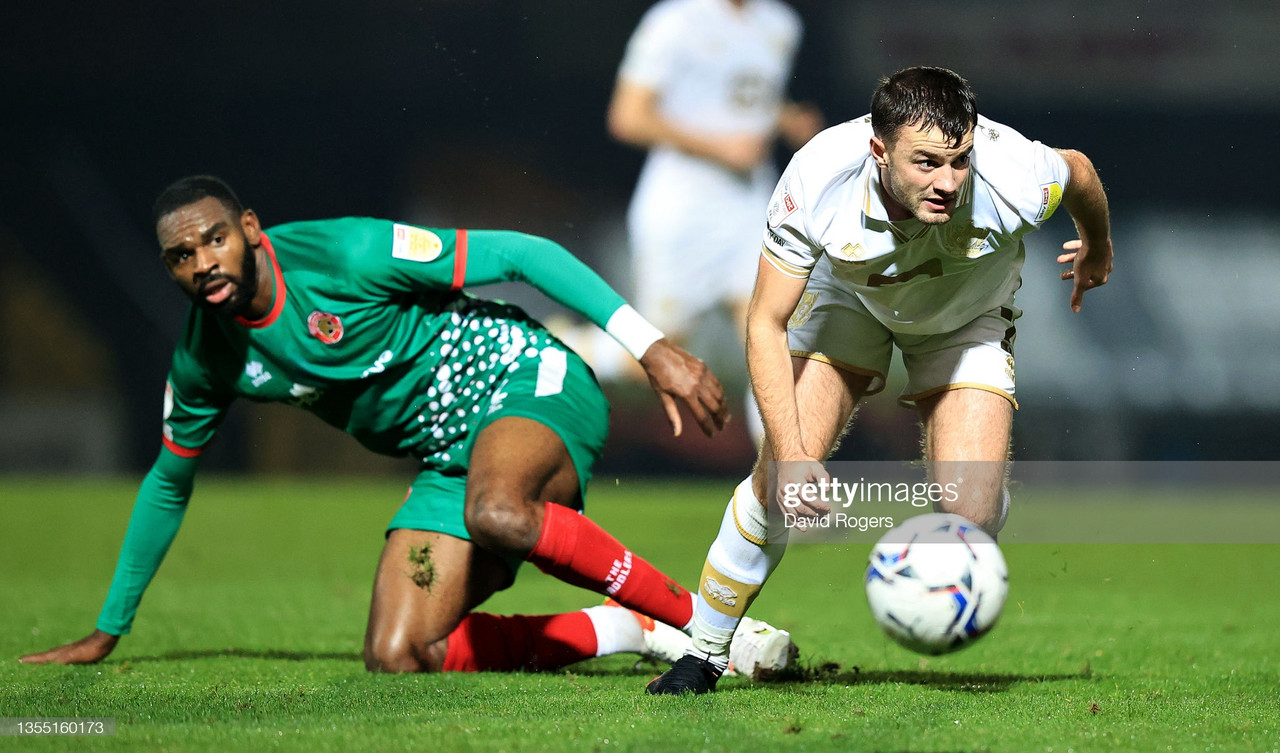 18 games into the League Two season, Port Vale find themselves in a very healthy position with them currently being well on course for challenging for a spot in the automatic promotion places.
Credit has to be given to boss Darrell Clarke for the good start that they have made to the season, especially considering the dangerous situation the club found themselves in when he was appointed in the middle of February.
At that point, the Valiants were in a relegation scrap but by the end of the season, following nine successive wins, the 43-year-old guided them to a comfortable mid-table season.
Following 15 new additions in the summer, Clarke has now built a team that is well organised and well set up out of possession, then when going forward, one that are always going to cause problems for opposition defences.
However, after Vale's 1-0 defeat at home to Clarke's former club Walsall last night, it extends their winless run to three games and saw them slip two places down to fifth in the League Two table.
With their lack of threat and intent going forward and overall poor showing against the Saddlers, there will be the concern that the good flow the club have been building up so far this season will slowly start to slip away.
No natural starting striker issue for Vale
With James Wilson out with a broken foot and Jamie Proctor only being deemed fit enough for the bench following his recovery from a hernia problem, it meant that Vale were without their two top goalscorers from this season for the clash against Matthew Taylor's side.
In fact, with George Lloyd also being sidelined with an injury, the only natural striker in the entire squad was Devante Rodney.
However, due to his recent lack of impact in recent games, Clarke decided to start with two wingers to fill the striking roles in David Amoo and Dennis Politic.
This is something that didn't prove to be effective though as throughout the game neither player showed to be a focal point and to hold up the ball, meaning that space in dangerous areas in behind for the wing backs was limited.
Then when surging forward, Amoo and Politic's lack of runs in behind meant that when the midfield did pick up the ball, they failed to have any decent options ,allowing Walsall to easily retain the ball.
At half time, Clarke did bring Rodney on the pitch to try to make a difference and despite bringing a little more energy in the first 10 minutes of the second period, this quickly died down.
Then when on the ball, he just seemed to have a lack of support in the final third as the ex Salford City forward just struggled to find that quality that would make the defining difference.
With 20 minutes remaining, Proctor did enter the pitch and it was easy to see the impact that he has brought this season as he got himself about by closing down every loose ball.
Also, at every opportunity he got himself in the area and did look a threat in the air as he did provide the Saddlers centre halves with something to contend with.
Although, after Tom Conlon received his marching orders with 18 minutes to go, Vale's creativity was hugely limited and towards the end of the game the service into Proctor was poor meaning there was very little he could do.
Therefore, with the limited number of strikers Vale currently have unavailable, it could be considered to be a cause of concern for upcoming games.
This is because that final cutting edge could appear to go missing and Vale fans will just be hoping that both Wilson and Proctor return to full fitness and return to the starting fold as soon as possible.
Lack of creativity when Conlon isn't firing
It is no secret that captain Conlon is having another great season in a Vale shirt with him already this term having accumulated three goals and four assists in the league.
So it was a slight surprise to see that last night he wasn't performing to the standards that fans are usually so used to seeing as he failed to get on the ball very often.
Then even when he did, his passes tended to be quite flat and there wasn't much energy to his overall play.
Consequently with the 25-year old failing to really perform and the fact that he is the Valiants most creative outlet from midfield, it causes a problem from a goalscoring point of view as the number of clear cut chances are no doubt diminished.
This was proven to be exactly the case last night as when not at his best, it proved to be costly as the team failed to register a shot on target.
His absence is actually something that Vale will have to get used to for the next game at least as his dismissal last night means he will be unavailable for the weekend's home clash against Hartlepool United.
This means that the likes of Ben Garrity may be forced to step up in more of an advanced role.
This is because while Conlon is out, it could be up to him fill that void and ensure that he is looking lively and is causing a threat from midfield that will cause the Pools defence with something to be concerned about.