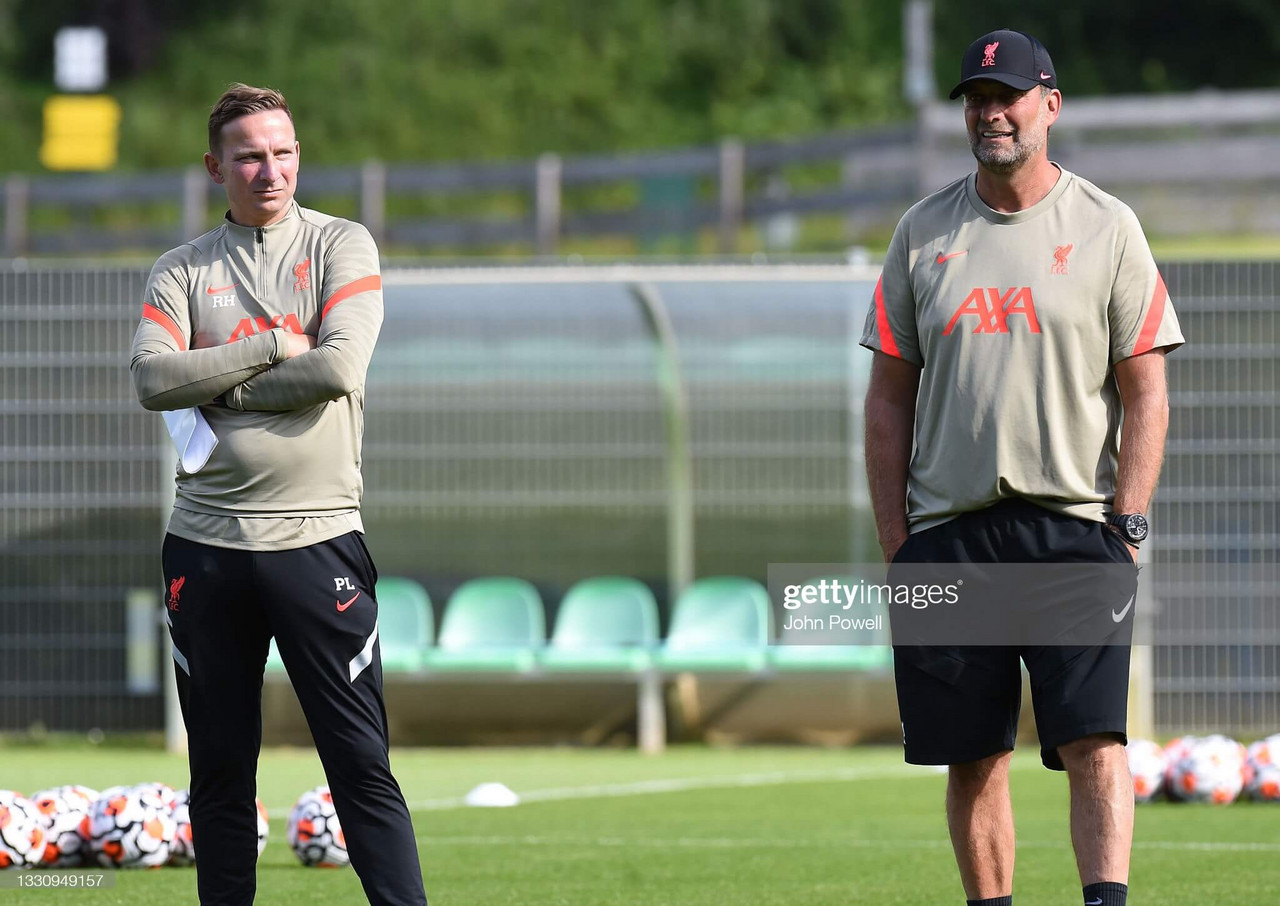 Liverpool's modern golden era is largely down to one man, Jurgen Klopp, who has guided his side to their sixth Champions League and first topflight title for 30 years.
However, the German cannot remain in Merseyside forever. In the past, the 54-year-old has made his plans for a sabbatical clear when his tenure at LFC ends, so perhaps it's not too early to begin thinking about possible candidates to take over the reins.
Why would Pep Ljinders be a perfect replacement?
Pep Lijnders began his coaching career 20 years ago, at PSV Eindhoven. Since then, the Dutchman has had stints at Porto and NEC. As well as being part of Brendan Rodgers' and Klopp's Liverpool staff in between the two, re-joining in 2018.
The 39-year-old has been a key part of LFC's recent success, taking charge of training sessions and being Klopp's point of reference. Lijnders is full of passion and personality, much like his boss, which is something that Liverpool fans will demand from their next manager.
Having spent the best part of eight years at the club in total, Lijnders understands the culture at LFC and has a good relationship with the players, which is vital to get the best out of a team.
The man from Broekhuizen is adept to Klopp's ideas and has ideas of his own, and with the type of players Liverpool seem to be recruiting for the future (the likes of Ibrahima Konate and Luis Diaz,) the current system looks here to stay.
The Reds' unique way of playing with emphasis on the full backs and inside forwards is what has led to their recent success, and there are very little, if any, managers in the world that would come in and adopt a similar style. If the wrong man where to come in and attempt to overhaul this LFC way, it could ruin what Klopp has built over the last six years.
Of course, there are obvious doubts as to Lijnders' experience in being the main man, he has taken charge of just 22 matches, 21 being from his time in the Netherlands, and the other while standing in for an absent Klopp for the Reds' 2-2 draw at Chelsea earlier this season.
It also might not be as easy as simply following on from the current manager. By the time Klopp departs, some key players including Mohamed Salah, Sadio Mane and Virgil van Dijk will all be approaching the end of their careers – that's if they are still at the club.
However, with an array of youngsters progressing at a rate of knots through to the senior ranks, it looks promising that the current no 2 could successfully keep this world class team among Europe's elite.
Who else could take charge?
Liverpool legend Steven Gerrard is a name high on many peoples lists to take over from Klopp. The scouser has already guided Rangers to their first title victory in ten years while remaining undefeated across the 38-game season, as well as secure a big move to Aston Villa – all just three years into his senior managerial career. Perhaps a return to one of the biggest clubs in the world would be the next step in his progression.
However, there is always a worry when legends return to their former clubs that if the move doesn't work out that their reputation could be tarnished. Although, this hasn't been the case in the past for the likes of Kenny Dalglish, Pep Guardiola and Zinedine Zidane. Sometimes it's less of a fairy-tale return though, particularly in the Premier League, most recently for the likes of Frank Lampard and Ole Gunnar Solskjaer.
Current Bayern Munich boss Julian Nagelsmann is another potential candidate. The 34-year-old German is similar to Klopp in many ways, with both adopting fast attacking football, as well as having a big emphasis on the full backs and a desire for their teams to press high.
Despite the German managers contract at the Bavarian side keeping him there until 2026, Bayern haven't had a manager last more than three years since Ottmar Hitzfeld some 24 years ago. Therefore, a move to England a couple of years early may not be off the cards.
Decorated Spaniard and ex-Red Xabi Alonso might also be in the run in, the 40-year-old is currently learning his trade in his home country in charge of Segunda Division side, Real Sociedad B.
In conclusion
While the people upstairs at Liverpool still have some time to play with to decide who the best man is to replace Klopp, they should start planning as soon as possible to ensure the Reds have the best chance to be fighting for the big trophy's for years to come.
With Lijnders' having been an integral part of the coaching staff since re-joining LFC in 2018 and still with another two years to learn from the genius that is Klopp, the ideal candidate might be right under their noses.