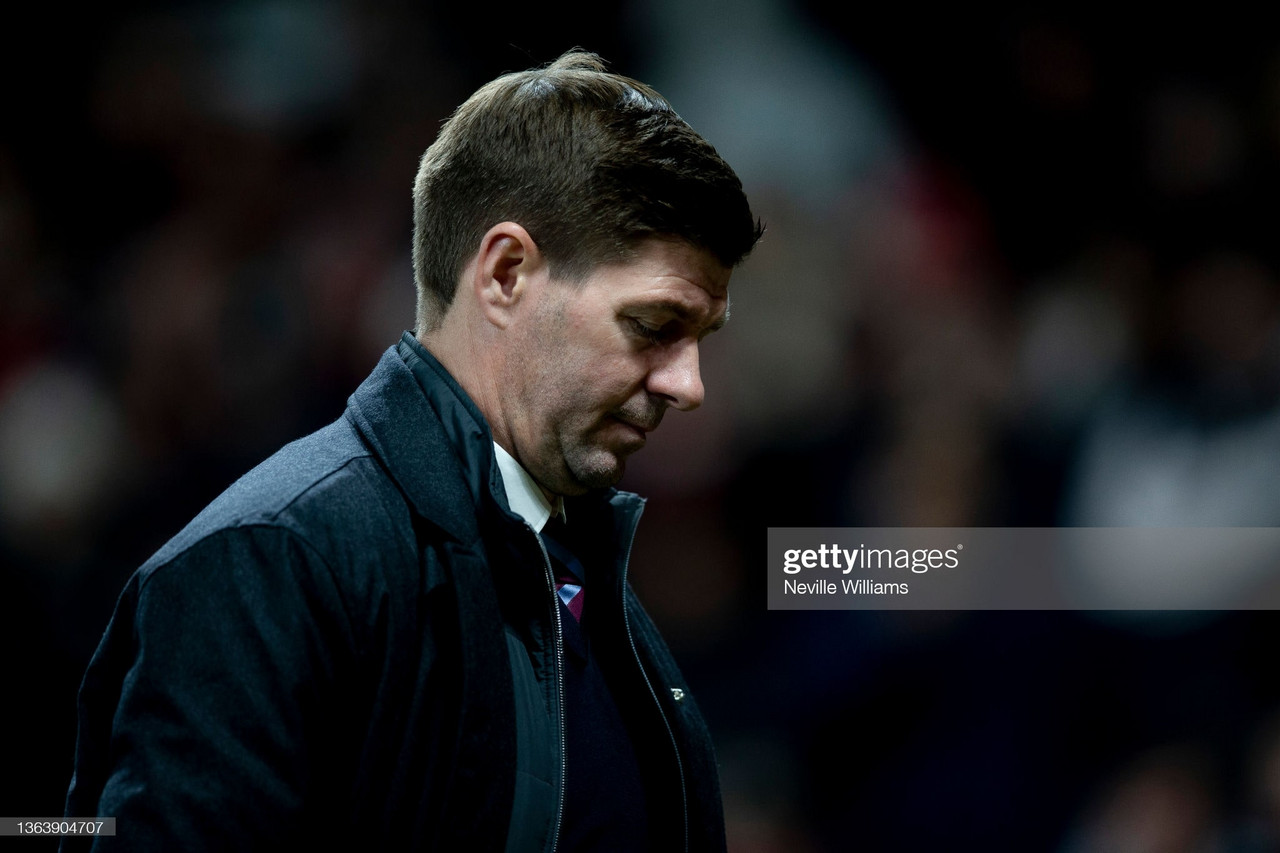 Steven Gerrard criticised the length of time it took for VAR to rule out Danny Ings' potential equaliser as Aston Villa exited the Emirates FA Cup with a 1-0 defeat to Manchester United at Old Trafford.
The decision took a total of three minutes and 32 seconds to reach the verdict that Jacob Ramsey started in an offside position and interfered with play to block the run of Edinson Cavani – this allowed Erzi Konsa to head unchallenged into the path of Ings, who converted.
VAR also wasted time determining whether Ollie Watkins had touched the ball in an offside position, and if Ings had handled the ball before sending referee Michael Oliver to the monitor.
The Villans were behind at the time thanks to Scott McTominay's eighth-minute opener.
Gerrard bemoaned: "The linesman said that it was Jacob [Ramsey] that impeded Cavani's run. Then I heard that it came from an offside position. I have heard an array of different things, to be honest.
"The disappointing thing for me is that it took three-and-a-half minutes to straighten out because we were in a good place; we had a good rhythm, we were playing well, and we were pushing for the equaliser and that three-and-a-half minutes took a lot of sting out of the game.
"I don't think anyone did [have some clarity] in the stadium.
"For me now that I have heard the reasons why, I don't think it was that complex to take three-and-a-half minutes to straighten that out.
"It is what it is and it has gone against us tonight which is frustrating, but that is not the reason why we have lost the game.
"We created enough in general play to score two or three goals in my opinion and we have conceded a real sloppy one in my opinion from a set-play, so we need to focus on other things and not just on VAR going against us."
Gerrard feels Villa did enough to win
Villa put in an encouraging display and enjoyed the better chances across the 90 minutes.
The 41-year-old explained that he is pleased with his side's application, but admits they need work on several things ahead of next week's meeting between the two sides at Villa Park.
"The performance was good; we dominated for large periods," he said.
"I don't have many complaints as to what the players have given or the performance but we go away frustrated because we are out of the FA Cup and we look at ourselves for the reason why.
"It was nearly enough and there's a gap from nearly to being good enough, so my job and the players has to come from within.
"We'll get support from the dressing room and we'll keep coaching them to improve.
"The longer we're together the more we'll improve – of course, we will – but there is a gap between nearly to being good enough at this moment in time in terms of the performance; it was similar at Brentford, so we need to close the gap.
"We have created enough to at least go to extra time, so yes, we are frustrated, but we don't have time to feel sorry for ourselves.
"We have got to stick and stay together. We have got to recover well and when we watch the game back, I'm sure the players will feel that they did enough to win the game over 90 minutes.
"But the reality is they've scored a goal that was sloppy on our behalf, and we haven't been ruthless enough when our chances have come along, so it is quite clear what we need to iron out from now until the weekend."
Coutinho in line for debut?
Philippe Coutinho signed for the Villans on loan from Barcelona last week and could make his debut against the Red Devils at the weekend.
Gerrard explained the process leading up to whether he will play, as well as clarifying that the transfer was to boost their options with quality and cover current vacant positions.
"In terms of Philippe, he will be with us tomorrow in terms of arrival," he added.
"We will analyse him Wednesday morning to see where he is at from a physical point of view in terms of how he is feeling and what we get with the physical data will depend on how much he plays at the weekend; I'm looking forward to getting him involved, yes.
"We knew we had an injury to Leon Bailey in that area and we knew we going to lose two to the African Cup of Nations, so we knew we'd be short in that area.
"Yes, we have some bright talent in terms of academy players, but they're still developing, and it is not fair to throw them into the deep end at this level of competition and we are still deciding whether some will go out on loan.
"There is a lot going on in that 'ten' area that we are discussing and analysing, and we felt it was right to get in another body but not just a body to add to the numbers, one that could make a difference with real quality."