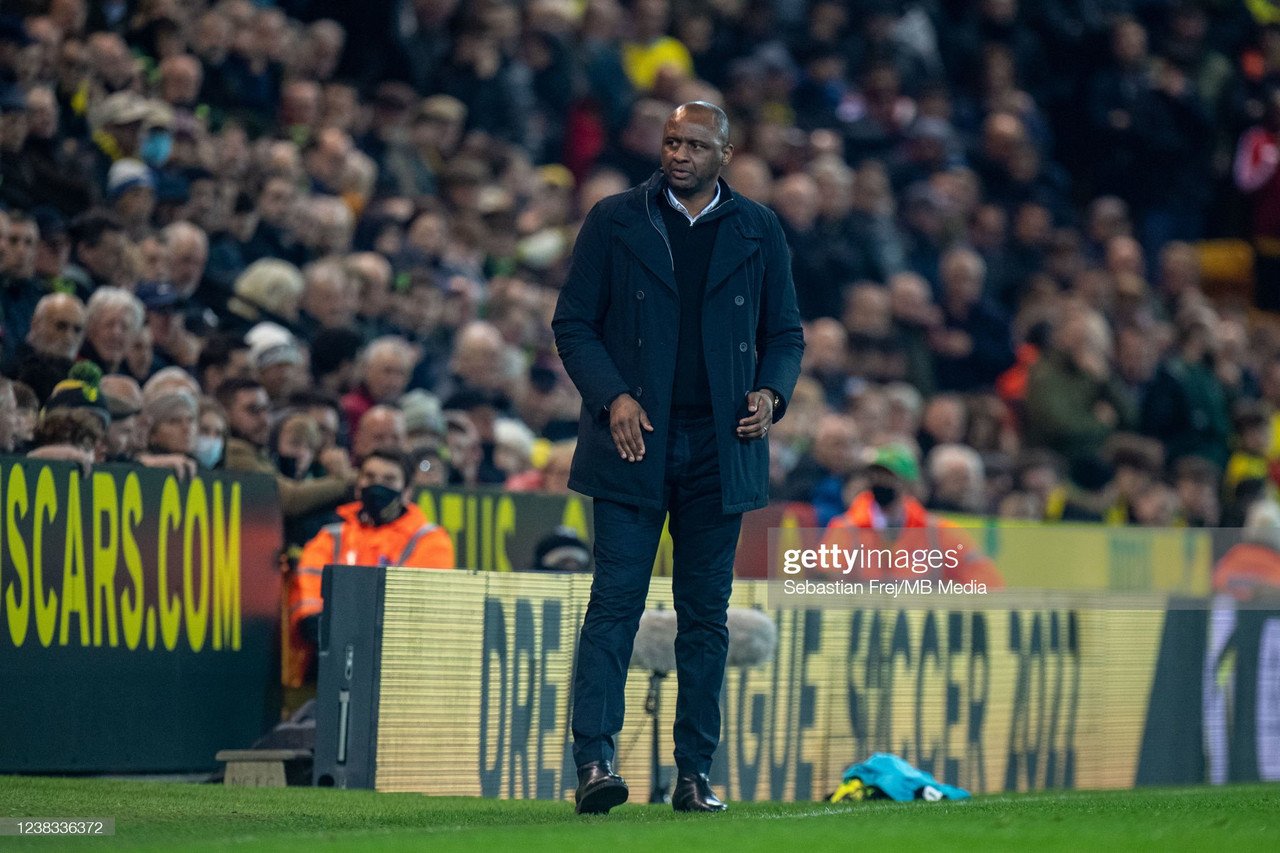 Patrick Vieira has insisted that his Crystal Palace team are progressing well but has highlighted that they must start turning draws into victories.
The Eagles are gearing up for a highbrow fixture that sees recent Club World Cup winners Chelsea arrive at Selhurst Park with one eye on maintaining their European position for next season.
While Chelsea look set for a successful end to the 2021/22 season, having also booked their spot in the League Cup final, Crystal Palace have endured an inconsistent start in the new era, with 2022 yet to bring the south Londoners a victory in the Premier League.
Despite their worrying start to life in 2022, though, Patrick Vieira has maintained a positive outlook on his Crystal Palace team, pointing towards a steady progression in his team's performances across the season.
Looking ahead to Chelsea clash
"When you look at the way we are playing, the number of chances we created [means] we should score more goals to give ourselves wins and more points," Vieira said ahead of Saturday's match against Chelsea.
"It's the maturity we need to have as a team to manage those difficult periods in games a little bit better. We're in a better place than a couple of months ago.
"Of course, what is important today is to have good performances to allow ourselves to win football matches."
In the reverse fixture, which was Patrick Vieira's first competitive game at the helm of Crystal Palace, The Blues were victorious 3-0 at Stamford Bridge.
Having given the time to adjust to life in England's top-flight as a manager, the Frenchman has said that his team has improved perceptibly since the two teams last locked horns.
"There is no doubt we are a better team than when we played them," he said. "We still have a lot to improve and learn.
"The players are feeling more comfortable, they are feeling better and automatically the team benefits from that. We learn from the mistakes the team makes. We are stronger as a team.
"There is a better understanding of what I want from the players, and I'm really looking forward to the game tomorrow.
Reflecting on the season so far
When asked for his opinion on Crystal Palace's season so far, Vieira showed an air of reluctance towards his stance on his team's position.
Although happy with how his team is developing, the Frenchman focussed on the need to continue looking ahead.
He said: "There's a really good understanding between myself, the club and the fans of where we are, what we want to achieve and which part of the club we want to develop.
"There's still a long way to go. We're not worried but at the same time, we're not excited by our position. It's important that we keep improving.
What is important is to turn draws into wins and it'll be important to win games to allow ourselves to get into a good position."
The next three games provide an account of Patrick Vieira's progress
The Chelsea game will be tough for Vieira and Palace, but what follows for The Eagles afterwards is a run of two winnable fixtures against Watford and Burnley.
While their chance has been and gone to back up their manager's comments on progress with results, with draws against Norwich City and Brentford failing to capture any imagination, the upcoming run of games will provide Palace fans with another statement of where they stand in the Premier League.
There has never been any questions asked of Patrick Vieira's tactics and free-flowing strategies, but now more than ever, it is the results that will determine Palace's future in the 2021/22 campaign.
Certainly, the overwhelming feeling is that the south London club will ride the rocky waves of a tough start to the new year and make it through to the shoreline, but fixtures against the likes of Roy Hodgson and Sean Dyche will be crucial for The Eagles to get over the line.
The good news for Patrick Vieira is that a return to the fore for Cheikhou Kouyate and James McArthur could prove valuable to the revival of Palace's form, which took an inevitable hit when the latter of the two picked up an injury after the euphoria of the Wolves victory back in November.
First, though, Palace must focus on the job in hand - a visit from the European Champions.