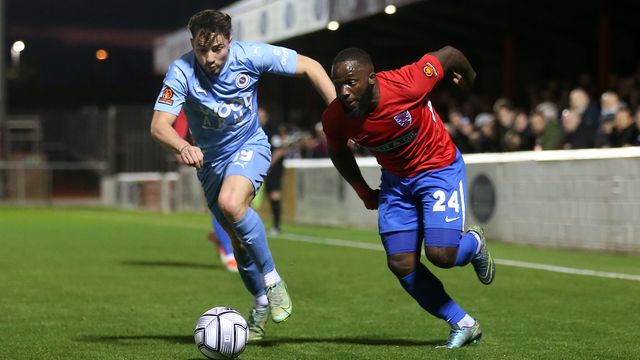 Tuesday night brought Dagenham & Redbridge's first goalless draw of an otherwise action-packed season at both ends as they were unable to find a way past fellow play-off stragglers Boreham Wood, who have now gone five games without scoring.
It came as a somewhat inevitable consequence of a clash in which neither side seemingly wanted to risk jeopardising a point by bravely pursuing all three, having each suffered damaging losses in the preceding weeks.
Boreham Wood undeniably had the better opportunities throughout, but manager Luke Garrard admitted in a YouTube interview that they ''got away with murder'' in regard to referee Savvas Yianni failing to award their hosts a penalty after Junior Morias was upended in the area.
Dagenham and Boreham Wood have contested some thrilling matches over the years but this certainly wasn't one of them, as from the outset they cancelled eachother out to the point where neither could really formulate a clear-cut opportunity.
To call it a slow burner would be a colossal understatement, with a solitary Dagenham corner all that happened across the first ten minutes, and it rarely got much more exciting than that all evening.
The Daggers looked sharp during turnovers, breaking with pace yet constantly misjudging the final pass. On one occasion Jamal Fyfield stepped in to make a timely intervention, shortly before Morias' penetrative throughball was cut out.
A similar trend began to develop in the opposite half of the pitch, where it became abundantly obvious why the Wood hadn't scored in their last four games, although they did keep possession tidily until it came to the killer pass.
Symbolic of their inability to find the net were two wayward strikes from Tyrone Marsh around the half-hour mark, the striker firing over from a promising position in the area then blasting a free-kick into the stands behind the goal.
These came either side of Daggers' best opportunity, with Paul McCallum turning sharply before going close through a low strike that zipped narrowly wide.
Boreham Wood ended the half strongest, though, and after being denied by some brilliant Callum Reynolds defending they came agonisingly close to taking the lead bang on 45 minutes as Scott Boden's fierce header was brilliantly tipped over by Elliot Justham.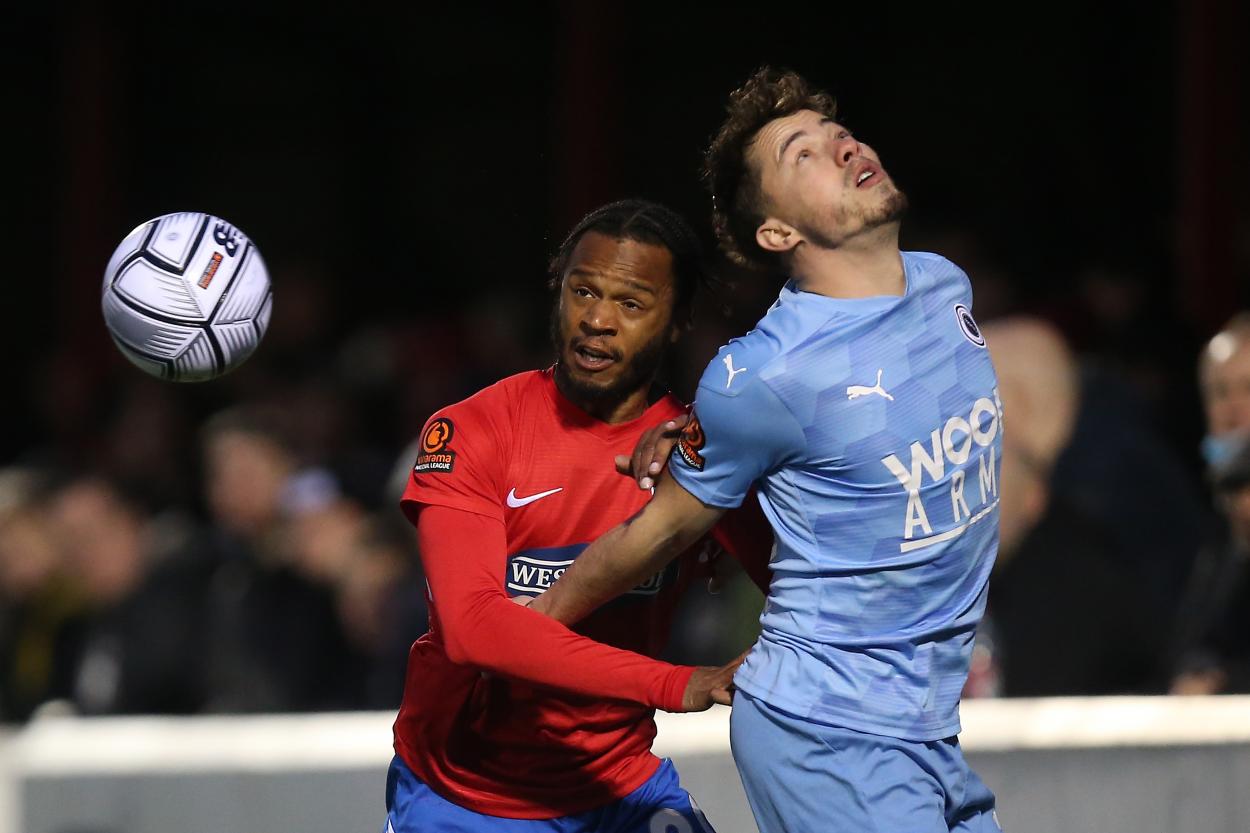 Mauro Vilhete and Kane Smith contest a header. (Image: Gavin Ellis/TGS Photo)
It became cagier when the contest recommenced, the second half managing to somehow be an even worse spectacle than the one before it. After a thoroughly uneventful quarter-hour, Morias' speculative curler from distance was tipped away.
Then, an inswinging free-kick just evaded Manny Onariase at the far post. However, the defender demonstrated fine reflexes moments later to block off Boden from close range.
As the clock ticked towards the final ten minutes, Dagenham desperately needed to find a winner yet manager Daryl McMahon elected not to make a single substitute. His good friend in the opposite dugout Garrard also waited until the very end to make his first, and it wasn't overly surprising that the game remained tight as a result.
Despite lacking invention going forwards, the Daggers really should have been awarded a penalty kick when Morias was tripped enroute towards the area. Even Garrard had no doubt that his side were fortunate, retrospectively declaring they ''got away with murder''.
In the end, though, a goalless draw was probably an amicable outcome to a match that didn't really get going.
Where this leaves the sides
Both remain in the two places directly outside the play-offs but Boreham Wood, with the advantage of three further points and two additional games in hand, are far likelier to gatecrash them despite their untimely slump, especially as their next two games are against severely struggling Aldershot Town then already-relegated Dover.
Dagenham, meanwhile, simply have to win every remaining game this month to stand any realistic chance of finishing inside the top seven. They head to Bromley this coming weekend before playing Barnet and Aldershot over Easter.
Junior Morias (Dagenham & Redbridge) | A rare bright spark on a very dim evening all round. Not too much came off for Morias but he never stopped running at the visiting defence and should have won a penalty for his efforts.
DAGENHAM & REDBRIDGE: Elliot Justham, Mauro Vilhete, Callum Reynolds, Manny Onariase, Will Wright, Sam Ling, Mo Sagaf, Brandon Comley, Matt Robinson, Junior Morias, Paul McCallum
BOREHAM WOOD: Taye Ashby-Hammond, Jacob Mendy Mendy, Connor Stevens, Jamal Fyfield, Will Evans, Kane Smith, James Comley, Gus Mafuta, Josh Rees, Tyrone Marsh, Scott Boden (Danilo Orsi-Dadomo 89')
Referee: Savvas Yianni | Attendance: 1278 (78 Away)