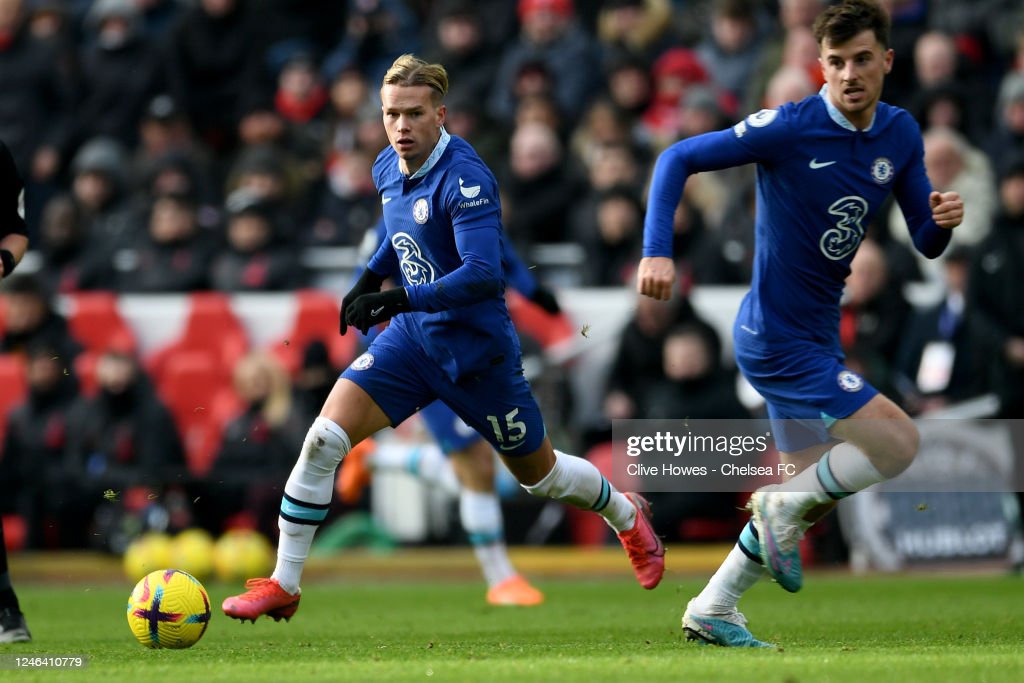 Much has been said of Mykhailo Mudryk in recent weeks. The 22-year-old winger has been at the centre of a bitter transfer battle and is seen as the brightest light for Ukrainian football during one of the country's darkest hours.
His name had been bandied around, his style dissected and his future discussed. All talk and thought; he has largely been symbolic. And then, here he was, on the touchline at Anfield. For the first time in two months, Mudryk was going to play. Graham Potter sent on the club's £88 million signing in the 55th minute, he was entering a flat, goalless game between two teams screaming mediocrity.
Mudryk might not have capped his Chelsea debut with a goal, but his impact was noticeable. The winger immediately looked at home and slightly livened up a humdrum lunchtime match. He was lightning quick down the left flank, causing James Milner more problems than the veteran had experienced during a low-key first half.
In fact, Milner was booked within 10 minutes of Mudryk's arrival as he attempted to halt the substitute close to the Liverpool area. Five minutes later, Trent Alexander-Arnold had replaced Milner, but Mudryk still carried an unquenchable threat.
Mudryk did spurn Chelsea's best chance of the second half when he used his right foot rather than his left when Hakim Ziyech found him at the back post. A shot into the side-netting was added to his cameo achievements, which ranked as a very good opportunity considering the other 'chances' created in this game.
"Really good" was Potter's assessment of his new signing. "He will get better the more he is with us and the more we understand him and vice versa, but promising signs.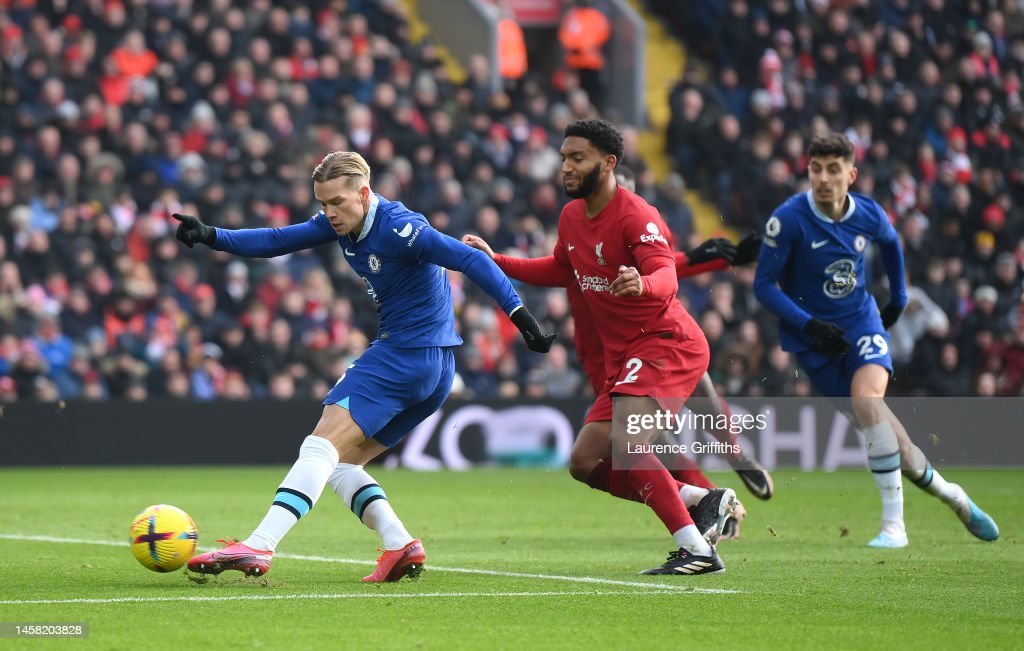 "He has only had two sessions with us, but from watching him at Shakhtar and seeing his quality there, he is dangerous in one-v-one situations in the final third. He can make things happen. He will get supporters off their seats. His dribbling action is really, really high and he knows where the goal is. Our job is to help him settle into the team, settle into the country and settle into the league."
It is worth remembering that this was Mudryk's first game since playing in Shakhtar Donetsk's home win over Vorskla Poltava on November 23. His time on the training pitch at Chelsea stretched no more than two days. Also, despite the clamour surrounding the 22-year-old, he has only eight Ukraine caps and 49 appearances in his country's top flight. This is a career very much still in its infancy.
Yet, the thinking is that with Mudryk now on board — surely a start will come in Chelsea's next game against Fulham in 11 days time — and Joao Felix performing well on his own debut before being red carded for a duff tackle, Chelsea do have reason to believe they have the ingredients to turn their season around.
"They are top players, Joao and Mudryk," Potter said. "They understand the game, they understand football and then it is just about helping them fine-tune it a little. The more we can get them into those situations, the better for us."
Experienced heads needed to guide fresh faces
The young duo are just a small part of Chelsea's recent recruitment. Noni Madueke, newly arrived from PSV Eindhoven, joins David Datro Fofana and Benoît Badiashile as the club's winter signings so far, taking the spending under the consortium headed by billionaire Todd Boehly and Clearlake Capital over £400m.
With so many fresh faces, even greater importance is placed on more experienced shoulders. Thiago Silva, who struck the post before Kai Havertz's rebound was ruled out for offside in the third minute, demonstrated once again why he is vital to any Chelsea resurgence this term.
The 38-year-old centre-back anticipated any oncoming danger and limited Liverpool to a rather meek showing in attack. Even if the Brazilian's legs are starting to slow, his reading of the game remains in full working order.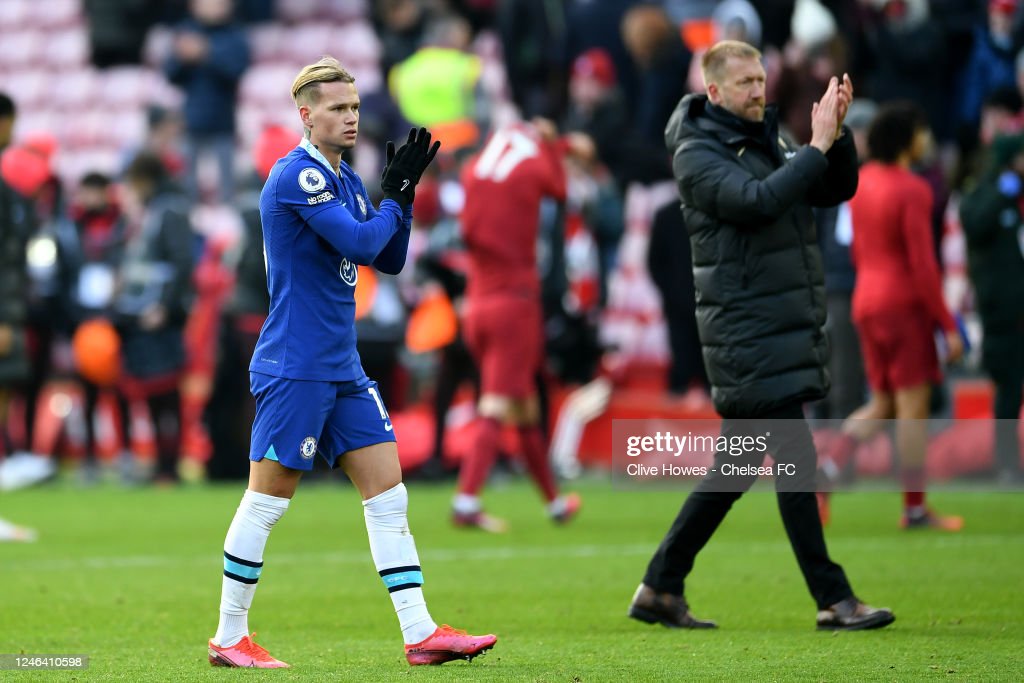 "He's got a footballing brain above everybody pretty much, because of how long he's played at the highest level, the players he's played with and against, his references are so strong," Potter said.
"He can help the team, and help individuals. Benoit there, it was only his second game in the Premier League, surely benefits from playing alongside Thiago Silva. Everyone does. He's a leader off the pitch, on the pitch, and a really important player."
For Jurgen Klopp, his 1,000th game in management will most likely be filed without a note. "I heard Arsene Wenger lost his 1,000th game 6-0 so I'm really happy that didn't happen," the Liverpool manager quipped afterwards, but this was forgettable despite the milestone.
Klopp was determined to accentuate the positives despite his team, as well as Chelsea, illustrating why Champions League qualification may be beyond them, with both currently 10 points off fourth spot.
"For me it is clear, you have to be ready to make little steps and this was a little step," Klopp said. "I expect progress and, from the last league game, it was progress, definitely. That is important."