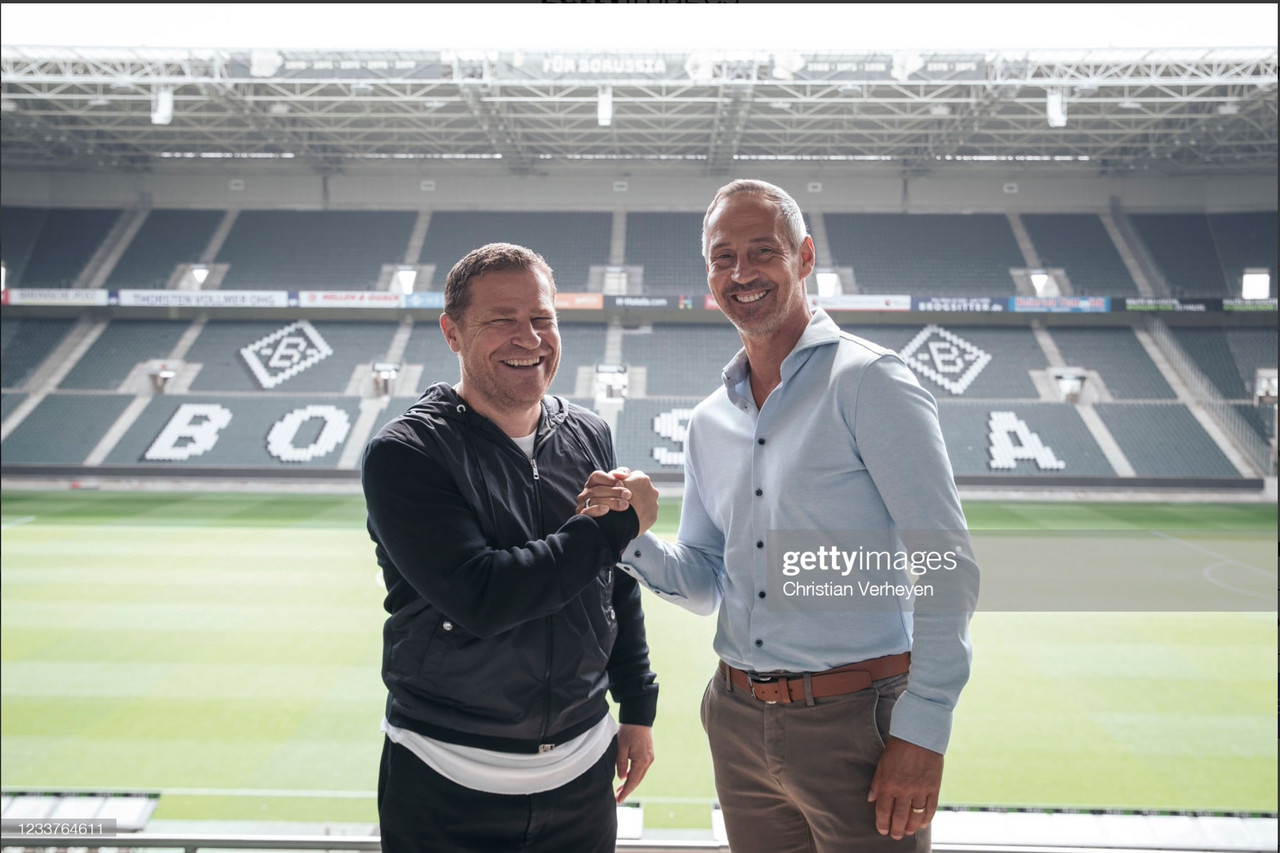 Back in March, the drawn-out saga between Marco Rose and the two Borussia's (Dortmund and Gladbach) came to a close. On the 1st of July, Rose would finally join Dortmund, which left Max Eberl with the task of finding a replacement for his departing manager.
His replacement was found in Adi Hütter about four weeks later, who at the time was leading Eintracht Frankfurt towards a Champions League place. That campaign was ultimately an unsuccessful one, though, and Oliver Glasner has now taken up the vacant role at the Deutsche Bank Park.
With Hütter now officially in charge, Gladbach fans can start looking towards a potentially promising future.
What is Hütter's preferred formation and tactical style ?
For the duration of his time at Frankfurt, Hütter operated with a back-three formation. He mostly played a 3-4-2-1, but after the arrival of Luka Jović in January he sometimes opted for a 3-4-1-2 instead. The common theme was that the majority of their play came from the wing-backs, particularly Filip Kostić, who was outstanding last season and has since been linked with a move to numerous Italian teams.
The two centre-midfielders in the system both played box-to-box, with Sebastian Rode, renowned for having an engine on him, usually used alongside Djibril Sow or the 37-year-old Makoto Hasebe, who does not have quite the tank he once had.
As for the front three, both Daichi Kamada and Amin Younes, who were both excellent under Hütter last term, played as inside forwards.
Younes, a right-footer playing on the left, liked to drift inside and cut in before going for goal. His stunning strike against Bayern Munich in a 2-1 win was a clear indication of that. Having Younes and Kostić on the same flank created the perfect balance, as Younes often went inside, which created space for Kostić to go on the overlap and use his exceptional crossing ability out wide. The Serbian ended the season with an impressive 15 assists as a result.
As for Kamada, the Japanese attacker had 17 goal contributions last term. Playing in a free role behind André Silva, Kamada was allowed to drift between the lines and create opportunities for the Portuguese poacher.
Silva was the crème de la crème for Frankfurt, and if you've been watching any of the Euros this summer, it may have been mentioned once or twice that he outscored Erling Haaland in the Bundesliga. Hütter's system was built for him, whether he was scoring headers from Kostić's crosses or finishing a chance created by a Kamada through ball. His 40 goals over the course of the past two campaigns is an indication of what Hütter can do with a quality striker, which was also shown by Sébastien Haller, who scored 20 times in a single season before going to West Ham in a record-breaking move.
What have Hütter and Max Eberl said ?
Max Eberl: "I'm delighted that we were able to find our ideal solution. Adi brings a lot of positive energy and passion that rubs off on those around him."
"Squad planning is a little complicated at the moment. The transfer market hasn't really got going yet because the EURO's are still ongoing. There are two or three areas that we have to address yet."
Adi Hütter: "I have been here for two days already and get a good first impression. The club has undergone significant development in recent years. I'm looking forward to the challenge of working for this club which has so much history."
"Max convinced me to join Borussia back in late March. The club's goals and family atmosphere were decisive factors. I'm someone who trusts their gut and was able to make a decision quickly following our talks."
"Marco Rose played the kind of football that I like to play over the last two years. However, Borussia conceded too many goals last season. We need to improve defensively in the new campaign."
"We have a very good squad. If a player was to leave, the club is well prepared. It's then about finding adequate replacements, but Max is a fantastic sporting director so I'm not worried at all."
"We have to get ourselves back in the position of fighting on three fronts. I know that Borussia have high expectations, but my own are to be fighting to be back in Europe, so we're a good fit."