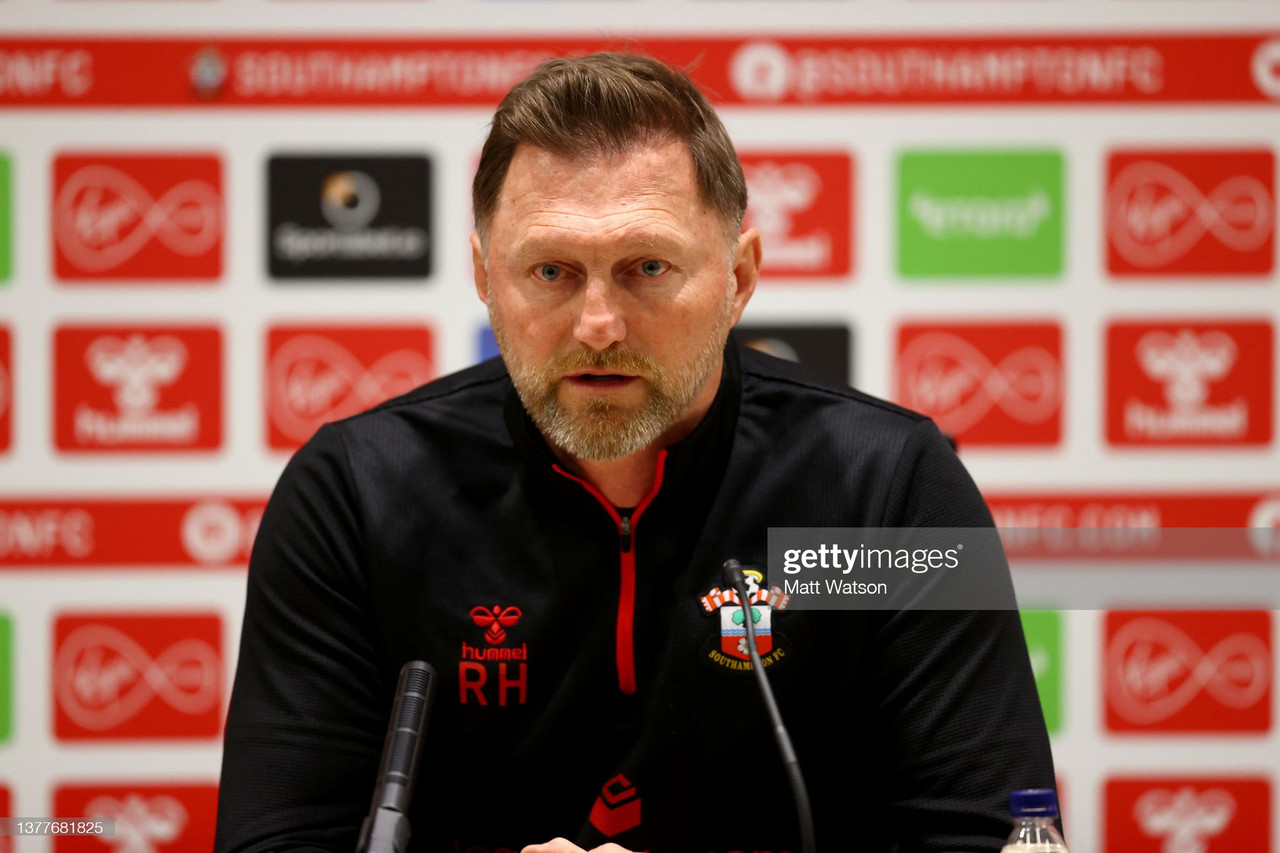 Southampton manager Ralph Hasenhuttl met with the press as the Saints prepared to face Leeds United at Elland Road.
Looking to snap a three-match winless run, the manager spoke about the importance of finishing the season positively, Leeds under the guidance of Jesse Marsch and the seasons Armando Broja and Kyle Walker-Peters are having.
Here are the key moments from Hasenhuttl's press conference.
On Leeds under Marsch
The Whites have won their last two matches under the 48-year old American and Hasenhuttl was asked whether he sees a difference after Marsch took over.
"Yes, sure, everyone can see the difference. The team was known for a very man-oriented way of playing. Now you see the opposite. I know Jesse from my time with Leipzig, he was there a few times visiting with us.
"You can see this RB [Red Bull] and you can see a few typical habits in our play. He has found a team that suits him with his way of playing football and this is the reason why he has had a good impact with this team.
"He's an outstanding character. It was interesting to hear his views on football and watch his development as a coach. I think the step he made with Salzburg, then Leipzig and now to the Premier League."
On finishing the season strong
Although they sit 11th in the table and are in no danger of being relegated, Southampton have suffered three defeats in a row and the Saints boss knows what a top ten finish would mean.
"The way that we try to focus on these nine games is that they are crucial for the future. It can be different if you end up in the top ten ahead of the summer and the transfer window.
"Also, for the players we know with international caps, we had three players in the English national team, it does not happen very often. You can see what you can achieve with good performances."
The Albanian is the club's leading scorer with nine goals and Hasenhuttl noted his development since Southampton last faced Leeds.
"I think the biggest change is that he ;earned what makes him successful. It is not making him successful waiting for one or two actions for 90 minutes. It is more working for 90 minutes and being in several actions.
"We see different Brojas - sometimes the one and sometimes the other. This is what he has to learn to deliver consistently. And this is why he is here and why you should take this time here to learn.
"You have to adapt your game and get better, you have to learn to compete. You have to get rid of your weaknesses and get more complete as a player. You don't stop learning as a player."
On Kyle Walker-Peters
Having started the season battling for a place in the squad with Tino Livramento, the defender is now a fixture in the Southampton defense and has two England caps to his name and Hasenhuttl was asked to assess his season so far.
"Absolutely amazing. It shows what you can do if you achieve and be flexible and it helps for players to be open-minded to play in different positions.
"He needs to score more goals I think on this position. When he's on the wing, he has to be in more offensive positions to score. He showed he can do it and he's getting better.
"I saw his first game (with the English national team) and it was OK. He won the ball for the equalizer with the high press, and he had a big chance when it was offsides, but he showed the skills we know is there."