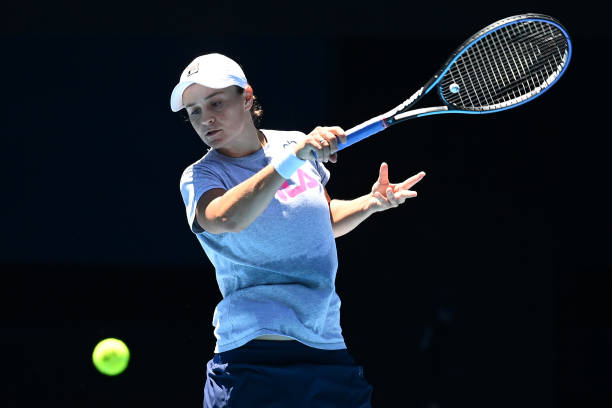 The first major of 2022 begins with the field looking up at world number one Ashleigh Barty.
The Australian is the overwhelming favorite to collect her third Slam title, but she won't be without challenges.
As the tennis world gathers on Melbourne, VAVEL takes a look at how the next two weeks will play out.
The seeds
1. Ashleigh Barty: As mentioned above, she is the clear favorite to win and her performance in Adelaide did nothing to dispel that theory.
It's not that she won a lead-in tournament, but the level of her play was a cut above and aside from a possible challenge by defending champion Naomi Osaka in the fourth round, that should be more than enough to get the job done.
The only questions surrounding the best player in the game right now are her upset losses here the last two years, but she should finally be able to put that to rest in two weeks time.
2. Aryna Sabalenka: She WILL win a Slam one day. The weapons are too much to ignore. She's reached the semifinals at the last two Slams and the seed next to her name bears out how much she's progressed.
What concerns me at the moment is her serve. 21 double faults in an upset loss to Storm Sanders in her only warm-up match is not very good way to prepare for Melbourne.
Is she the second-best player in the world? That is up for debate. Will she see the final weekend here? Most likely not.
3. Garbine Muguruza: The Spaniard won Chicago a month after the US Open and the WTA Finals to conclude 2021 and is a former champion in Melbourne.
It's finally nice to see her playing at the level she should be. A fourth round encounter with Simona Halep looks likely, but otherwise she looks to have a very manageable draw.
4. Barbora Krejcikova: She was the feel-good story of the WTA season, winning her first major in singles at Roland Garros, going three sets in both the semifinals and final.
It didn't stop there for the Czech as she won in Prague and reached the quarterfinals at Wimbledon and the US Open. Just made the Sydney final, only losing in a third-set tiebreaker to Paula Badosa.
Did you know she is the only player to ever win a Slam in singles, doubles, and mixed doubles in the same year? Not many people did. Her 2022 should be fascinating to watch.
5. Maria Sakkari: 2021 was a breakout season for the Greek, reaching two major semifinals (much in the same mold as Sabalenka), but she's probably still thinking about those match points in Paris against Krejcikova.
What makes her so good is her toughness and solid baseline play. That also means she needs to get through the early rounds with minimal fuss and her draw looks to give her that opportunity.
The issue here is a likely quarterfinal against Barty, which will be an enjoyable match. She'll embrace the underdog role, but after last season, it's one of the few times she can make that claim anymore.
6. Anett Kontaveit: I have long said that she has underachieved and look what happens. Four titles and the first Estonian to crack the top ten. She reached the championship match at the WTA Finals, losing to Muguruza.
What Kontaveit needs now is to be a consistent threat to go deep at the majors (one career quarterfinal). Everything is set for that to happen: she has the ranking, the game and a presence on court. Now it's up to her to deliver.
7. Iga Swiatek: Very encouraging to see her make the semifinals in Adelaide, where a loss to Barty, winning just six games, can more than be excused.
Consistency can still be an issue, despite her high ranking. Her results aren't what they should be week and week out, but that's the expectation she created after her dominant 2020 Roland Garros win.
She has a very manageable draw and on the fast courts Down Under, could be in contention for a spot in the final weekend.
8. Paula Badosa: Sydney champion began 2022 as she played most of 2021: with wins. The title that preceded that at Indian Wells confirmed her ascension in the rankings.
The Spaniard hits hard, is fearless, confident and will go a very long way here. She is the likeliest of those seeded fifth through her own seed of eighth to make it to at least the semifinals.
9. Ons Jabeur: This is where it all started for the Tunisian, making the quarters last year. She's kicked on from there and was nipped to the last spot at the WTA Finals by Badosa's late surge.
Jabeur is always a fun player to watch because of her craftiness and variety and should she meet Sakkari in the fourth round, that's a match that shouldn't be missed.
10. Anastasia Pavlyuchenkova: Her record is 9-8 since her surprising run to the Roland Garros final, showing that the inconsistency that has plagued her is unfortunately back.
While getting adjusted to being this highly ranked and a Slam finalist out of nowhere is usually reserved for youngsters, it's fine to allow her that leeway even though the Russian is a veteran.
The biggest question concerning her is whether those two weeks in Paris were a fluke or whether, after some getting used to, she can live up to the number next to her name. We'll begin to find out.
11. Sofia Kenin: Former champion recently said "I hope people haven't forgotten about me". Well, this would be as good a place as any to change that narrative.
I don't often say this in articles as to try and remain neutral, but until she wins a second major, her 2020 title will be a fluke. It's not her game style, which is not very appealing to me, but the alarming stat of winning consecutive matches in just three of her last 11 events.
12. Elena Rybakina: Since a close loss to Simona Halep at the US Open, the Kazakh looks to be regaining her form and she made the final in Adelaide losing to (guess who?) Barty.
Withdrew from Sydney before her second-round match, but that is of little concern. If she can continue to build towards the form that carried her at the end of 2020 and the beginning of 2021, she'll be a handful.
13. Naomi Osaka: Talk about a culture shock. That 13 before her name doesn't nearly belie the threat she poses when she takes the court.
I wanted to use this space to applaud her for making the decision to put her mental health before tennis. It's an example more athletes should follow.
As she looks to shake off the rust from lack of match play, we can all be thankful the four-time major champion is ready to challenge for the biggest titles again. The sport is better off when she is in the draw.
14. Simona Halep: Another player who, for vastly different reasons, has slipped in the rankings, the two-time Slam winner won Melbourne 1, a terrific sign heading into Melbourne.
This is when the Romanian is at her most dangerous: not really counted out, but not amongst the favorites. I feel she'll make a long run to get back to into that conversation.
15. Elina Svitolina: Hasn't won a match since Indian Wells and is not in a good section of the draw with Krejcikova and Victoria Azarenka. Ouch.
You wonder how long that loss to Leylah Fernandez at the US Open, when she had a clear path to at least the final, will affect her.
16. Angelique Kerber: Hasn't played since Indian Wells, so she has no form to speak of and plenty of rust to shake off, not a good combination for making a deep run.
With that being said, she made the Wimbledon semifinals out of virtually nowhere and is never one to be counted out. Tough first round against Kaia Kanepi.
17. Emma Raducanu: As incredible as Roland Garros was with four of the unlikeliest semifinalists in major championship history, there will never be another story as the one written by the 18-year old at Flushing Meadows.
Coming out of qualifying, the Brit didn't drop a set en route to the most surprising major championship in tennis history. How she follows that up will be the most interesting story of 2022.
18. Cori Gauff: Good start to 2022, taking Barty to three sets in Adelaide and getting to the Sydney semifinals.
She's been talked about for so long, it's easy to forget she's still only 17. A nice-looking draw up until the fourth round, where an immense challenge from Badosa awaits.
It seems as though Gauff is getting away from the stage of "she's still learning every tournament" and that may be the best news yet for her.
19. Elise Mertens: Lost four of her last six matches since reaching the second week at the US Open. Also hired a new coach in Simon Goffin, who comes from Kim Clijsters' academy.
In many ways, the Belgian, as classy as they come on tour, has reached her peak and is about where she should be. On the other hand, at her best, she is ultra-consistent, a trait that can take her far still.
20. Petra Kvitova: Two semifinals since winning Doha last year makes it understandable as to why her ranking has slipped so far.
Still, while by no means is the Czech anywhere close to the end, it's sad to see one of the sweetest players to ever play the game more towards the end than the beginning.
21. Jessica Pegula: Announced herself with a quarterfinal here last year, but unless she defends those points (or comes close), this may be the last time for a while she's in one of these articles.
With Sakkari and Jabeur, it's unlikely she'll get back to the final eight, but then again, she has the power to beat those two, especially on these quick courts.
22. Belinda Bencic: Just ten matches played since the US Open. The Olympic title gave her a much-needed boost of confidence and her game has evolved to where she is plenty capable on quick courts.
A fourth-round with Osaka awaits and the Swiss will feel very comfortable in that matchup since she is 4-1 against Naomi. Look for her to have a solid 2022.
23. Leylah Fernandez: The darling of the US Open, she beat Osaka, Kerber, Svitolina and Sabalenka before running into a buzzsaw in the form of Raducanu in the final.
She recently admitted that she hasn't gotten over that loss and that is refreshing to hear. Let's see how she uses that as motivation now that she won't sneak up on anyone anymore.
24. Victoria Azarenka: Made the final at Indian Wells, losing to Badosa. Was edged out by Swiatek in Adelaide, so she has sufficient enough matches in this shortened lead-up season.
Is she among the favorites? No. Is she likely to go extremely far? Not really. Should she be counted out? Definitely not.
25. Daria Kasatkina: I'm very pleased to see someone who has this much ability rise back up the rankings and she made the semifinals in both Adelaide and Sydney, picking off Muguruza in the latter.
What makes the Russian so dangerous is her ability to play any style and adapt to any surface and court speed. With Swiatek and Pavlyuchenkova in her section, there are definite possibilities.
26. Jelena Ostapenko: Finals in Luxembourg and semifinals at Indian Wells have gotten her back to the Top 30 and she will be relishing the quick courts at Melbourne Park.
She's still not consistent (lost her last two matches) and will most likely hit herself off of the court, but when she is on, she is so much fun to watch with her immense power.
27. Danielle Collins: Former semifinalist has yet to play this year, so she will almost assuredly be rusty. Another player looking forward to the fast courts here.
She has a very tricky draw with Ana Konjuh in the second round and a likely third-round encounter with Kontaveit, which would be exciting to watch.
28. Veronika Kudermetova: After such a terrific start to 2021, she tailed off at the end of 2021. Did reach the Melbourne 1 final, losing to Halep.
I don't have high hopes for the Russian here considering she's grouped with Jabeur and Sakkari, but it'll be interesting to see if she can regain her form of around this time last year.
29. Tamara Zidansek: Picked up her first title in Lausanne in 2021, but has reached just one semifinal since, which was last week at Melbourne 2.
The Slovenian is most comfortable on clay and after losing in the first and second rounds of Wimbledon and the US Open respectively, a third round showing against Muguruza would be a fine result.
30. Camila Giorgi: Canadian Open champion, followed by four straight first-round exits followed by a semifinal showing in Tenerife. That perfectly sums up the Italian.
In some ways, she's the new Pavlyuchenkova: good enough to pull off surprises (and is more comfortable in the underdog role), but not good enough to consistently challenge for the big titles.
31. Marketa Vondrousova: Came within a whisker of the gold medal against Bencic and made the semifinals at Chicago and Moscow, so she is beginning to find her form again.
She's in a part of the draw where her ability to counterpunch and wait for others to make mistakes (Sabalenka) means she could be looking at second week appearance.
32. Sara Sorribes Tormo: Just 3-6 since reaching the semis in Cleveland, but her notable win in 2021 was upsetting Barty in the first round of the Olympics.
Badosa and Keys are in her section, so she won't be around for long, but credit her for elevating her game enough to be seeded at a major.
Unseeded players to watch
Amanda Anisimova: She just hired Darren Cahill as her new coach and it paid immediate dividends, winning her second career title. She's been through a lot off-court in the last 18 months or so, but she's back on track and extremely dangerous.
Madison Keys: She's only 87 in the world because of contracting COVID-19 and injuries, which produced an 11-15 record in 2021. Picked up the Adelaide 2 title and will be a dangerous floater for as long as she is around.
Sloane Stephens: While she likely plays Halep in the third round, she has a marquee opener against Raducanu and is in prime position to pull off the upset. She always gives herself a chance to win any match even if she doesn't come through. Let's see what she does here.
First-round matches to watch
Stephens vs Raducanu: Two US Open champions. A contrast in styles, the veteran plays the youngster. Will get a big court and deservedly so. Should be a fun watch regardless of the outcome.
Kenin vs Keys: Another case of the unseeded player having an excellent chance to win. Fast courts suit Keys beautifully and an out-of-form Kenin are the reasons for that.
Robin Anderson vs Samantha Stosur: The only reason I am putting this here is to salute the 2011 US Open champion, who is retiring folllowing the tournament. A terrific career, let's see if she can give her home fans one more thrill.
Semifinals: Barty def. Badosa, Halep def. Swiatek
Final: Barty def. Halep