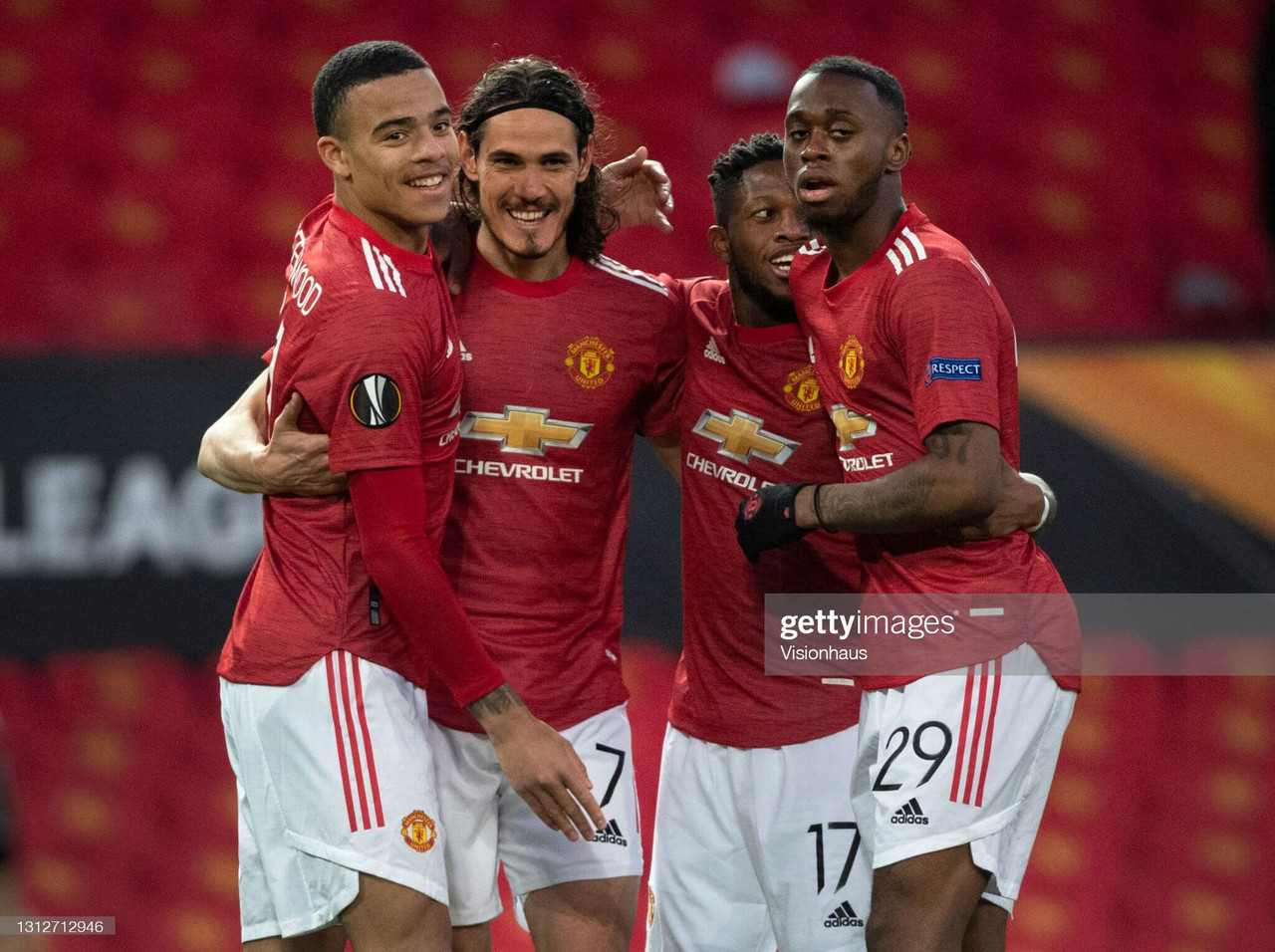 Keep heads. Wigan 2006. And most importantly, don't stop. These words may mean little in isolation, but taken into context, it could provide inspiration for a new generation of success for Manchester United.
After Ole Gunnar Solskjaer's side advanced into their fifth semi-final in two seasons with a professional 2-0 victory over Granada in the Europa League, it is imperative that United now kick on to win their first trophy in five years.
Solskjaer has faced tough criticism over the last two-and-a-half seasons. Sometimes it's been justly deserved, sometimes he's been a harsh poster for troubles deeper in the club. But victory in the Europa League could give his spell at Old Trafford the proverbial kick-up-the-backside it has needed for a while.
But three things must be noted: keep heads; Wigan 2006; don't stop.
Manchester United's recent competition history has been a rinse-and-repeat cycle of a solid, yet straightforward set of early rounds, with usually a confident win over solid opposition in the middle of the tournament (see EFL Cup victory over Chelsea in 2019; Europa League win over Milan in 2021), before a difficult task in the penultimate hurdle
In last season's domestic cups, it was Manchester City and Chelsea that were too much for United; City providing yet another cup exit for the Reds in January's EFL Cup semi-final this year.
While Solskjaer's side outplayed Sevilla in the Europa League's semi-final last term, they couldn't provide a clinical edge that had characterised their late-season surge into the Champions League positions earlier in the post-lockdown mini-campaign.
However, the young squad that had faced those semi-finals had little trophy-winning experience; only David de Gea, Paul Pogba, Marcus Rashford and Anthony Martial were regulars in the Louis van Gaal and Jose Mourinho sides that won both domestic cups and the Europa League in 2016 and 2017.
This time round, surely, the consistent semi-final disappointments will have to manifest themselves in motivation to advance. A winnable final with Arsenal or Villarreal awaiting the Reds means they have a better opportunity than ever to secure their first silverware under Ole Gunnar Solskjaer.
However, they have to keep their heads. No silly defending as was seen in their semi-final exit to Sevilla last year. No red cards like in their crucial Champions League tie with PSG in the winter. No goalkeeping errors like De Gea's dreadful showing against Chelsea in the FA Cup semi-final.
Keep the heads on, and hopefully United will be fine.
Perhaps the most peculiar thought when writing this piece, is 'Wigan 2006'. But the League Cup success against Wigan Athletic was the first piece of silverware for Sir Alex Ferguson since a 2004 FA Cup win over Millwall. It was also the first trophy since the Glazer Family buyout which had soured moods around Old Trafford; rumours of an exit for Ferguson to stop the purchase and also the creation of FC United of Manchester had split the supporter base.
The victory came at a time when United had turned over a lot of the squad. Roy Keane had left the club, and Ruud van Nistelrooy was on his way out of the club and much of the squad was young, with a Chelsea side managed by Jose Mourinho in abundance of quality and not looking like stopping their pursuit of dominance.
The win turned the culture at United into renewed optimism of future success, allowing the likes of Wayne Rooney and Cristiano Ronaldo to announce themselves on a bigger stage and would set the groundwork for the superstars that inspired the awesome side of the late 2000s.
If United can achieve a similar feat under Solskjaer, while his pedigree does not compare to Ferguson's, it could kickstart the winning mentality that leads to challenges of the likes of Man City and Liverpool in the next few seasons.
There are more than a few parallels between Ferguson and Solskjaer – whether this is deserved or not is debatable – but neither party has done much to discourage the comparisons and the football under the Norwegian manager has been much more enjoyable than that of under his three most recent predecessors (four if you count Ryan Giggs).
A victory in the Europa League would, like the League Cup win in 2006, give United's young squad that hunger and desire to chase the best, to win trophies at all cost. Ferguson's United squad did it in the 2000s - perhaps Solskjaer's United could enjoy further success of their own.
United's football has been excellent at times this season – Leeds United at home Man City away, Liverpool at home in the FA Cup and Milan away have been the standouts – but their frustrating tendencies to drop points against beatable opposition like Sheffield United, Crystal Palace and West Bromwich Albion have ensured United sit eleven points adrift of the Premier League leaders.
When United have been on form, they can excel. They can probably beat most teams in Europe – wins against PSG and City show they can turn up – it's just the inconsistency that kills optimism of silverware.
However, if coupled with keeping their heads in the upcoming knockout tie with AS Roma in the Europa League semi-final, they could well progress to the final and secure their first silverware in five years.
If not – if the abject, mis-firing, and incoherent United show up, then it will be six years without trophies – and further pressure on Ole Gunnar Solskjaer's managerial credentials.
United can be a wonderful footballing side - they do it more often than not. But when the lights are brightest and the eyes of world football settle on Solskjaer's side, they tend to struggle. However, the past disappointments in the latter stages of competitions will give them the motivation to kick on and win.
Don't stop.