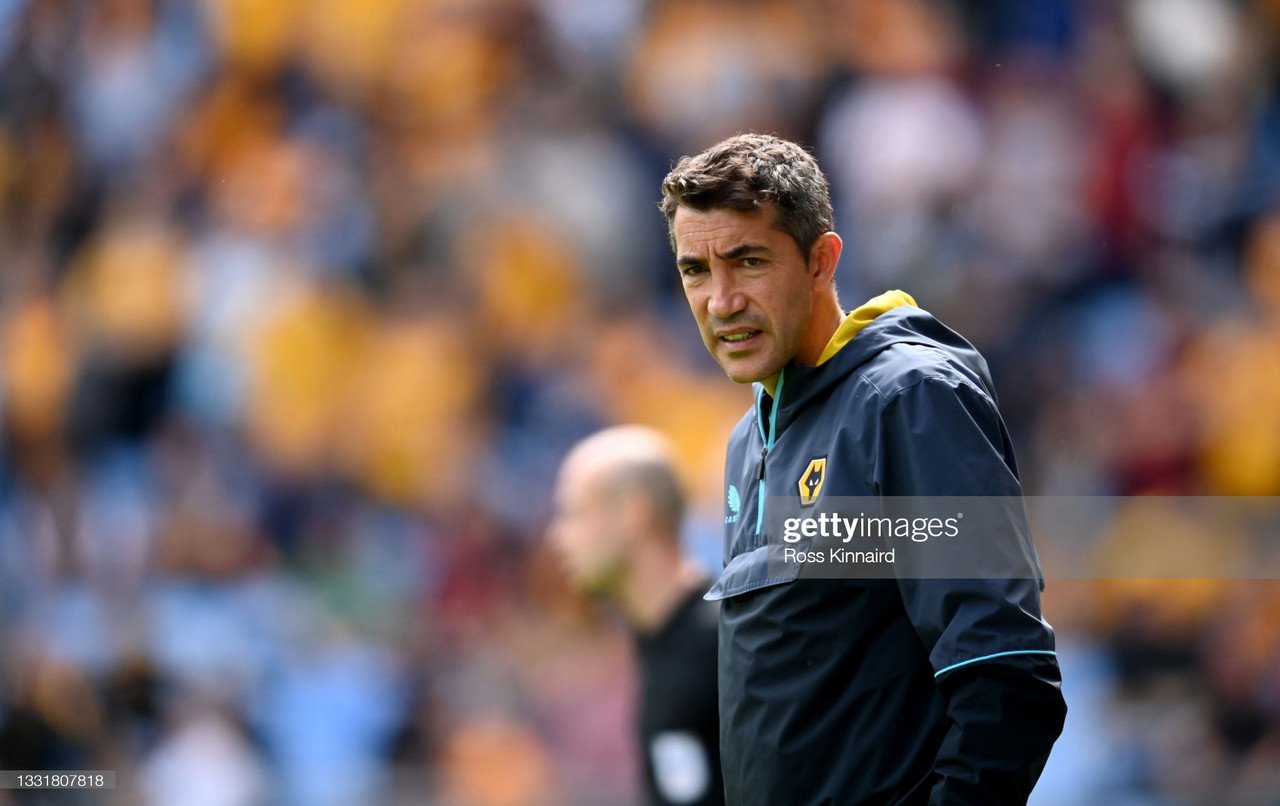 Wolves' 2020-2021 season was not a pretty sight. There was barely a memorable moment across the entirety of the season, but Nuno Espirito Santo has gone; his backroom staff have gone, Rui Patricio has gone and… nothing much else has really changed.
Bruno Lage was appointed at the start of June following a managerial search that was either extensive or very narrow, depending on who is telling the story.
Lage comes in with a burgeoning reputation as an expansive, forward-thinking and attack-minded coach. Someone who has worked with younger players throughout his career – most notably being the manager who took Joao Felix with him from Benfica B and forged him into a superstar, snapped up months later for, currently, the third biggest transfer fee in history.
Lage wowed Jeff Shi with a presentation at interview that showed the next step in Wolves' evolution as a club, including the possession-based, attacking football that the club tasked their ex-manager with instilling this time last year.
Under Lage, Benfica scored well over 100 goals, and Wolves fans will be hoping for more of the same, following a campaign that was more breakdown than full throttle.
Fans expected Lage to bring his 4-4-2 system with inverted wingers to Molineux with him, something that the early window signing of Francisco Trincao seemed to support. But recent matches have seen them line up in a more familiar 3-4-3, something that has led to feverish debate amongst the fanbase. It is thought that Lage wants to go into the season with two formations that he can call on regularly, but what will they be and how will Wolves play?
Formation 1: 3-4-3
Last season has left Wolves fans somewhat mentally scarred in general. But the static, negative and un-ambitious football seems to be the main issue; one of the biggest hangovers from that seems to be a newfound aversion to any variation of three at the back football.
Too often last season, Wolves sat deep in their own half, either passing the ball around their centre backs or absorbing their opponent's possession, but what they lacked was the spring to attack on the counter.
A feature of Wolves' play for the previous two seasons was their rapid attacking, 'pace in attack' as the song so succinctly states. Raúl Jiménez, or Léo Bonatini before him, worked as a pivot point for the attacks with direct, flying wingers on either side. Following the sale of Diogo Jota and the injury to Jiménez, it was largely left down to the exciting Pedro Neto and the brilliant, yet frustrating Adama Traoré, to build attacks and seemingly hope for some inspiration to hit at the right time.
Club record signing Fábio Silva toiled away in between them for a large chunk of the season, but it was perhaps unfair to place that weight of expectation on the shoulders of an 18-year-old, no matter how promising he may be. Then there was Willian José, the less said about him, the better.
It seemed almost as if attacking intent was ignored in favour of defending a 0-0 for as long as possible and attempting to steal a tight win from either a set-piece or a counter-attack.
Last season, Wolves' xG was 39.9, whereas in 19-20 it was 47.1. A huge differential when considering how tight the middle of the Premier League was last season. This has been attributed to several factors; Jiménez's injury, the sale of Jota, Wolves' poor recruitment and small squad set up, the pandemic or just a general loss of momentum.
Whichever of those factors contributed, the lack of emphasis on attack is on the manager, not on the formation.
Lage has discussed at length his coaching philosophy, even writing numerous books on his vision for the game. He has been seen in Wolves' own pre-season videos putting this vision across and has been heard in recent friendless on the side-line screaming at his players to get further up the pitch and press. It is that emphasis on front foot football that can see an entirely different play style at Molineux for the coming season.
An aggressive press, focussed on winning the ball back as soon as it is lost, rather than retreating to a low defensive block will immediately get fans on side. That coupled with the promised free-flowing, attack-minded football could encourage fans to regain a love that they once held for the oft chanted '5 at the back.'
The main thing to consider for whichever formation Wolves line up in is that signings are needed if they are to improve. Whichever formation they aim to play, a centre back and a central midfielder are needed. It could be argued that these two signings have been needed for potentially five transfer windows now, which is an oversight from the club, but the need now is greater than ever. But the ideas, the philosophy of Lage's play will, you'd imagine, stay the same regardless.
The first feature of that will be inverted wingers. Trincao and Traore have been employed there in pre-season, but fans could see Daniel Podence, Morgan Gibbs-White, Neto or even Chem Campbell play there over the course of the season. The job of these players will be to get in tighter to Jimenez, to make runs around and off him to unlock opposition defences. Look for plenty of shots on goal, either from cutting inside and shooting, or by getting on to the end of through balls. This area needs to improve it's goals output this season. Jota's goals weren't replaced last year, they need to be now.
As the wingers cut inside, that leaves space for two attack-minded fullbacks to get forward and contribute to the attacks. Under Lage Álex Grimaldo scored seven goals and picked up 13 assists from left back, with André Almeida scoring two and grabbing 11 assists from the right.
Nélson Semedo will be looking for further improvements following his good performances at the end of last season, while Rayan Aït-Nouri will hope to repay Wolves' faith after making his loan move permanent this summer. Both full-backs have looked better attacking than they have defensively, and both could flourish this season under a manager who will afford them the freedom to roam forward on a more regular basis.
What Wolves need more than anything though is goals from midfield. Rúben Neves got into some good positions towards the end of last season and contributed with some important goals, he either needs to be supplemented by a partner who can sit and allow him to attack. Or Wolves need to purchase an energetic midfielder who can push on and contribute inside the opposition penalty areas, whilst Neves sits a bit deeper and dictates play.
During pre-season, Wolves have used Fernando Marçal on the left of a back three, but then he has pushed in as an auxiliary midfielder when in possession. This fluidity would be key in a revamped system, and essentially takes the 3-4-3 towards an ideal where two central midfielders and two centre backs create a solid box, which the rest of the team can rotate around when Wolves have the ball.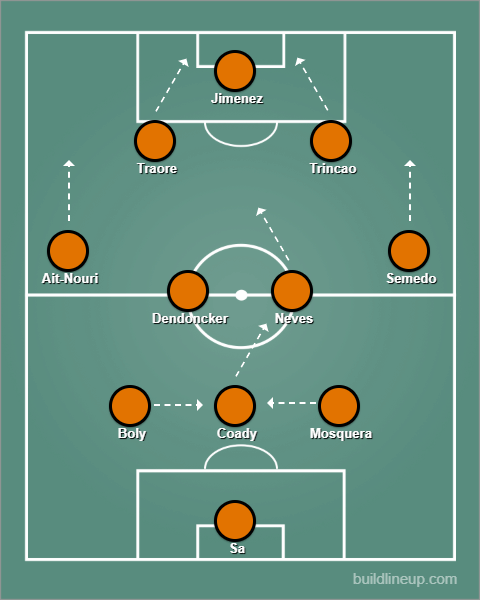 One central midfielder pushing on, alongside two overlapping full backs, inverted wingers, and a central striker makes Wolves a much more attractive proposition going forwards. This would be the fluid, high tempo hybrid 3-4-3 that Lage would look to employ, rather than the solid, restrictive structure that Nuno sent out last season.
Formation 2: 4-4-2.
The alternative is Lage's Benfica 4-4-2. #Lageball as Wolves Twitter have termed it. This was the expectation before his arrival and Wolves lined up in a 4-4-2 in a couple of friendlies, but looked decidedly vulnerable through the middle, particularly on the counter. The feeling seems to be that Wolves don't currently have the players for this formation – something that a cursory glance over #wwfc would support.
In this formation, the full-backs Grimaldo and Almeida were almost excused their defensive duties for a majority of the time, particularly in possession.
They pushed on and overlapped two wingers, who in turn inverted to support Joao Felix who sat as almost a 'ten' in the hole, with Haris Seferović as the main striker up front. More of a 4-4-1-1 than a traditional 4-4-2.
In this formation, the centre backs need to be solid and having Rúben Dias certainly helped with this. Whilst the two central midfielders operated as a double pivot – basically meaning they remain fairly static and the team's possession and attacks move from, or around, them.
Those two midfielders don't need to be particularly technical, or headline-grabbing and didn't really push on to get involved in the attacks. Almost all the attacking numbers came from those inverted wingers, attackers, and fullbacks.
But what those midfielders do need is the ability to read the game very well, or have the athleticism required to cover in across the pitch. Neves' defensive numbers for last season are particularly impressive – 2.90 tackles, 1.45 interceptions and 2.43 blocks p/90, signalling that he could play a big role in this set-up.
Leander Dendoncker was, somewhat unfairly, criticised last season, but has the kind of energy required. However, his defensive numbers in terms of tackles (1.72 p/90) and interceptions (0.93 p/90), leave a lot to be desired.
The belief amongst Wolves fans seems to be that central defence is a position that needs to be protected by the midfield. In Lage's 4-4-2, the 2 centre backs form a defensive square with the two midfielders. They, like the midfielders, need to read the game well and have the pace to get across the pitch to cover, as well as get back to nullify any long balls over the top of them.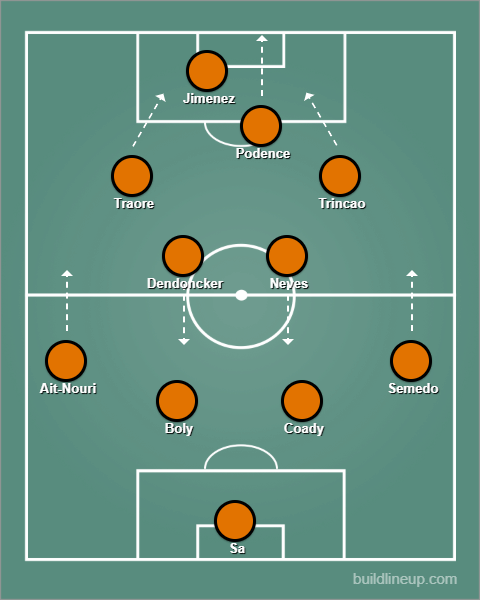 There are similarities between this and the square defensive block that Wolves have hinted at employing over pre-season, and if pushed for a guess, it would be that the 3-4-3 lines up in against Leicester in that first game. But the fluidity is vital, both in terms of the first 11 and the wider squad. That 3-4-3 easily becomes a 4-4-1-1 in certain games by switching out one of the centre backs for a more offensive player to play in the hole behind Jiménez.
Whichever formation Wolves line-up with to start the season, there will surely be more opportunities for their attacking players to flourish under Bruno Lage. Fingers crossed that the upcoming season erases some of the trauma that last season's performances have left behind, whether that is with a 4-4-2 or with 5 at the back and pace in attack.