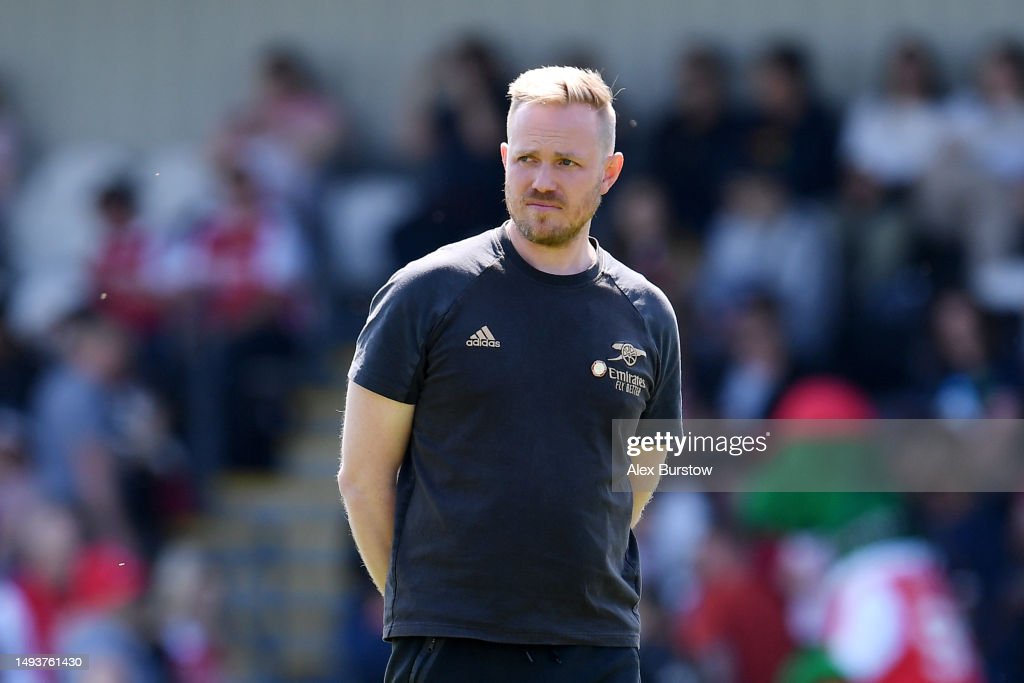 Arsenal boss Jonas Eidevall has admitted that the performance in his side's 2-0 final day defeat to Aston Villa was 'disappointing' but it does not take away from their season.
The Gunners qualified for the Champions League, despite the loss on a day, where it looked like injuries finally caught up with the North London club.
Rachel Daly scored her 22nd goal of the Women's Super League campaign to equal the record, that was set by Vivianne Miedema in the 2018-19 season.
That was before Alisha Lehmann added a second goal after the break and in truth, Aston Villa could have scored more goals in the second-half.
Speaking after the match, Eidevall reflected on the game and what went wrong on the day.
"We all wanted to win so badly today but there is no doubt when we see our performance today, especially when we go a goal down, we are not mentally there.
"All the second ball situations, they pick them up and they react quicker. We made a lot of mistakes playing out from the back, which is uncharacteristic. We are very disappointed with our performance today."
The season as a whole
Arsenal qualified for next season's Champions League, after they avoided an extremely unlikely set of circumstances, where they would have needed to suffer an 11-goal swing, that would have meant that Manchester City took the final European spot.
City could only only win 3-2 so it meant that Arsenal finished in third place in the WSL.
The 40-year-old was positive when speaking about a long season.
He said: "To win a trophy, to get into the Champions League spot, to get to a Champions League semi-final, realistically I don't think we could have asked them for anything more.
"You could see that it comes at a good time to not play anymore games now so we can regroup, recover and this was probably everything we could get out of this season. In the end it was enough to achieve what we wanted but today was disappointing."
Rafaelle's departure
Saturday's game was the final appearance in the Arsenal career of defender Rafaelle.
She was given a rousing reception by the Gunners supporters and the Brazilian spent a lot of time after the final whistle, speaking to fans and showing her appreciation towards them.
Eidevall spoke about what make's her such a unique player and why she has been such an important member of the squad.
"She has been an incredible athlete, player and person. She has fitted in so well with what it means to be an Arsenal player in the way she plays the game and expresses herself. It is a sad one, it is not common that we lose players we would like to keep."
The Arsenal boss stated that there was not much the club could have done to prevent the 31-year-old from leaving, but paid tribute to the centre-back.
"I think that's the first one since i have been here that we lose a player we really don't want to. But it was beyond our control. We wish her the very best and we have to be very good with our recruitment."
Frida Maanum named Player of the season
The Norwegian midfielder has been absolutely critical to Arsenal's season and she was deservedly given the award from the club.
With a number of injuries to players around her, she performed at an extremely high level on a consistent basis.
The Swedish boss agreed with the decision but he also wanted to acknowledge a number of other players in his squad.
"Frida has been very good, I think Katie McCabe from March onwards hit another level and really contributed to the team.
"Noelle Maritz in the spring has been very strong, I think maybe today both of them are a little tired, Frida as well because they just play 90, 90, 90 and don't get any rest.
"There have been a lot of players stepping up, someone like Jen Beattie to be prepared to step in in a period like this. In the end, it was what we needed to get results."
Next season
Attention now turns to next season, with a busy summer expected at Arsenal to try and get the correct players in, which could help them build on this campaign.
Eidevall looked at the three points where the club can look to improve, in order to have a successful season.
He explained: "I think there are three components to it. [Firstly] Recruitment, our last two transfer windows have not been particularly good. This one is a very important one to us to meet our targets.
"Player availability is a very important one too and those two are a little interlinked but they are also separate entities.
"The third one, last year I spoke about us being better to play out from high pressure and man-to-man marking systems and we have really mastered that much more."
The experiences that the side have had this season should mean that they have learnt some valuable lessons and the 40-year-old agreed that it could may them better in the future.
"For us as a group. We have had one more year to mature. It is about learning to control even more situations like that. This year, we have had some really good scenarios doing that, but I still think that's another level for us to close the gap even more to the absolute top teams."