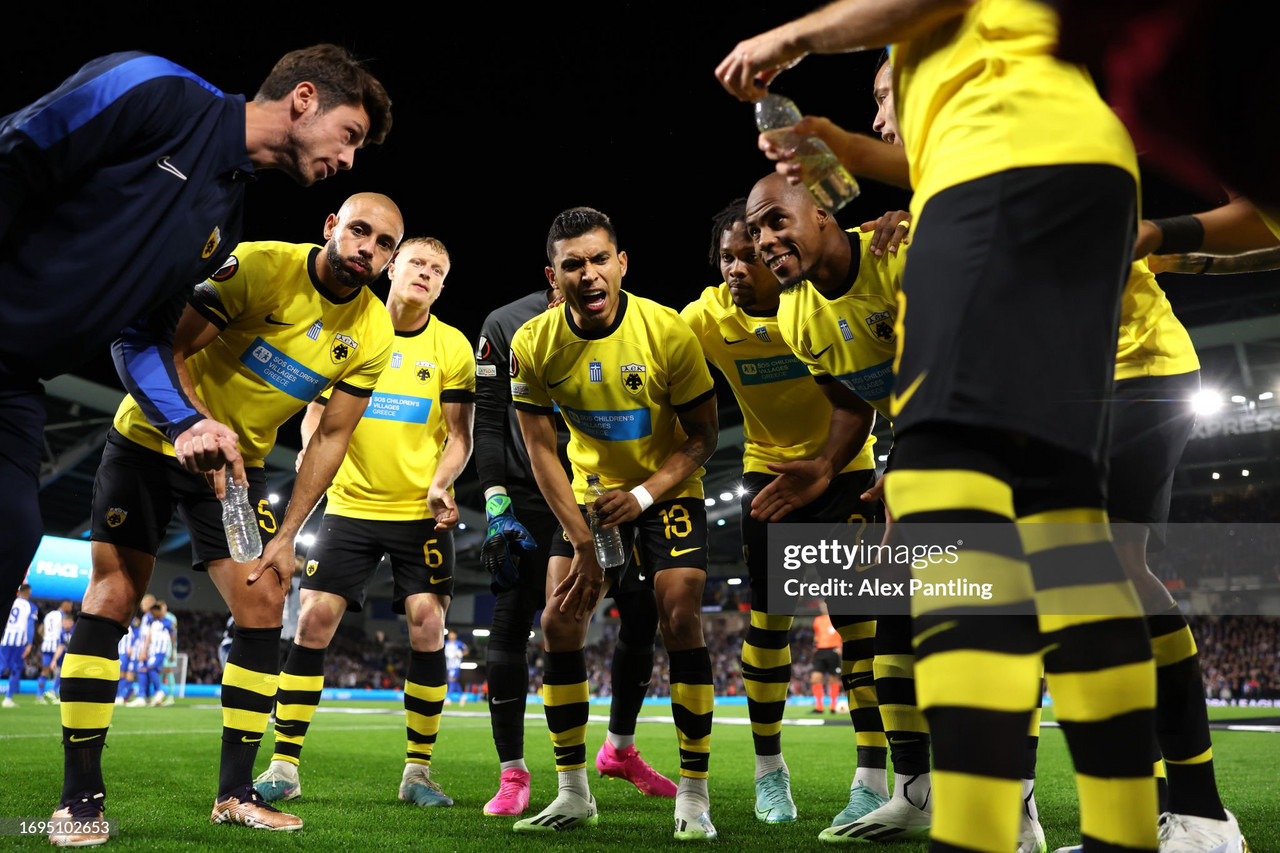 Brighton's European debut was spoiled by the plucky Double-Headed Eagles.
World Cup Winner Djibril Sidibe took the lead after being left free on the edge of the box, with his header going right into the top corner.
Despite Joao Pedro winning and then converting both penalties it proved to not be enough, Roberto De Zerbi's side couldn't handle the set pieces of the Greek Champions.
Seagulls could not pull back another equaliser after a wonderful counterattack was disposed of by former Elche Striker Ezequiel Ponce.
European sides are going to respect Brighton's style of play
76% was the amount of possession the Seagulls had during their first-ever clash in a European Competition. Outsiders to the Premier League will perhaps be surprised with how happy the former UEFA Cup semi-finalists were willing to surrender possession. Keeping all 11 players behind the ball, trying to close spaces off Brighton attackers who drop deep to receive the ball.
This means De Zerbi will have to look to be more effective in different ways, during possession the team in blue and white would use crosses as a last-ditched attempt and players didn't seem to be on the same wavelength no Brighton Attacker would make a near post run and was too easy for AEK Athens to defend.
The current 5th placed side must do better with set pieces having eleven corners and not creating a goal opportunity will be a real regret for Tony Bloom's club. This may see at least one of Evan Ferguson or Danny Welbeck start the rest of these European fixtures, to offer a real aerial outlet.
Set Pieces will keep AEK Athens close in the group stage
For their first appearance in this tournament since coming dead last in the 2020/21 season with just three points. Matías Almeyda's men had a master stroke with set pieces.
Their ability to overload the box forcing at least one attacker to be left free as seen with both Sidibe and Mijat Gaćinović's goals emphasises that in this so-called 'group of death' AEK Athens will prove to be a constant threat.
Both were simple yet effective putting loads of players into the penalty box and then letting the set piece taker go to whomever is unmarked.
Joao Pedro may not be suited to the lone striker role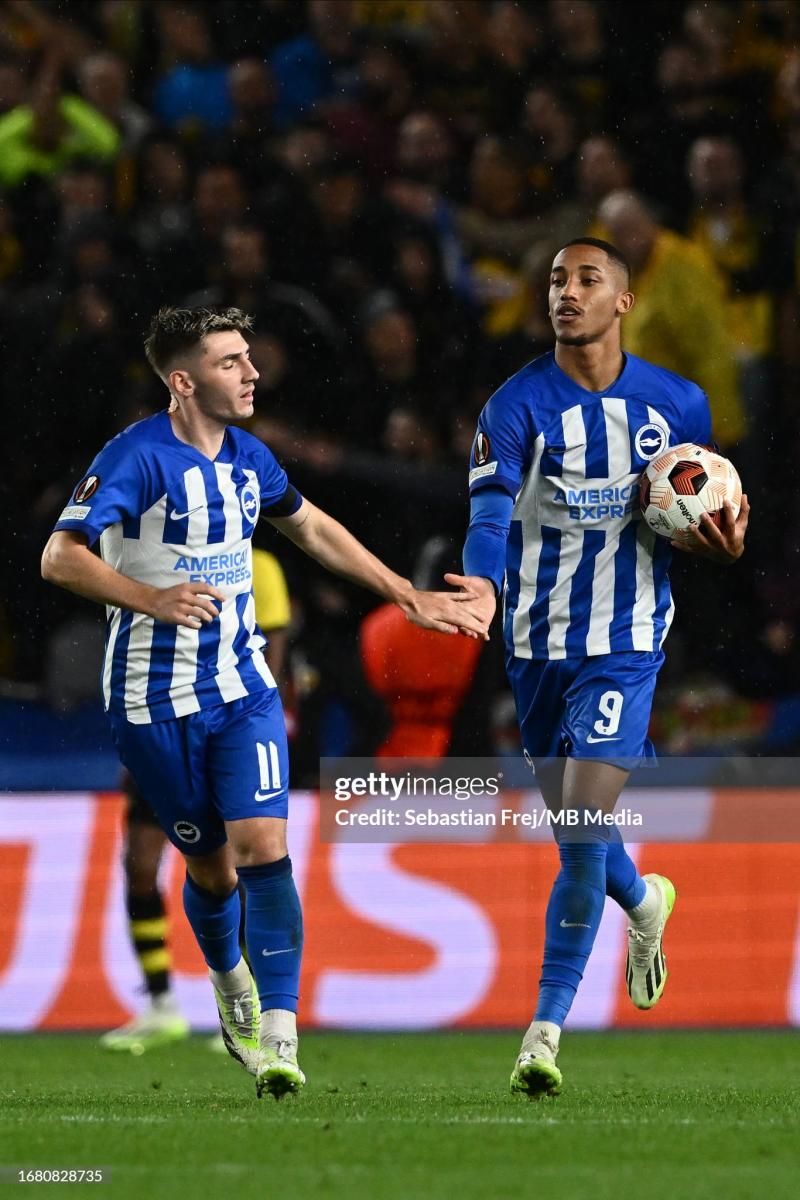 When looking into the former Watford striker's performance he showed his immense quality going at defenders which gave Brighton it's two penalties both of which he converted. However, his ability to hold up the ball and bring others to play proved a real struggle for him.
For long spells of the game, both Van Hecke and Igor would be holding on to the ball looking to make the splitting pass. When they would find the Brazilian he was looking for the flashy 'flick-on' which would be cheaply given away causing either an AEK counter-attack or Brighton having to reset from the half-way line.
On the other hand, when he got into positions just peeling off either Gerasimos Mitoglou or Damian Szymański he proved to be very dangerous, neither of the two veterans could cope with his relentless pressure.
So perhaps back to a position just off the striker, that we've seen earlier in the season, with the Brighton number nine playing just behind Evan Ferguson or Danny Welbeck.
Individual mistakes for AEK Athens need to be cut down on

As a collective AEK Athens was superb defensively were very tight and would only press as a team, but the reason for both goals was poor individual mistakes.
As mentioned earlier the pressing of Joao Pedro really frustrated the 11-time Greek champions and it forced two mistakes from Szymański and Ehsan Hajsafi both were just kickout's and a gamble on trying to get the ball first.
A real theme for the way the Greek side defended was putting a foot in as soon as they were engaged with the attacker. This was emphasised with the Iranian fullback falling for the cutback from the Brazilian forward, giving away the first pen. These two penalties were the only clear chances the East Sussex side could muster up.
This also happened offensively for AEK, as despite Moroccan veteran Nordin Amrabat's hard work defensively tracking the Japanese sensation Kaoru Mitoma would consistently give away the ball in key offensive areas due to not making a decision on who to pass it to.
The Greek champions might perhaps be not so fortunate against more conservative teams like Olympique de Marseille who have just parted ways with former Valencia boss Marcelino, who aren't going to play such an offensive possession-based style.