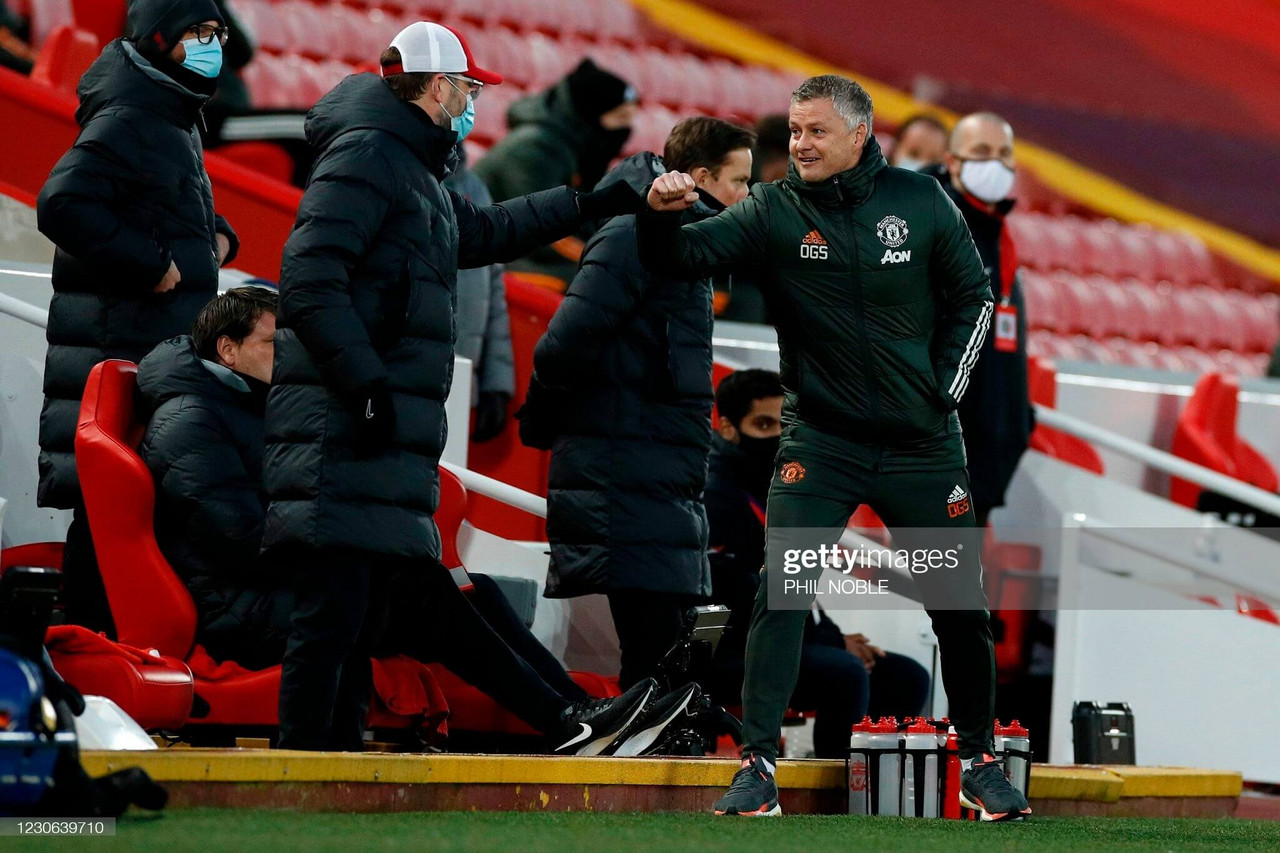 Manchester United are preparing to face Liverpool for the second time in a week, having drawn with Jurgen Klopp's side at Anfield in the Premier League last Sunday. This weekend Ole Gunnar Solskjaer's team host Liverpool in the biggest match of the fourth round of his seasons FA Cup.
Facing Liverpool twice in two weeks
United may be buoyed by Liverpool's midwinter blip turning into a concern with them losing their unbeaten home league record against Burnley on Thursday evening. Solskjaer's side, however, are winless in their last five meetings with Liverpool and have not scored a goal from open play against the 'big six' sides since March 2020 against Manchester City.
Solskjaer was asked whether his side will be more adventurous this weekend, compared to last Sunday, given they are playing at home and against a hurting Liverpool. "We attacked every time we got the ball, maybe too much," he responded. "We kept giving it away, that was the challenge - we went forward too quickly.
"We tried to press them high. It's not easy, they played well, they played their way out of our press. We didn't go out there to drop deep and try to soak up the pressure. They had five midfielders out there to play out, plus a goalkeeper who is very capable.
"When you look back at it, I think it was a good game by the two teams. We played against a top Liverpool team. Yeah, [Virgil] van Dijk is not there but everyone's got an injury or two. I was very pleased with the performance when I looked at it after."
Solskjaer will make changes for this cup game, with Dean Henderson coming into goal, and the United manager does expect Victor Lindelof to be available for Sunday after missing Wednesday's win at Fulham due to a back complaint.
"Wednesday was just too quick a turnaround with the travel and his back," Solskjaer explained, "I wanted to play Eric Bailly at Fulham anyway. Now we've got four days extra so Victor should be ready for the weekend."
Spirit of '99
The Champions League final wasn't the only time United struck late to overturn a seemingly hopeless position in 1999. They also did it in an FA Cup fourth round tie against Liverpool at Old Trafford when Solskjaer got the winner too. The United boss remembered how that win kicked United onto glory and is hoping the same can happen this year.
"Of course we can take a few things from that season," he said. "We know that there's tight moments, very fine margins. In that season we were close to going out against Liverpool and Peter Schmeichel saved a penalty in the semi final in injury time. Those moments, gave us the mental advantage.
"Against Liverpool we got that boost of turning 1-0 down into a 2-1 win against a big team. The FA Cup is a run we've got to enjoy as long as it lasts. We got to the semis last year and as I said, we're going to make a few changes but we'll put a team out there that I hope can go through."
Spread of goals
A lot has been said about Liverpool's forwards amid their current struggles in front of goal but Solskjaer is happy with his striking options. Mo Salah, Roberto Firmino, Sadio Mane and Diogo Jota scored 60 goals between them, one more than Edinson Cavani, Marcus Rashford, Anthony Martial and Bruno Fernandes.
"I'm very happy with my forwards," the United manager said. "I used to play in a decent team and the gaffer had at least four centre-forwards to choose from. We've got players to chose from who can get us goals from any game against any opposition. I'm very pleased with the ones I've got and we're working hard to get the relationships with all of them."
Full back delight
Solskjaer finished his press conference by saying a few words on Aaron Wan-Bissaka. There has been much talk of the resurgence of Luke Shaw at left back recently but his fellow full back is playing just as well at the moment. The 23-year-old has started 17 of United's 19 league games so far this season and has been reliable at right back.
"I think Aaron's one of the best one-against-one defensive full backs in the world," Solskjaer said. "He's getting better and better on the ball and doesn't give the ball away a lot. He's not been asked to venture forward as much earlier in his career and last season was a learning one for him. He's got time ahead of him and in a year or two, you'll see a top full back."