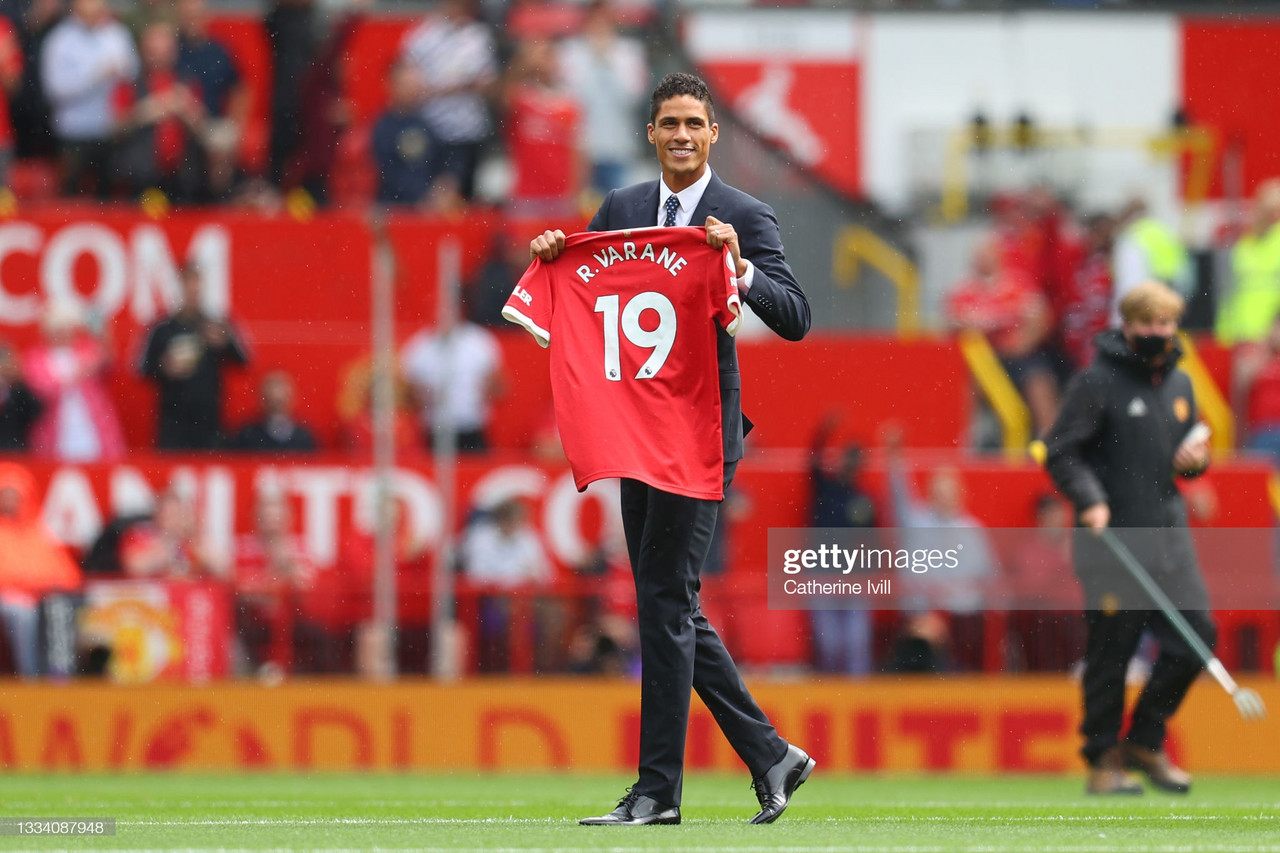 Manchester United have announced the signing of Raphael Varane from Real Madrid.
Varane will join Ole Gunnar Solskjaer's side for a fee that will rise to £43million. Solskjaer confirmed last week that there were some visa issues that delayed Varane's arrival, but the Madrid defender has now completed the transfer.
He was unveiled to the Old Trafford faithful moments before United kicked off their season against Leeds United on Saturday.
The French centre-back is expected to slot straight into the United back-line next to captain, Harry Maguire, but will have to wait to make his debut which could be against Southampton next weekend.
Varane is not in Manchester to mess around
Varane said: "Manchester United is one of the most iconic clubs in world football and the chance to come here and play in the Premier League is something I couldn't turn down.
"There is a lot more that I want to achieve in my career and I know I'm joining a squad full of great players who will all have the same determination to win matches and trophies. Having spoken to the manager I can see how much progress has been made over the last few seasons and I now join a group ready to play at the highest level.
"I want to make an impact here and I will give everything to become part of this club's illustrious history," he added.
Trophy time for Solskjaer
Varane will bring his pace, ball-playing ability and most importantly his knack for winning trophies.
Varane joins United having won 19 major honours, including four UEFA Champions League medals with Madrid and one World Cup.
Under Solskjaer, United have reached five semi-finals. They lost their first four but made it to the final of the Europa League in May against Villareal, which ultimately ended in heartbreak as they bowed out on penalties. They were also without Maguire that night, due to injury.
Collectively, United's starting eleven in Gdansk has 68 major trophies to their name - none of which include a Champions League medal. The only player in United's squad to have won a Champions League medal is Juan Mata and that was back in 2012 with Chelsea.
With the addition of Jadon Sancho and now Varane, many feel Solskjaer will be under pressure to provide at least one piece of silverware this season.
Solskjaer: He's a proven winner
Solskjaer recognises what type of player United have added to the squad. Speaking after their 2-2 draw to Brentford in pre-season, he said: "He's a proven winner, a player we've followed for many years.
"We have different ways of playing with Raphael. I can't wait to get him in, hopefully we can get that sorted as soon as."
It is not just his supreme athleticism that stands out as a defensive trait, his positioning and awareness are second to none. Unlike his former centre-back partner, Sergio Ramos, Varane is not the type to fly into tackles unnecessarily. His 24 yellow cards in 360 appearances for Madrid shows his ability to stay level-headed. He is a defender that remains composed and can react to changing situations mid-game.
Out of Madrid's defenders last season, Varane had the most clearances, aerial duels won and won the most possession. His new partner, Maguire, also had the best aerial success rate in the Premier League last season.
Varane is also capable of bringing the ball forward, which will help take the load off Maguire's shoulders. Maguire last season at times acted as a central defensive midfielder, he would often be seen driving his team forward and higher up the pitch. With Victor Lindelof's lack of pace, this would open United up to be hit on the counter. But with Varane expected to take Lindelof's place in the side, United can feel safer knowing they have greater experience at the back.
Many have said United never replaced either Rio Ferdinand or Nemanja Vidic. In Maguire, they have a closer version to Vidic – a leader, warrior and ball-winner. In Varane, they have Ferdinand. The ability to be dominant in duels defensively and remain calm on the ball.
Some critics have noted that his defensive stats like balls won or the number of interceptions/tackles may not be too impressive. But the beauty of Varane's style of defending is that he rarely needs to make tackles or win the ball because of his positioning and spatial awareness.
United have no doubt improved their defence since Solskjaer took over, and their unbeaten away record last season proves that.
In the new season, his team will be judged on results and the need to win trophies. Solskjaer mentioned the word 'progress' often last season, now it's time for 'success'.