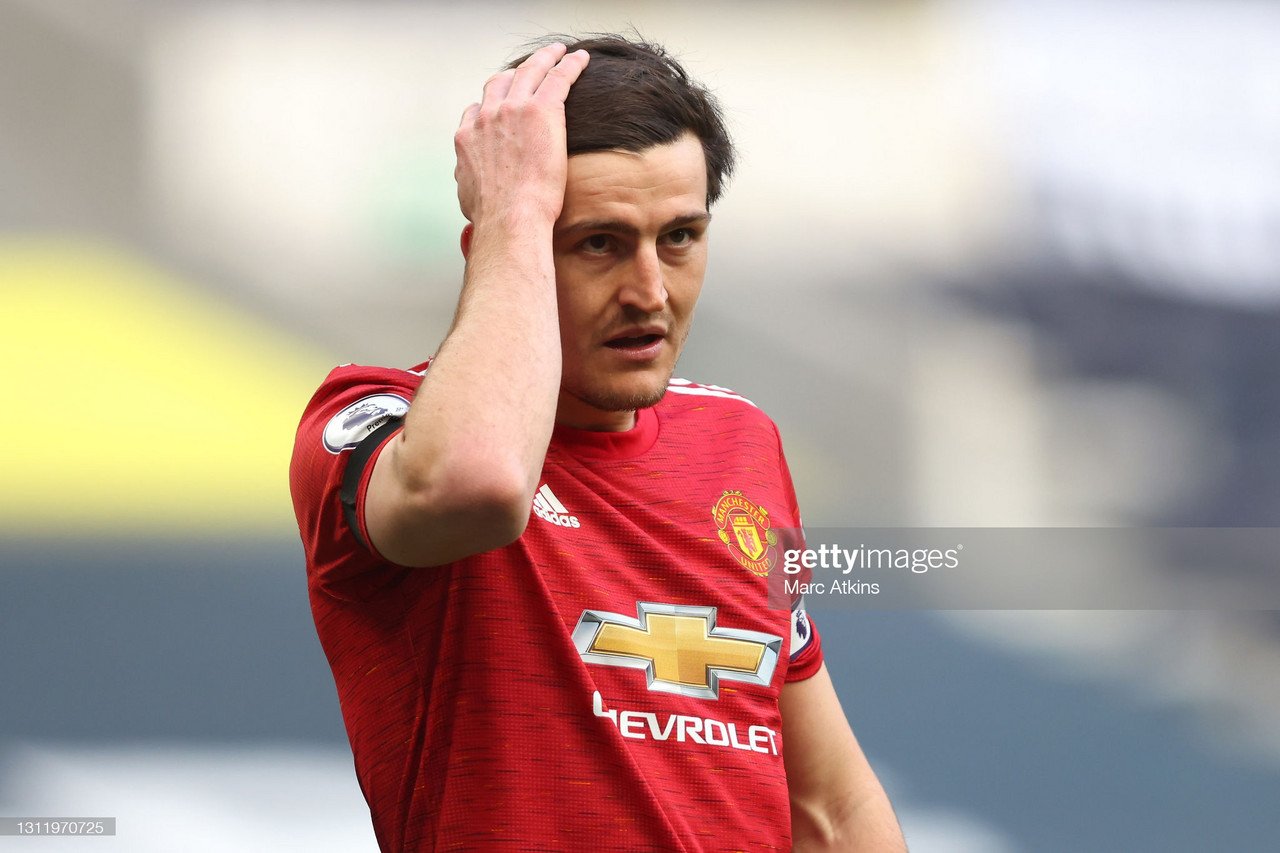 At the age of 28 Harry Maguire is at the peak of his career, the same could be said for his new defensive partner whose arrival is imminent in Manchester. Raphael Varane has been described as a "fruitful bargain" after his 34 million move. As long as his medical is successful and personal terms are finalised, Varane would take United's spending on players to just short of 400 million since Ole Gunnar Solskjaerwas appointed on a permanent basis in March 2019. But how do the two compare in terms of profiles as we look ahead to another season of football at Old Trafford.
Maguire came through the youth system at Sheffield United. He started his career in 2011 carrying on through to 2014 for the Blades making 134 appearances and scoring nine times. He then took to Hull City signing up for just the 2.5 million appearing 54 times and scoring just the two goals, also featuring in their victory over Sheffield Wednesday in the Sky Bet Championship Playoff Final in 2016 to help the team to the top flight. He then made a name for himself at the back just before he was loaned out to Wigan Athleticin 2015.
He joined Leicester City who were in the Championship at the time for an initial fee of 12 million and two years later he moved to Manchester United for a fee believed to be around 80 million which was a world record amount for a defender. Within six months he was appointed the club captain. But it has not been all plain sailing for the defender at United who has found it difficult to stay consistent at the back with the likes of Victor Lindelof alongside him. Having big boots to fill, almost cried out for a defender like Varane after Luke Shaw had the best season of his life at left back showing how it should be done in a United shirt.
Varane United's new marquee signing on the other hand has had a colourful career himself. The highly rated Frenchmen was signed professionally by Lens during the 2010-2011 campaign making 23 appearances and scoring just the two times. But little did he know his career would take a massive jump to Spanish giants Real Madrid in which he would be a worldwide superstar for a 10 year period.
Having signed for Real Madrid in 2011 Varane appeared 236 times for the Spanish side scoring 8 times in total. The 28 year old has already won a handful of trophies winning La Liga a total of three times alongside the Champions League four times and the FIFA World Cup four times but just the solitary trophy with France.
What has been said about Raphael Varane from his predecessors and the public?
During the time Varane started his career he had been described by Lens youth coach Eric Assadourian as a "truly first class player" who is "comfortable" on both the tactical and technical level within the game. On 30 January 2013 his Real Madrid assistant coach Aitor Karanka spoke about Varane in the press conference post the El Clasico of the Copa Del Rey, saying "It's obvious that Varane has a good head on his shoulders and will keep improving." Former France defender Frank Leboeuf also had his say on the heavyweight defender, he believes that Varane has the potential to be better than Real Madrid legend Fernando Hierro saying to reporters "many compare him to Hierro due to his technique, but on the physical level he is stronger and he is much faster." Hierro and Jose Mourinho have labelled Varane as one of the best defenders in world football.
Ex-Everton midfielder Don Hutchinson told BBC Radio Live's Football Daily. "He is an absolute bargain, he is in his prime and is a multiple league winner, multiple Champions League winner, and is coming in as a finished article and one of the quickest centre-backs out there. You imagine his partnership with Harry Maguire would be very good. We have questioned the signings for quite a few years at Manchester United, but this one alongside Jadon Sancho shows where they are heading. This is a brilliant signing." Former Crystal Palace striker Clinton Morrison gave his take saying "Sancho is an exciting signing but Varane is a hell of a signing. He is a Rolls Royce. Lindelof did well but he doesnt have the pace to cover Maguire."
Could Thiago Silva be the bargain of the decade?
Thiago Silva has gained 55 million in transfer fees during his career with Chelsea pulling off arguably one of the biggest transfers of the 2020 summer transfer window by landing the veteran defender on a free transfer. Silva had a Premier League debut to forget, when his loose touch led to a goal from Callum Robinson in a 3-3 draw with newly promoted West Brom. Instead of letting that mistake get to him, Silva went from strength to strength and helped Chelsea win the Champions League in May. In the Premier League last season only Manchester City conceded fewer goals than the Blues with 32 to the London club's 36. With Silva proving himself rapidly the 36 year old's form earned him a one year contract extension with the West London club and he looks set to play another pivotal role in the forthcoming season ahead.
Which previous defenders have turned the tables so quickly for their parent clubs?
In 2016-2017 the year before Liverpool signed Virgin Van Dijk, the Reds conceded 42 goals in 38 league games. By 2018-2019, the Dutchman's first full season, the total was down to 22. Having finished second a season before, a year later they were champions for the first time in 30 years. While Ruben Dias and his impact wasn't quite as obvious. City only let in four fewer goals in his debut campaign than they did in 2019-2020, the Portuguese made a huge difference alongside John Stones which gives many hope when it comes to Maguire combining in the foreseeable future with Varane. With Dias in the team Pep Guardiola's men won 38 of 50 matches, a rate of 76% and kept 25 clean sheets as they eased to a fifth Premier League title, a fourth successive Carabao Cup success and reached the Champions League final.
Stones and his turnaround at Man City has been fantastic. It just goes to tell you again that form is temporary and class is permanent. In the early stages of last season, the 27 year old was struggling to make manager Pep Guardiola's matchday squads. However from November onwards he formed a formidable partnership with Dias as City went on to win a third Premier League title in four years. His form also led to a recall to the England squad in March. His consistency also saw City reach a first ever Champions League final resulting in him starting ever game for the Three Lions at Euro 2020. He appears to be fulfilling his potential as he enters the peak years of his career.
Harry Maguire's strengths and weaknesses and how Varane could help United defensively from set-pieces
The partnership between Varane and Maguire has the potential to become the best anyone has ever seen despite all the other new defensive pairings across Europe. Maguire's progressive passing and comfort in carrying the ball from the back was a huge asset for Gareth Southgate during the Euros and the same applies to Solskjaer. Replacing Lindelof who can often be suspect on the ball with Eric Bailly's distribution often caught out, Varane will add calmness to United in possession of the football. Although defensively Maguire is no slouch, he isn't the most rapid of defenders on the pitch. Varane's athleticism could help the Red Devils play a higher line next season, rather than sitting deeper to avoid being caught out behind. Which in turn will give their midfield less ground to cover and could finally unlock United's high press.
Varane could also be the solution to United's set piece issues of recent from dead ball situations. The Red Devils conceded 14 goals from set pieces last season. Only Leeds were leakier from set plays. In contrast, Champions City conceded only six goals from set pieces all season. Corners have also been a massive problem for Solskjaer's men having conceded twice to teams such as Paris St Germain and AC Milan.