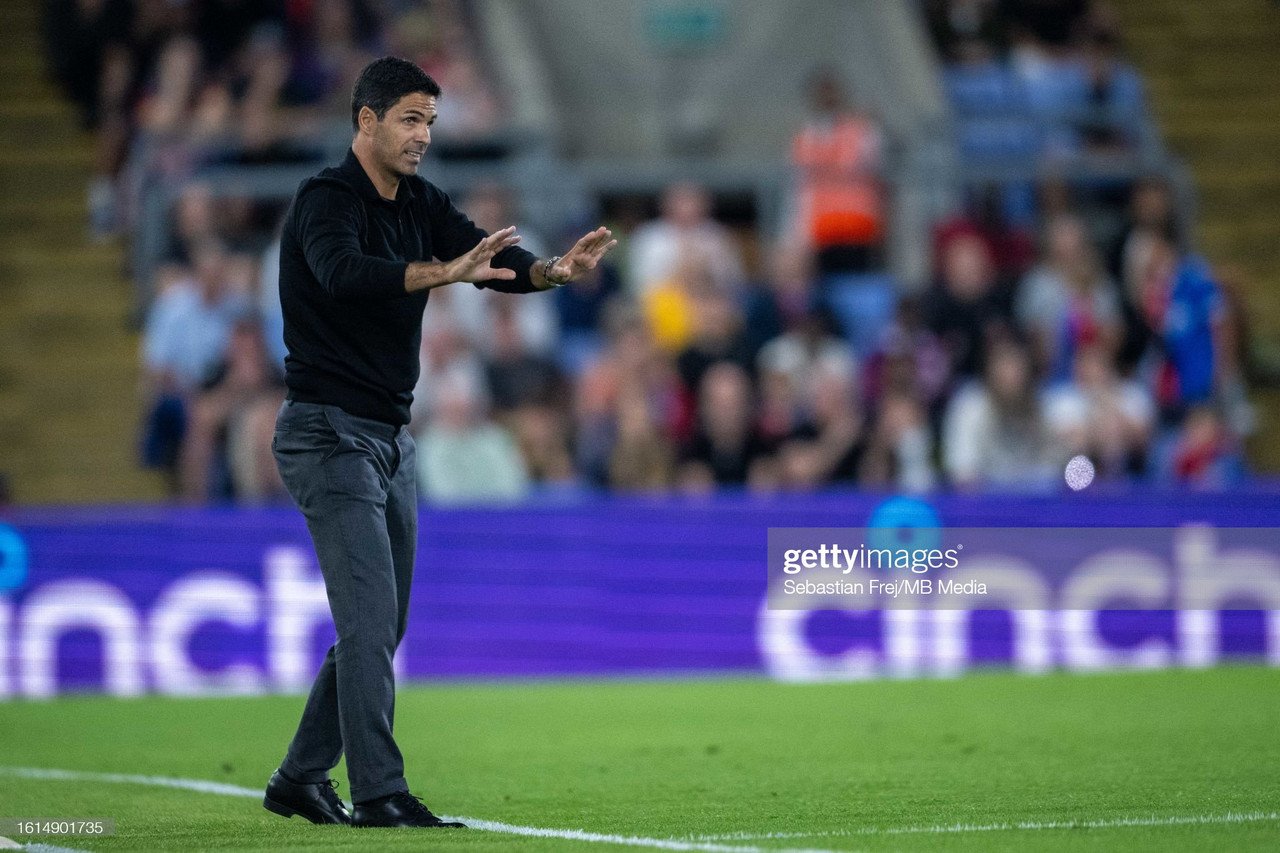 Ahead of Arsenal's upcoming Premier League clash with Fulham on Saturday, manager Mikel Arteta addressed the media.
The Gunners face their second consecutive London Derby this weekend after beating Crystal Palace 1-0 at Selhurst Park in their previous game.
Arteta will hope that his side can produce a more comfortable performance than their last, after Martin Odegaard's second half penalty was just enough to see 10-man Arsenal pick up three points in south London.
Arsenal can maintain their prefect start to the new Premier League season with a win over Fulham in their next game.
Gabriel Jesus returned to full contact training this week, and Arteta hinted that the Brazilian number nine could be involved against Fulham at the weekend.
He said: "Yeah, we are really happy, obviously it was a big blow for him after all the pre-season that he had to another surgery, but he's looking really sharp and trained the full week really good, so he's ready to go."
The Spaniard also confirmed that he had no fresh injury concerns in regards to the rest of his squad.
Arteta wasn't as open when quizzed about any potential outgoings, opting to keep his cards close to his chest.
He said: "There are some movements happening. Obviously, the last week is going to be really, really busy, but nothing we can announce yet.
"We cannot say anything other than some movements, but we can't get dragged into individuals because there is nothing concrete yet.
"There are things that are not yet resolved, and when that's the matter we will tell you," he added when asked about Kieran Tierney's proposed loan move to Spanish outfit Real Sociedad.
There has also been plenty of transfer speculation surrounding Brazilian defender Gabriel Magalhaes, who appears to have fallen out of favour this season. However, the Arsenal manager was quick to state otherwise.
He said: "Gabi is a really important player for us and there is nothing going on with that at the moment."
Arteta also outlined how important it was to have a settled squad when the transfer window closes on September 1.
He said: "Well, really important, especially for the players, and everybody needs to have clarity in their roles, where they are playing, obviously their families as well.
"I will need clarity for the amount of numbers we are going to have and who can do what.
"But, still the window is open, which is a bit strange to be competing already in different competitions and still the window is open. We have to deal with that, it's happened for a long time, and we are used to it."
The Gunners picked up six points against Fulham in the Premier League last season - a 2-1 win at home, thanks to a last-minute Gabriel goal, and 3-0 away win at Craven Cottage.
However, Arteta was wary when presented with the stat that he was yet to lose to the Cottagers as Arsenal manager.
He said: "I didn't know that stat, so it's something new. Hopefully we can continue tomorrow and win the game.
"It [Fulham] is a team that creates a lot of challenges and difficulties, and it happened last year, when we played there and at home, we had tough moments.
"The way we won at home was in the last minute, and away we were really good in the first half, but not so good in the second half, so tomorrow I'm expecting something very similar."
The Arsenal boss was also quick to heap praise on the job his Portuguese counterpart, Marco Silva, has done in west London.
He said: "Well I think what Marco [Silva] and the coaching staff have done there is remarkable, the way they played last season, and where they qualified in the Premier League, and especially the way they did it. It was incredible.
"It's a club that we really admire, it's really well organised, really clear ideas of what they want to do, you can see his team exactly in the way that he wants to, and tomorrow we are going to have a tough match."
Despite the huge loss of Serbian talisman Aleksandar Mitrovic to Saudi Arabian club Al Hilal this summer, Arteta believes Fulham have replaced him with an equally dangerous player in Raul Jimenez.
He said: "It's true that Mitrovic gave them a different dimension, but Jimenez as well, he's a very proven goal scorer in this league, and did extremely well at Wolves.
"They [Fulham] have the resources, they have the capacity to hurt you and tomorrow again we will see that for sure."
Last Weekend and New Rules
Despite being reduced to 10 men in their previous game against Crystal Palace, the Gunners found a way to hold on and see out the game.
Arteta expressed just how good of a win it was for Arsenal given the tough circumstances presented to them.
He said: "Especially when you have to play over thirty minutes in those conditions [with 10 men], but we did it, and the team showed incredible resilience and hunger to win, and react against the difficult moments.
"This is what we want, it was a really good game for us to learn something different."
Takehiro Tomiyasu was given his marching orders after receiving a second yellow card for fouling Palace forward Jordan Ayew, a decision which has been deemed controversial after the full-time whistle.
Arteta refused to comment on VAR, however, and stated that a rule change, which could have seen Arsenal able to appeal Tomiyasu's suspension, is be out of the question.
He said: "I prefer not to comment too much on referees, I stay away from it. I think it's clear from the images what to gather, so I prefer not to comment on that.
"Yeah, I would like to see a reactive approach to that and do the same, but we know that is not going to happen."
The Arsenal manager also poked fun at the new rules regarding the manager's technical area when asked how he was getting used to them.
Arteta mimicked being electrocuted when joking about having someone in the stand to control him.
He said: "I'm used to them already, one week, bang, done.
"Yeah, I'm a new man on the touchline, you will see me so calm, I won't move from the line, I'm ready to go.
"I'm trying my best to be there [on the line]. I have someone in the stand, the moment I move, [mimics being buzzed] I have a ban there so I'm not going to move no more, you will see how good I behave."
It was an impressive performance in a situation which has historically seen Arsenal crumble, however Arteta believes his side can no longer be labelled as weak.
He said: "That's something that you have to prove every day, because the moment you are not at it in this league you will be exposed.
"That's the adjective that a lot of people use to explain a defeat or explain a draw and sometimes it's not that simplistic, but yeah, I don't like those words in regard to our team for sure."
This summer has seen Middle East country Saudi Arabia move to the forefront of global football.
Arteta believes that the Saudi Pro League is now a direct rival to that of the Premier League, and has called for FIFA to change the duration of their transfer window.
He said: "It's another competitor, and it brings other opportunities for players, for managers, for people that work in the industry to decide.
"At the end we are free to decide you know, when clubs, players or whoever has to decide to agree to something, you have to have the intention to go, and you have to find agreements, that's why there are contracts.
"So if people agree to go, if someone agrees to go there but then someone agrees to sell him, so it goes two or three different ways."
He added: "It is a competitor now, no, I think we have to change that [the transfer window]. That's my opinion yes."
The Spaniard also stated that any potential offers during the two extra weeks that the Saudi Arabian transfer window is open for would be out of his control.
He said: "Well, the principle would be that, but I cannot make the decision for the club, there are a lot of people involved in that process and they would for sure have a say, and the ownership will do the same, so it would be on the table like any other offer, and you will have to look at it.
"The only thing I am saying is that it's not ideal because now they are competitors."
Last Sunday saw England and Spain battle it out in Australia for the Women's World Cup trophy, with the latter lifting the silverware.
However, Spain's win was overshadowed in controversy after Spanish FA boss Luis Rubiales kissed forward Jenni Hermoso on the lips following their World Cup triumph.
FIFA are now investigation the incident, however the 46-year-old has refused to step down from his position.
Arsenal manger Arteta labelled the situation as "sad".
He said: "Hopefully it doesn't [overshadow the win] because I am extremely proud of what they have done, I think the whole country is.
"I don't have the full details [on the situation], so sorry, I cannot comment on what happened today.
"It is sad that this is happening while everybody should be celebrating and be extremely proud of what they have done."