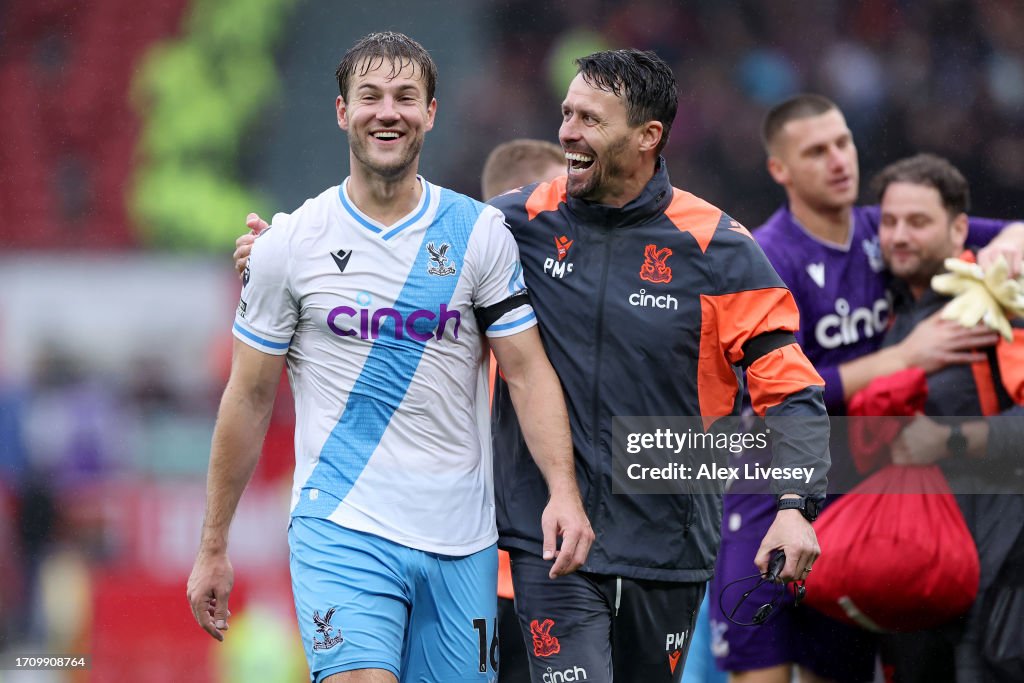 Crystal Palace handed Manchester United their 5th loss of the season in all competitions after beating them 1-0 today under the rain in Manchester. This is the first time United have lost four of their opening seven Premier League games, and this result will only heap more pressure onto Erik ten Hag and his players.
United started off the game strong, dominating possession and creating chances for the likes of Rasmus Hojlund, Casemiro and Facundo Pellistri, but subsequently failed to capitalise on those chances, a reality which would become the story of the game for the Red Devils.
What made matters worse for United was that against the run of play, Palace were able to take the lead by scoring the only goal of the game through a wicked volley courtesy of Joachim Andersen, who's shot took a slight deflection off of Diogo Dalot's shoulder to just take the ball away from a helpless Andre Onana.
The second half was practically the same story, with United pushing Palace into their own half and flooding the Palace box with players to try to convert chances. United thought they had found a way into the game via a Joel Ward handball, however the decision wasn't given by VAR.
There was a point later on in the game where Palace thought they might've had a penalty via a Sofyan Amrabat handball, but VAR refused to award a penalty in this instance too. Palace were ultimately able to hang on until the final whistle and avenge their defeat to United in the Carabao cup earlier in the week, leaving Ten Hag and his players with a lot to ruminate over.
Here are four things we learnt from the game.
It wasn't United's day in front of goal
United were able to circulate possession well for most of the game and this allowed them to remain mostly in Palace's third. However, the consistency of United's pressuring of Palace was poor as they lacked the cohesion to sustain effective chance creation in and around Palace's box.
Watching United try to create chances and sustain attacks in Palace's third made it very clear that with the addition of new players and players who are just now receiving more minutes from Ten Hag, there remains an element of unfamiliarity. The regulars like Marcus Rashford and Bruno Fernandes still look as though they are actively trying gel with the newcomers like Hojlund and Mason Mount.
It was evident in Rashford's performance today of his desire to create for his forward partners. Especially in the first half, it seemed as though every time Rashford found an avenue into the box he wasn't keen on taking responsibility himself and testing Sam Johnstone - he was more concerned with trying to find the acute or needle-threading pass into his teammates.
With Pellistri's more frequent starts as of late it has also become quite clear that he still might not be ready to nail down a starting place for Ten Hags United. He's shown that he's secure enough in possession and can hold width adequately to allow Dalot to drift infield, but today and in other matches he's shown that he still lacks physicality against stronger defenders, as well as the pace to stretch defences like a Rashford or an Alejandro Garnacho.
While United were fairly unlucky in front of goal, it also remains clear that quite a few of the attacking players need to show a lot more urgency.
United's buildup of attacks were inconsistent
Regardless of the result there were quite a number of positives about the way United approached Palace's low-block. United found a lot of joy out wide due to their midfielders being able to bait the press of a few palace players and spread play to the width-holding wingers. Unfortunately the wingers weren't dangerous enough when in and around the box and the ball wasn't finding the strikers.
United were winning the ball back with a lot more urgency and it was evident that Ten Hag's pressing structure was a lot more effective with the correct profiles. However once they did win the ball the midfielders and full backs often progressed play by having the attacker receive the ball-to-feet rather than trying to cut open the Palace defence more decisively and have the attackers run in-behind. This allowed the Palace players to settle into their rest defence more comfotably than United would've wanted.
The lack of ability to progress the ball between Raphael Varane and Victor Lindelof also made the buildup of United's attacks quite slow, which again suited Palace.
Palace defended brilliantly
It was clear that the slight improvement in the Palace starting lineup helped in making the day much tougher for United. Palace were very solid at the back and made it especially difficult for United to score. Having Andersen and Guehi back together again for this tie helped in fortifying Palace's defensive structure.
Palace's box defending was especially pivotal to their success today, as they regularly had enough players in their own box to make United force the issue in terms of taking shots, of which United had 19 and only had 4 on target.
Joachim Andersen in particular had a man of the match performance at the back, leading by example and being aggressive in his duels, as well as assured in his clearances.
Palace alleviated pressure well in counter-attacking scenarios
When Palace were able to get on the ball there were points throughout the game where they were able to hold onto the ball long enough to alleviate pressure and get their team higher up the pitch. This was especially apparent in the second half with players like Eberechi Eze and Jean-Phillipe Mateta doing very well in keeping position in United's third either by way of winning it back or carrying the ball over considerable distances.
The front-four of Palace worked very hard to hold onto the ball and draw fouls whenever they were in United's half, and Jordan Ayew in particular was proving adept in winning numerous fouls for his team which allowed them to either reset their off-ball structure, or run down the clock in the final moments of the game.