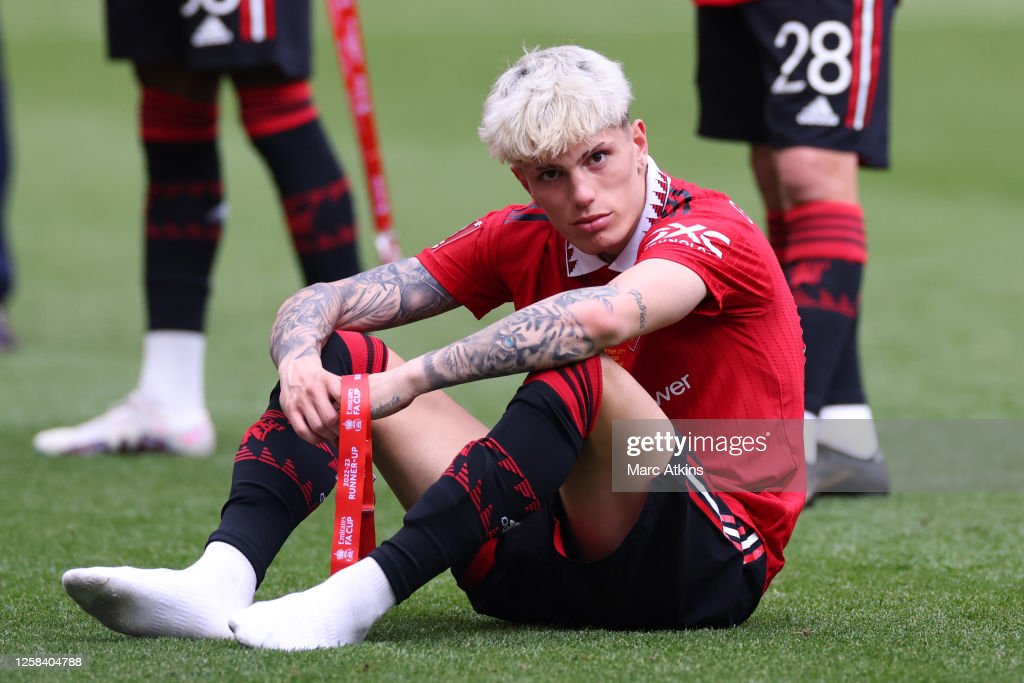 It was no coincidence that Manchester United's best spell of the FA Cup final came once Alejandro Garnacho entered the field. The 18-year-old brought bravery, urgency and direct running which caused Manchester City a rare period of defensive angst during an otherwise fairly one-sided afternoon.
Until Garnacho was sent on in the 62nd minute for Christian Eriksen, United were timid compared to their cross-town rivals. Whereas Pep Guardiola's players were commanding in possession, quickest to the second balls and more agile in attack, United struggled to truly break free from their containment job.
Garnacho's impact was noticeable as he continuously ran at Kyle Walker down the inside left channel and kept pulling balls back from close to the byline. The substitute preyed on tiring legs as the strong north London sunshine seemed to sap some energy from the starters. But even his bright cameo could not bring United a precious equaliser.
Erik ten Hag decided against starting Garnacho, who has experienced a breakout campaign and won the hearts of the Old Trafford faithful, and preferred a more robust unit with Fred, Casemiro and Eriksen all starting. Had Garnacho started then United may have been more of a threat in the final third.
United's only goal came via a penalty which the handball law dictated was given but still felt very fortuitous and, in truth, wrong. Barring a late spell of pressure, during which Raphael Varane struck the crossbar and substitute Scott McTominay almost converted the rebound, it was Garnacho's left-footed shot which bent just wide that was the closest United came from open play.
There will be much for Ten Hag to ponder after this final. Not least the squad strengthening that must be undertaken during the summer irrespective of the protracted ownership saga. Whilst Garnacho arrived with both intent and talent from the bench, there were no other game-changers at Ten Hag's disposal.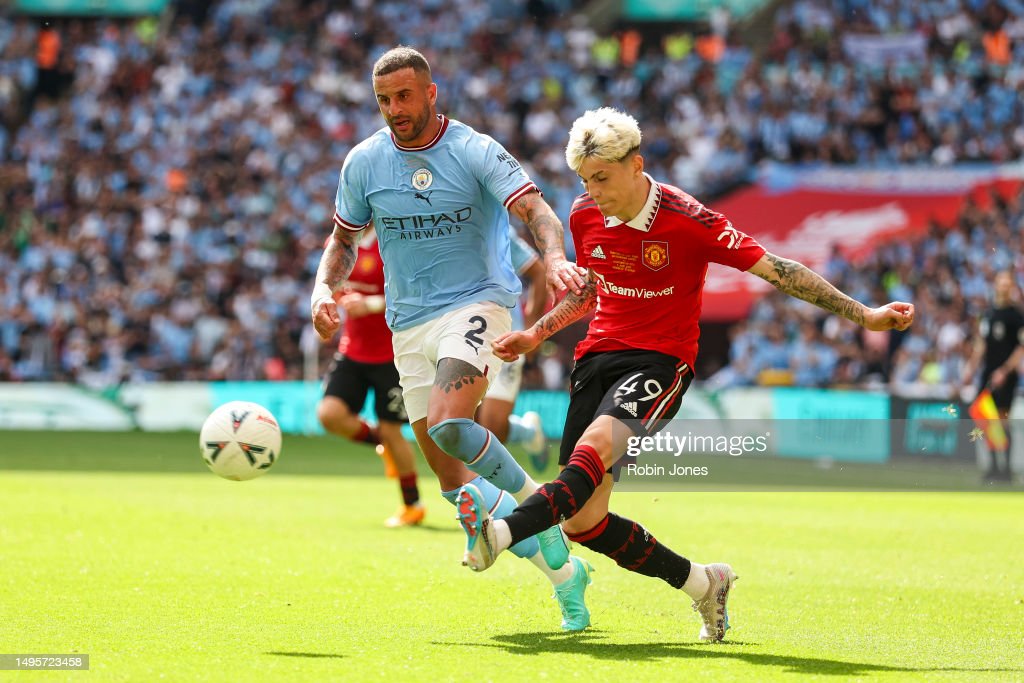 United's bench did not offer anywhere near the same quality as City's. There is a strong argument that at least seven of City's nine substitutes would walk into United's first XI. Riyad Mahrez and World Cup winner Julian Alvarez did not even get off the bench.
Ten Hag inherited a rather unbalanced and dysfunctional squad 12 months ago and the Dutchman has done a fine job dragging United out of the mire, back into the Champions League and win a first trophy for six years. Clearly, he deserves credit for a positive season.
But no one should be underestimating the work required to get this squad to the next level. There is a strong basis but upgrades are needed in certain areas if United are to have any chance of closing the gap to the likes of City.
Ten Hag needs a striker and new goalkeeper
With Antony and Anthony Martial both injured, Jadon Sancho was given the nod here and, at 23 years old, he is no longer a promising teenager. But the England player failed to deliver. His performances at Borussia Dortmund were akin to Garnacho's this season, but there is no doubt his displays have regressed.
At least on the wings, United have players knocking on the door for a place. It is up front and in goal where Ten Hag must look to bring in fresh blood. David De Gea won the Golden Glove this term but the Spaniard has experienced a mixed campaign to say the least.
The 32-year-old has long prided himself on his shot-stopping ability but, as seen with Ilkay Gündogan's second goal early in the second half when the 'keeper got a hand to the bobbling shot but should have produced a stronger hand to push the effort aside, even that strength is now under the microscope.
Throw in his lack of comfort with the ball at his feet, which has improved but not enough, and it is clear why United are in the market for a more reliable goalkeeper. Ten Hag has already said that he cannot guarantee De Gea the number one spot next season, and his contract ends this summer. It is not a leap to suggest that it is time to cut the ties or sign a better first-choice.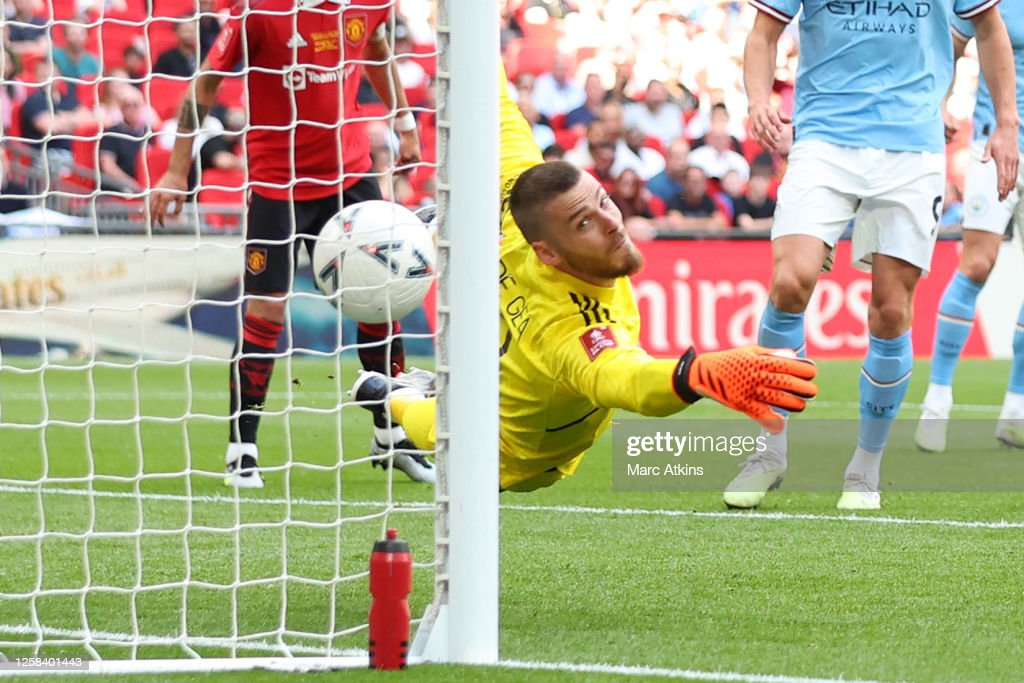 That Guardiola started his No 2, Stefan Ortega, who slotted in perfectly at Wembley only underlined the need for United to replace a goalkeeper who has made costly mistakes this season.
United also need a striker to turn this team from a decent side into one which is far more prolific and dangerous in the final third. When Marcus Rashford's form has dipped slightly, there have been few other options to take on the goalscoring load — Wout Weghorst is not the answer.
Whether it be Harry Kane or Napoli's Victor Osimhen, United need a focal point in attack around which Rashford, Bruno Fernandes and Antony can operate, and from whom goals can come naturally.
There is also a case for more energy in the team. It was noticeable how United's players tired during the final, quicker even than City's. Yes, this was their 62nd game of a long season, but United need players, particularly in midfield, who can run and run.
Casemiro and Eriksen are not spring chickens and Ten Hag will hope to acquire a midfielder who offers quality on the ball and intensity and mobility off it, with Chelsea's Mason Mount being their main target.
A busy summer lies ahead at United — to build on this positive season, the required changes are relatively clear.