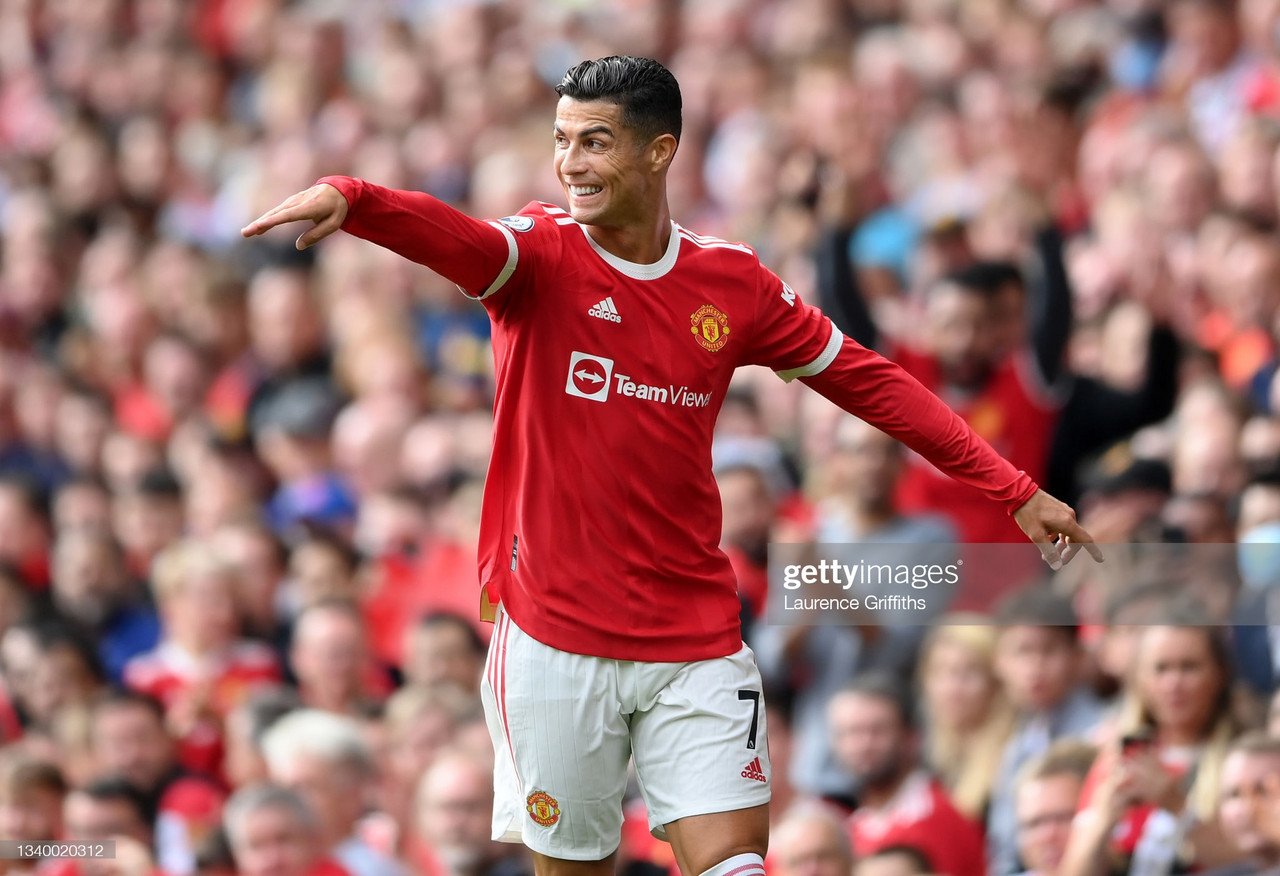 Cristiano Ronaldo broke records on joining Manchester United from Juventus for a reported fee of an initial £12.86 Million, with a potential for a further 6.85 Million in performance related add ons. But the United faithful's favourite player of all time returned how he began his career with two goals at Old Trafford against Newcastle United and the recent single goal away at West Ham United.
With his aerial threat apparent to see from his time at Juventus, he brings pace in abundance, physicality and still has the tricks aswell as goals in his locker. Many questioned his performance based on age when he first joined for his second spell but so far he has lived up to expectations showing his everlasting love for the Red Devils on and off the pitch. Playing as a centre-forward currently, the United icon has moved positions from the days he was an attacking midfielder on the left and right wing.
How many goals has Cristiano Ronaldo scored till date?
Ronaldo is one of a few recorded players to have made over 1,100 professional career appearances, and has scored over 780 official senior career goals for club and country. His Premier League record tells us he made 198 appearances scoring 87 goals and assisting 34 times.
This season he is yet to show his aerial threat with many of these goals coming from the power of his forehead including the Champions League winner against Chelsea in 2008. But his pace was clear to see in his second goal against Newcastle United as he was put through the centre of the pitch by Luke Shaw, his first touch taking the ball away from the keeper giving him no chance with the fierce power generated on the football.
As healthy as ever in his fitness levels and physicality?
Having won everything in his career Ronaldo has kept his body in great shape making sure his fitness levels are as high as ever. His physicality still clear to see on and off the ball whilst looking to intercept and making challenges to break up play. As we compare him to Lionel Messi, Messi has the better dribbling count according to EA Sports. In terms of defensive work both players hold a 34 rating with Messi having the better passing rating, but Ronaldo's physicality is higher by 10.
Is his age concerning in his second stint?
Ronaldo has only lost 28 games overall in his 198 game career so far with 134 wins and a handful of draws added on but United would want him to reproduce his teenage form to mount a title challenge, with teams like Chelsea looking increasingly dangerous up top with the likes of Romelu Lukaku hitting top form. Ronaldo's goal per match record is 0.44, scoring 49 goals with his right foot. He has registered 208 shots on target. The superstar is not back at Manchester to mess out. He will be looking to finish his career with iconic, legendary status after his love for Sir Alex Ferguson was fundamental in his return.
Ronaldo played alongside talented players in the likes of Ryan Giggs and Paul Scholes, but has come into this United side with player who have embarked on high numbers in previous seasons. The only player that still needs to prove himself in a Red Devils shirt is potentially Jadon Sancho but everyone knows the talent and skill he possesses from his days at Bayern Dortmund. The Portuguese will feed off their assists and could be the lethal injection United needed to trouble the likes of Liverpool, Manchester City and Chelsea.