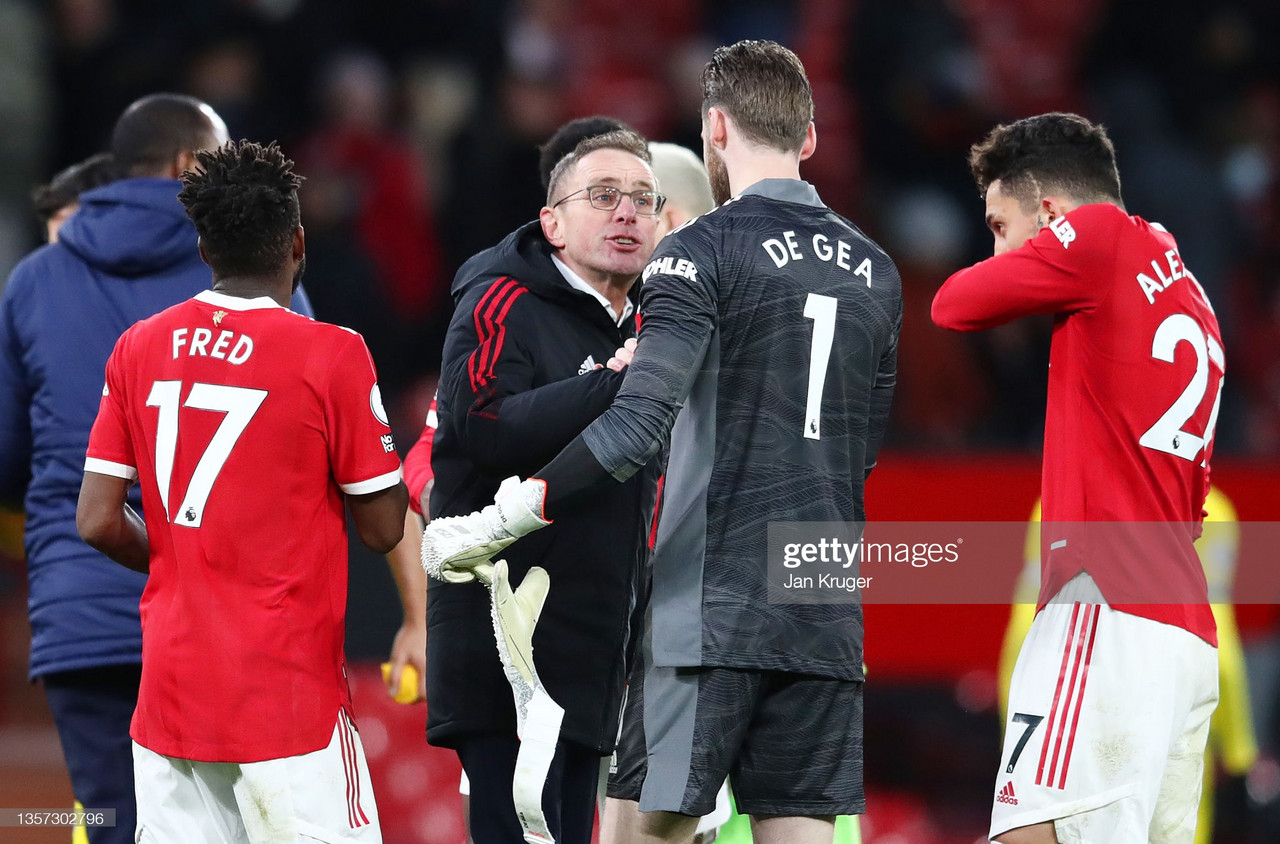 The Ralf Rangnick era at Manchester United has gotten underway with a 1-0 victory over Crystal Palace at Old Trafford on Sunday afternoon.
Rangnick was appointed as interim manager at the start of the week for the remainder of the season with a two-year consultancy agreement in place following his managerial spell.
It is understood that the German will be involved in finding a permanent manager once his reign comes to an end.
Rangnick became United's seventh manager to take charge of a game since Sir Alex Ferguson retired in 2013, making it seven different managers in nearly nine years.
He also became the first German manager to win his first Premier League game.
What differences did we notice in his first match in charge?
There was a plethora of excitement that pulsated throughout the Theatre of Dreams – like there often is with a fresh appointment – before kick-off as fans congregated around the players' entrance to get a glimpse of their new interim manager.
There were zero changes on the team sheet when the line-ups were announced, Cristiano Ronaldo started despite some fans wondering if he'd be demoted to the bench because of his 'lack of pressing'. Diogo Dalot also held onto his spot in the starting XI, the first time he has started two Premier League games in a row since April 2019.
Rangnick is a touchline observer rather than a dug-out one. From the moment he walked out of the tunnel, he stood in the technical area and didn't sit down until the seventh minute. That's a change from Ole Gunnar Solskjaer, who at times remained rooted to his dugout – which frustrated some fans.
Within the opening five minutes, United had won the ball twice in Palace's defensive third of the pitch. Solskjaer's side had been heavily criticised for their lack of – or inability to – press. Rangnick's starting XI was almost set up as a 4-2-2-2; Scott McTominay and Fred in the double pivot, Marcus Rashford and Jadon Sancho out on the wings with the dynamic Portuguese duo (Cristiano Ronaldo and Bruno Fernandes) up top.
The formation interchanged as the game developed with Sancho and Rashford swapping wings frequently and Fernandes dropping deep from time to time.
The former Dortmund winger also enjoyed a free role as he picked the ball up both on the left wing and sometimes down the middle. Sancho took on players and used his trickery to beat a man but also wasn't afraid to shoot. To many people's surprise, Sancho was hooked on the hour mark despite being United's most creative player.
Rangnick said prior to the match that it would take time to turn his players into 'pressing monsters' and whilst that is true, they pressed much more than in previous weeks. That intensity did, however, drop off in the second half which made Crystal Palace's shaky first-half defence look comfortable.
Without Fred's superbly taken goal, many would have felt incredibly disappointed with a draw. United dominated in the opening 45 minutes and had they have taken their chances, they could have put Palace out of reach.
One slight change in the post-match press conference was that Rangnick was so open about discussing his tactics and decisions throughout the game. He shared his insight on substitutions, laughed about the Manchester weather and said he might even enjoy a glass of red wine after the victory.
There is no designated song or chant for the new German as of yet, but if he keeps collecting three points, you get the impression it won't be long until the Stretford End produce one.
When can Rangnick drill a style of play into this team?
United will host BSC Young Boys in the final Champions League match of Group F which United sealed top spot in when Michael Carrick steered them to a 2-0 victory in Villarreal.
Their next league game at home will be Brighton & Hove Albion on December 18 but they'll travel to Norwich and Brentford in between that clash.
Following the Brighton match is where Rangnick may be able to implement more of a style or way of playing as he'll have 10 days between that and the trip to Newcastle on December 27. It will be the first time United haven't played in a traditional Boxing Day fixture since 2009.