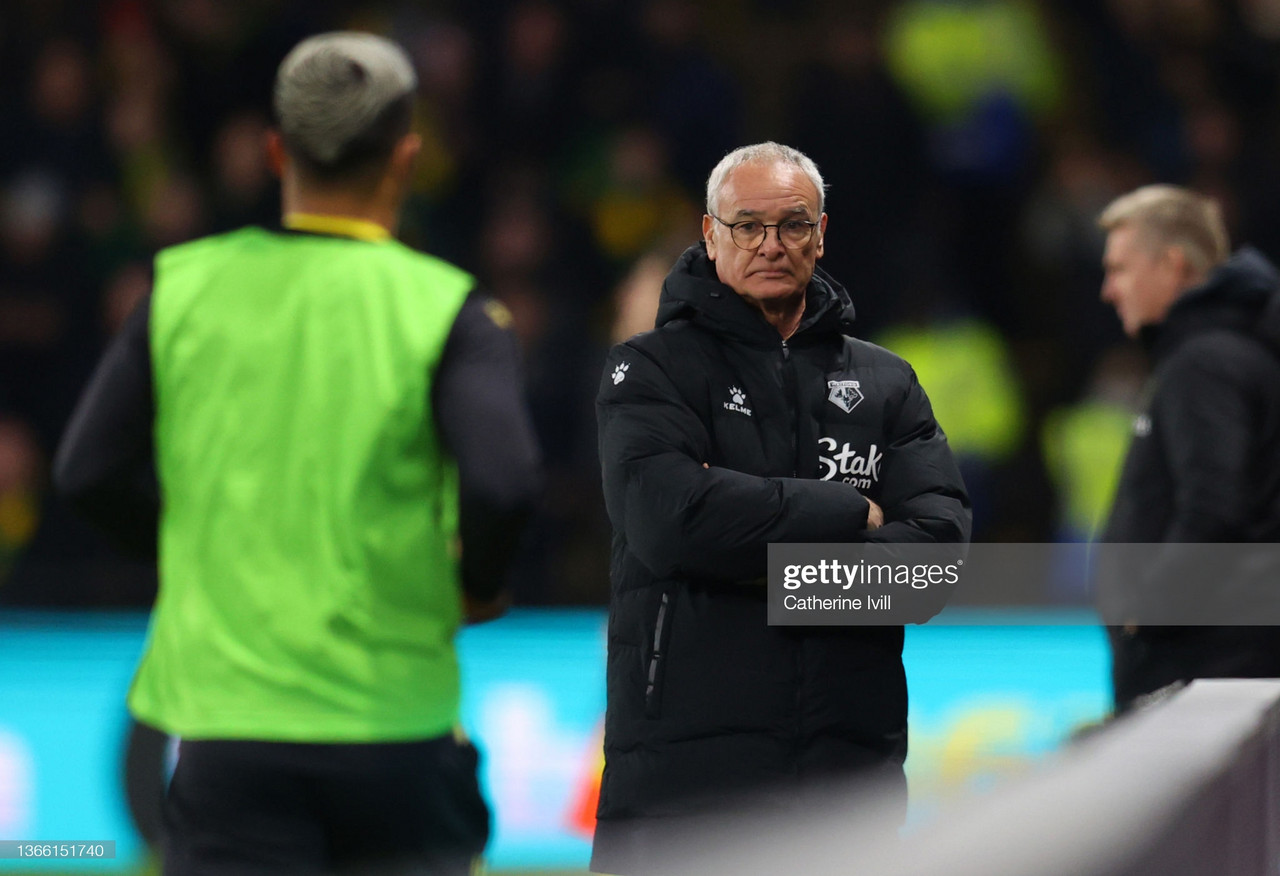 Another one bites the dust at Vicarage Road as Claudio Ranieri has been sacked as Head Coach of Watford after three-and-a-half months in charge.
The Premier League-winning manager was removed from his post following a 3-0 home defeat against fellow relegation strugglers Norwich City on Friday night.
The result put Watford into the relegation zone for the first time this season. It also continues a run which have seen Ranieri's outfit pick up a dire one point in the top-flight since a 4-1 victory against Manchester United in November.
In a statement, Watford recognised 'Claudio as a man of great integrity and honour, who will always be respected here at Vicarage Road'.
The club then said that 'with nearly half the Premier League campaign remaining, a change in the Head Coach now will give a new appointment sufficient time to work with a talented squad to achieve the immediate goal of retaining Premier League status'.
Ranieri ends his fourth spell in English football after just fourteen games - meaning that, similarly to his time at Fulham three seasons ago, his time at Vicarage Road was short-lived.
The Watford board will now focus on appointing their third manager of the season, and seventeenth in ten years.
An inevitable outcome
Watford, owned by the Italian Pozzo Family since 2012, have earned themselves a reputation for being impatient towards their managers.
Even when the club is experiencing moments of success, the pressure never ceases. Take the three managers that did not survive in Hornets' promotion-winning season of 2014-15 as a case in point.
For Ranieri, success, like clean-sheets, has been hard to come by. A difficult opening game against Liverpool saw his team breezed past 5-0 - but the Golden Boys bounced back a week later, scoring four late goals to defeat fellow Merseyside team Everton 5-2.
After a brief moment of happiness for Watford fans, the following weeks and months have been ones of significant disappointment. Only three points against Manchester United, and a point against Newcastle United would fall the Hornets' way since the victory at Goodison Park.
Although the performances following November's home win against the Red Devils had started out in optimistic fashion, eventually Watford looked out of steam. An 88th-minute Joao Pedro equaliser at Newcastle on January 15 only delayed what was fast becoming an inevitable outcome for the Tinkerman.
Friday night's defeat against Norwich - which saw the Canaries double their away goals in one game - was the last straw for the Watford board. The team looked deflated and the mood in the dressing room was one of deep toxicity, according to reports.
Ranieri leaves the side after just seven points from a possible 39 - two wins, one draw, and ten defeats.
Questions surrounding the revolving door
For a time, the 'revolving door' model put in place appeared to be working. Gino Pozzo, club chairman, and Scott Duxbury, club CEO, had guided Watford from being a lower-league Championship side to a team fighting for Europe within seven seasons.
But since failing to finish 7th in the 2018-19 campaign, the trend has gone downhill for the Hornets. After sacking Javi Gracia following just four league games in 2019-20, Watford re-appointed former manager Quique Sanchez Flores in what appeared to be a sideways move.
It proved as such. Flores left the job after just three months in charge, only to be replaced by former-Leicester City manager Nigel Pearson. Despite bringing the squad out of the relegation zone, the Englishman was sacked with one game to go after the team failed to replicate their form when he first arrived.
Vladimir Ivic, appointed after the Hornets' relegation to the Championship, was sacked after a little over four months - following a bust-up with the board. Xisco Munoz, an unknown manager who had only ever managed in Georgia before, was a risky appointment - but he succeeded in guiding Watford back to the top flight.
He managed to pick up 7 points from 6 games at the start of the new campaign in the Premier League - but some especially poor performances meant he was dealt a blow by Pozzo as well.
Ranieri, despite his remarkable campaign at Leicester City, was another potential risk from the board. Fulham had sacked him after just 3 wins from 17 matches. This risk, like many as of recent, did not pay off.
Questions will now be furiously asked as to how sustainable the revolving door policy at Watford is. What has proved apparent in recent weeks is a clear disconnect between the players and club; to which the constant turnover in managers has obviously not helped with.
One need only take a look at other clubs to witness sticking with a manager can eventually work out. West Ham United are the most contemporary example. They stuck with David Moyes, despite having flings with relegation not too long ago. The Irons now sit fourth in the Premier League, and with a genuine chance of European football.
Wolverhampton Wanderers are another such team. Nuno Espirito Santo remained in his post at the club for three and a half seasons, taking them from the Championship to the Europa League. And the board, although losing their opening three games of the season, have stuck by Bruno Lage to ensure the side now have the second best defensive record in the league.
Where next?
What is needed in Hertfordshire, then? Some sort of long-term plan, evidently. For a time, it looked as though Javi Gracia may have been the face of the club. In hindsight, it would no doubt have been best to stick by the Spaniard. Now, it is time to look for a manager who has potential, and let them build their squad.
His tenure was short-lived at the club, but Marco Silva was given the freedom of Summer 2017 to make numerous signings to fit his specific mould. And, prior to interest from Everton, seemed to be guiding Watford to a good place.
So, once again, the question turns to who will step into the vacancy at Vicarage Road. World Cup winner Fabio Cannavero is reportedly favourite - but the fellow Italian would be another risk, having never managed in Europe.
Whoever it is will need to guide the club to safety in the short-term, and build a winning squad up in the long-term. After all, it is quite evident that the current side is a part of the problem in Hertfordshire.
For Ranieri, at 70-years-old he will no doubt question where his path now leads. A fifth return to English football is unlikely.