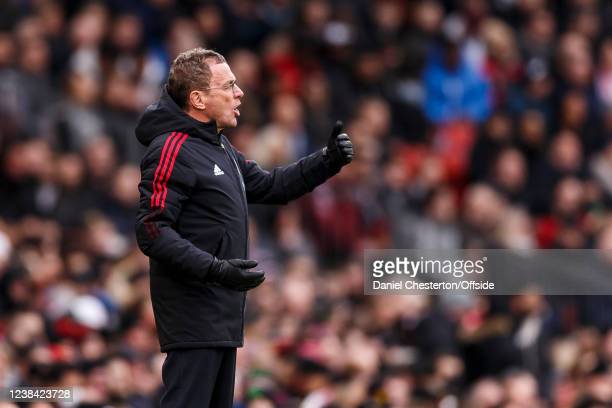 A swift turnaround for Manchester United, who prepare to take on Brighton just three days on from a disappointing 1-1 draw to Southampton.
It was another tough result to take for the Red Devils, who have been struggling to put sides away in the recent weeks. While Ralf Rangnick's team have been improving and creating more chances, United have struggled when it comes to converting their efforts into goals.
One can look at the poor form of Portuguese hitman Cristiano Ronaldo who is on his longest goal-scoring drought since 2009. But the fact of the matter is, the whole side is performing miserably when it comes to scoring.
Here's what United's interim boss had to say leading up to their clash with high-flying Brighton:
Manchester United: A team of two halves
It is typical to expect a side in turmoil, as United are, to be lacking in confidence. Rangnick was keen to address this problem early on his tenure, appointing sports psychologist Sascha Lense to help the players with the mental aspect of the sport.
When questioned on this during his press conference the German said:
"In 11 of the 13 games since I arrived, we have scored the first goal and we were 1-0 up. We didn't win all of them. Especially in the last three games, yeah, it was very sad that we didn't win those games because it cost us four points in the league and then the next round in the Cup,"
He went on to say: "he first halves in the last couple of weeks have been really good, I've been more than happy with the performance that we've had in the first halves, we didn't concede a single goal in the last weeks in the first half."
While it is true that the first half performances United have been producing have been solid, once again taking the lead early on against Southampton, this time courtesy of winger Jadon Sancho. However, it must be stated that the Red Devils have struggled when it has come to closing out games.
"We just gave away those goals too easily," he stated. "If I look at all those goals that we conceded in the second half, it was just too easy and it was also our own mistakes that we made to allow the other teams to score."
Jadon Sancho is finding his feet
There were high expectations on young Englishman Jadon Sancho when he joined United from Borussia Dortmund for £73 million last summer. Admittedly, it has been a slow start for the winger, however following good performances against Middlesbrough, Burnley and now Southampton, United fans are starting to get a glimpse of the player they thought they signed.
Rangnick is a known admirer of Sancho admitting: "I contacted him and his agent when he was 17, some four years ago, and tried to convince him to join us at Leipzig," He went on to say: "In the end, he decided to go to Dortmund and had a great time there. I mean, his development there, he became one of the best wingers in the whole league, if not in Europe."
Rangnick also made sure to mention the rigours of the Premier League and how that adaptation period won't be swift: "And, yes, the step to a club like Manchester United was a big one, for anyone, and for a, at the time, 20-year-old, it was a massive, huge step. That this takes time is normal for me. I think the style of football we play and we want to play fits perfectly to his assets and his strengths, coming from the left side."
A team too easy to play against
During his review of the Southampton game, Rangnick described his side as one "too easy to play against," this comes following a rather toothless second half display from the hosts.
This is a Manchester United side that find themselves languishing in sixth place in the Premier League, and out of all the domestic cup competitions. Criticism has been aimed at the manager by Saints boss Ralph Hasenhuttl, who said reverse gears perhaps not working the best at United. Rangnick responded:
"Yes, what he said, that we are not a naturally born pressing team, with a lot of players in their DNA to press all the time. This is normal. They haven't being doing that in the last couple of years," Rangnick added: "To change that into a pressing team all the time is difficult during a season, but for us it is important that we pick the right moments to be proactive and to press, the best possible counter-pressing."
The German also questioned the mentality of his side saying: "Some of them in transitional moments, when we were almost over-anxious. We were not ready at the right moment, and then saying 'oh wait, I should have pressed', come in one or two steps too late, and giving the other team the space to be on the counter-attack."