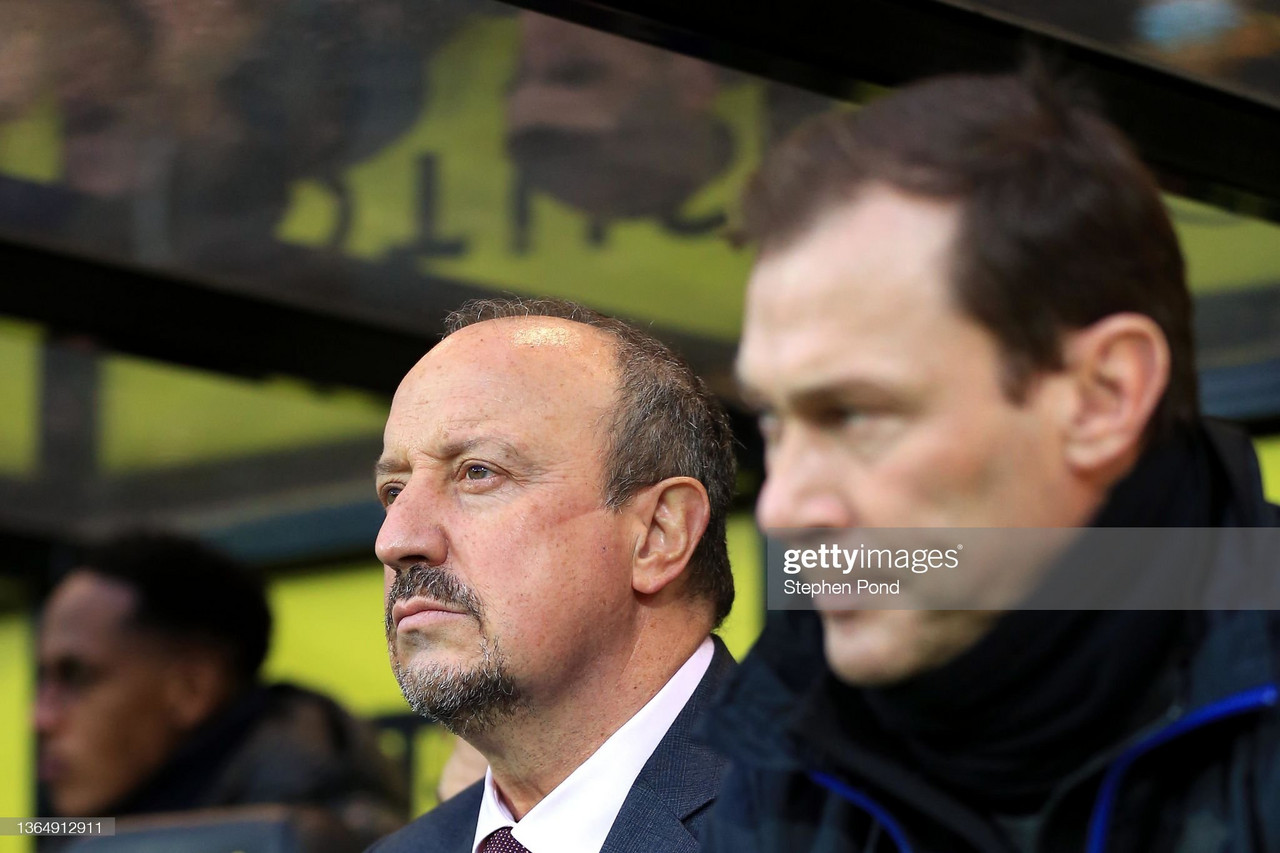 A New Beginning
Following the employment of Frank Lampard in January 2022, times were looking bleak for Everton Football Club. They sat 16th in the Premier League table going into February and all Evertonians were fearing the worst.
A controversial decision from owner Farhad Moshiri saw Rafa Benitez, notoriously an ex-Liverpool manager, take the reins at Goodison Park. Not only was he hated by Everton fans for the obvious, he'd also made comments in the past about the Toffees being a 'small club', and had also been doing a subpar job over in China.
It felt as if the non-existent bridges between a former Liverpool manager and the Everton fan base had already been burnt to ash, and many thought the appointment was destined to be a disaster.
Benitez's Business
To be fair to Benitez, he was handed a shoe-string budget by the Everton board to work with in the summer transfer window, as a result of misspending by the club in recent years. He didn't help himself early on however, as he opted to tell superstar James Rodriguez he was surplus to requirements and would be free to leave. As if the Spaniard wasn't already fighting a losing battle, he had already left a sour taste in the mouth of the Everton faithful.
In one successful transfer, he picked up a coup in winger Demarai Gray, spending just 2.5m, seeing him becoming a regular starter and it remains that way today. A great pick-up from Bayer Leverkusen, a relatively low risk transfer turned out to be a very good acquisition.
Another relatively successful Benitez-era signing was Andros Townsend, a Premier League veteran who had played under Benitez at Newcastle, before he made his move to Crystal Palace, making a name for himself for scoring brilliant goals including a Goal of the Season against Manchester City.
On paper, Townsend was a slightly underwhelming acquisition as towards the end of his time in South London he fell down the pecking order, and if he couldn't start there many wondered why Everton wanted him. He proves to be a good signing, scoring some important goals to win Everton vital points before suffering a season-ending injury when he tore his cruciate ligament in March, he would be sorely missed.
However, his other signings included ex-Newcastle and West Brom striker Salomon Rondon, who had worked under Benitez the previous season at his former club Dailan Professional. The Venezuelan had a decent record but has been a huge let-down for the blues, lacking the fitness and pace to keep up with the speed of the Premier League.
Rondon would end up playing 20 games that season, bought in as a back-up striker to Dominic Calvert-Lewin, who would unfortunately suffer a fractured toe which saw him miss 16 games. After loaning out Ellis Simms and Nathan Broadhead, Rondon would have to start every game, otherwise half the season would have been spent striker-less.
The beginning of the end
Benitez's Everton started well in the league season, having beat Southampton on the opening day, followed by a draw away to Leeds, then victories in the cup against Huddersfield and in the league against Brighton and Burnley.
It was in September when the cracks started to show, Everton crashed out the cup on penalties to Championship side Queens Park Rangers, and just a month later a 5-2 loss at home to Watford saw most fans start to turn on the Spaniard. It was evident that there was no way back for Benitez after the Blues suffered a 4-1 home defeat to fierce local rivals Liverpool, who chanted their former managers name as fans left Goodison Park early.
Somehow, Rafa Benitez would last until the 16th of January, with a defeat in the previous game to an awful Norwich team being the final nail in his coffin. Everton legend Duncan Ferguson would take charge of the next game while the board searched for a replacement, Everton were beaten 1-0 by Aston Villa in his only game as caretaker manager.
The story of Rafa Benitez's Everton was short and certainly not sweet. Everton fans are still baffled to this day that Benitez lasted as long as he did. It was clear to see that the trajectory of the club was on a ginormous decline, and leaving it so late only made his successors job more difficult.
If there's any positive to take away, it's that this almost-comical story most likely spelled the end of a terribly run period of Everton Football Club. There wasn't much further the club could sink, and since, it has seemed Farhad Moshiri has turned a new leaf and decided to allow people who know what they're doing to run his club.