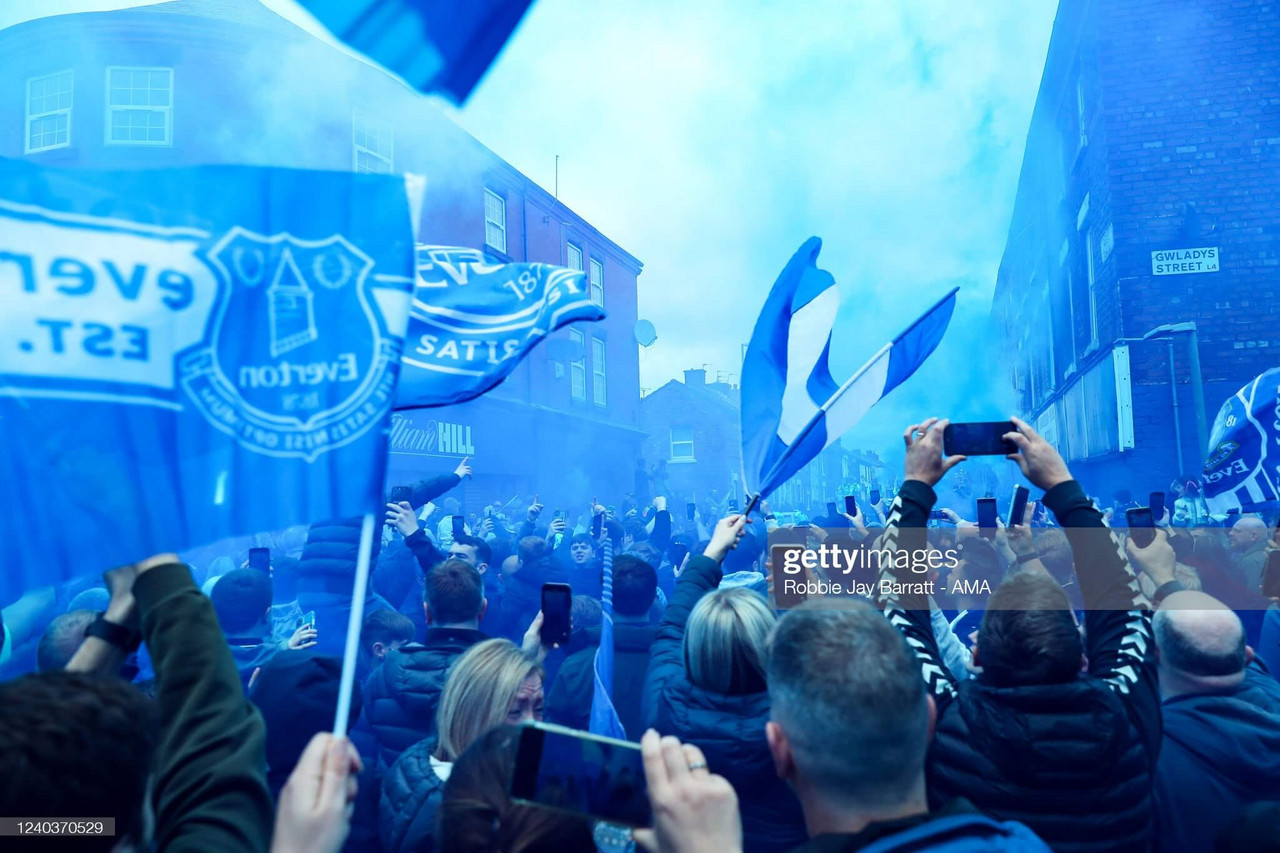 Videos of Everton aboard their team bus have been viewed aplenty online this week — somewhat ironic given their travails on the road this season. But these images have laid bare the united front that the relegation-threatened club have displayed to hoist themselves above the parapet with four games remaining.
Two victories on the spin have given Everton belief that they can maintain their top-flight status, which they have held since 1954, for at least another campaign. Prior to both games — a 1-0 win over Chelsea at Goodison Park and 2-1 triumph away to Leicester City — Everton's team bus has been greeted and sent off with a ferocious fanfare featuring flares and all.
On both occasions, from the blue mist, Everton have channelled the 'Dogs of War' spirit that their supporters have thrust upon them. They now sit in 16th place, a point off the dropzone and with a game in hand on their fellow strugglers Leeds United and Burnley.
Everton's win over Leicester on Sunday was their first success on their travels in the league since Brighton & Hove Albion in August. Thirteen away games without victory followed and Frank Lampard was finally able to put to bed a troubling record. Assigning too much importance to Everton's dash-cam footage would be churlish, but with time having started to run out, Lampard's side have shown the fight their supporters have long demanded.
Having picked up 10 points from the last 15 available and lost just one of their last five, away to Liverpool, Lampard has stressed that his team cannot consider the job already done. A trip to already-relegated Watford is next up this evening and that precedes the hosting of Brentford and Crystal Palace in the final week of the season before finishing off away to Arsenal.
"It's the only message for us. As much as we enjoyed the weekend, it was a game which got us out of the relegation zone with four games to go but it is very dangerous to relax on that," Lampard said. "As much as we can talk about the fans, us as players and staff, the only message is we have to go now and finish the job, which is a tough job.
"We have to expect the worst, everyone else can win, but we can control ourselves so there is absolutely no way we can relax. That's the biggest message. To underestimate it because Watford are relegated would be our biggest danger. Every game in the Premier League is dangerous, especially when you travel away. The minute you think you have cracked it, it becomes dangerous."
'We have to go and finish the job'
The search for consistency started as soon as Lampard took the job in February but it has taken time for the former Chelsea manager's work to filter through to the team's results. Breaking the hoodoo of winning away from Goodison Park was seen as vital for a team whose confidence has been fragile throughout the campaign. Building on the emotional high of defeating Chelsea was equally as important.
"It's a step forward. Getting one result doesn't mean you go and get more," added the Everton manager, who is without Yerry Mina for the trip to Watford. "You have to understand why we got the result: the team was together in every moment, fought for every chance, and defended very tight. That's what gets you good results away from home and consistently doing that is the big challenge."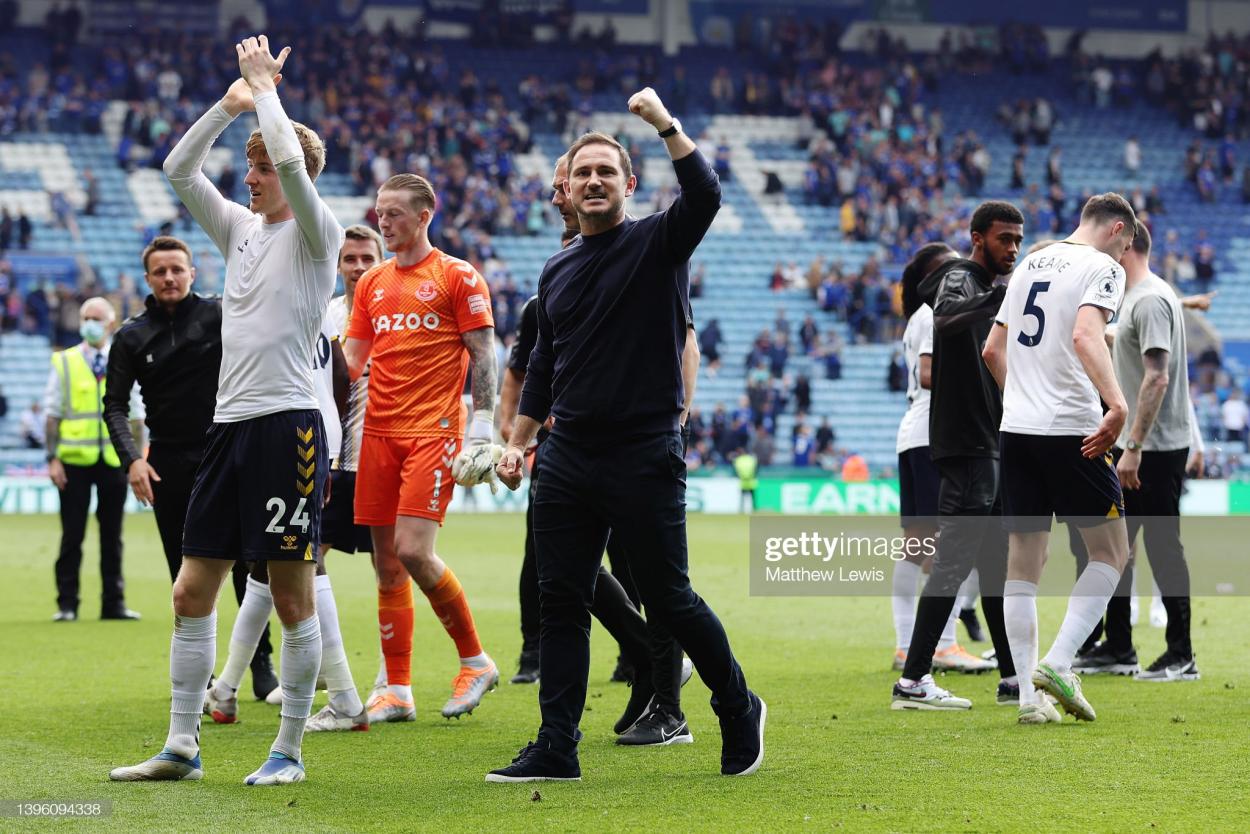 With their Premier League destiny now back in their own hands, Everton appear to have the bit between their teeth as shown by yet another raucous send-off as the team coach left Finch Farm for Hertfordshire yesterday lunchtime. It is the stage of the season now when results are all that matter and goals are welcome from any avenue. For instance, full back Vitaliy Mykolenko and central defender Mason Holgate were the two goalscorers on Sunday.
Jordan Pickford's impact has been as big as any player of late, pulling off a handful of fine stops against both Leicester and Chelsea. "He deserves the focus to be on him," added Lampard. "He trains brilliantly every day, he acts brilliantly and he's a joy to manage. There are a lot of players standing up and performing under high pressure.
"You only win or have relative success with togetherness. The level we're playing at, it's nigh-on impossible to be successful without that. At the moment people are reacting in a good way. My mood has been lifted."