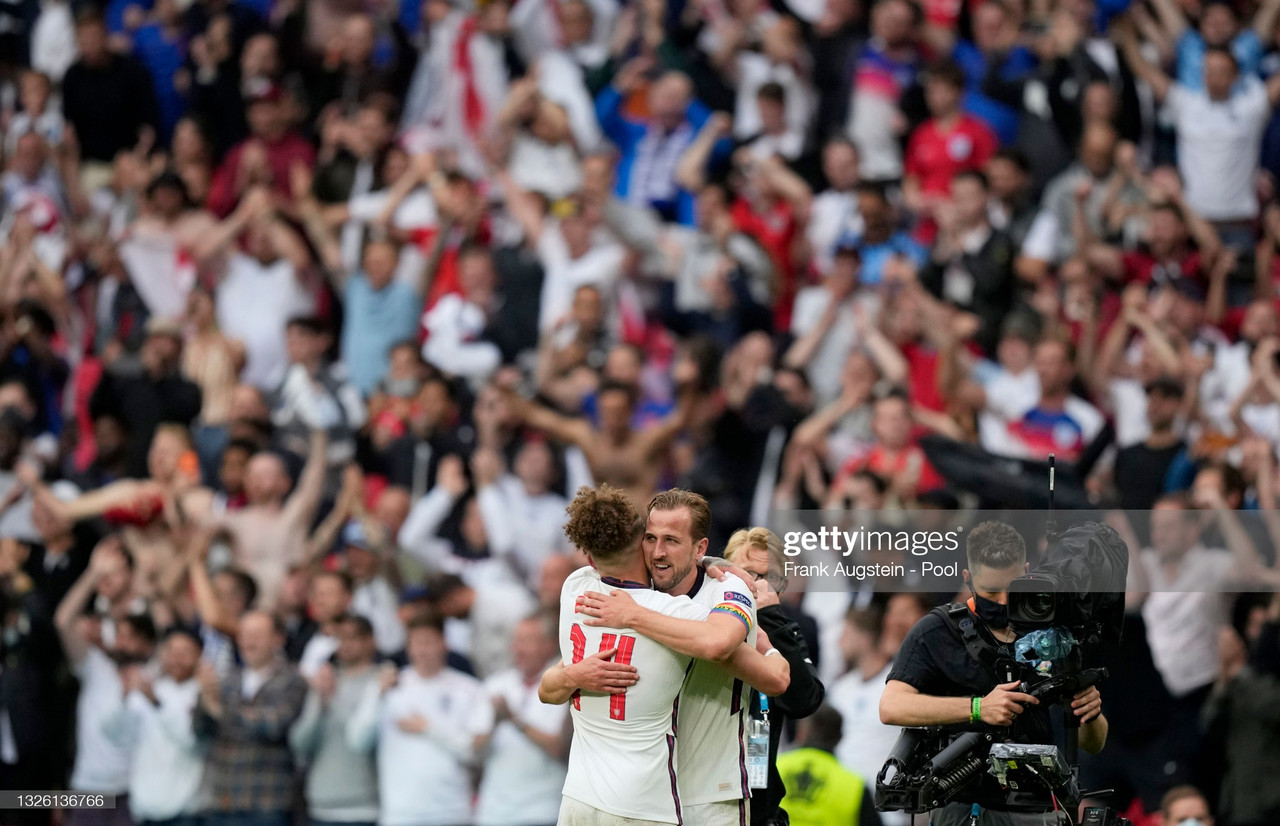 On Saturday, England has a great opportunity to progress to only their second European Championship semi-final since the competition's inception.
After overcoming Germany by two goals to zero, the nation is fully behind Gareth Southgate and his side as they edge closer and closer to what could potentially be a historic summer for England.
Years of hurt now seem like a distant memory, but the chances of defeat against Ukraine may be much greater than one would assume.
Here, we take a look at how the strengths of both sides could affect the outcome of a highly-anticipated quarter-final.
Before Euro 2020 began, England's attack looked like it could boast several formidable front three's, yet there were question marks over the strength and depth of the defence.
However, Southgate's side has looked the most resolute when defending out of all the nations within in the competition, much to the surprise of many fans.
As Sir Alex Ferguson once said, "Attack wins you games, defence wins you titles" – and it is hard to look past that, especially in the Euros.
The last four European Champions have conceded the least goals within the competition each time, Portugal (5), Spain (1), Spain (3) and Greece (3).
Of course, England have only reached the quarter-final so far, and it would take an outstanding showing to build on their four clean-sheets – but this defensive solidity and confidence could easily prove dividends in the game against Ukraine.
It should be expected that England will have most of the ball on Saturday, so it is essential that the back-line performs to perfection when called upon.
Their work so far would lead you to believe that they are able to do so, including the consistently amazing performances of Jordan Pickford between the sticks.
And whilst Southgate's defenders have so far surpassed expectations, this could be the game in which the vast array of attacking talent could be utilised to its fullest.
Going gung-ho in attack during a quarter-final is something that we would not expect from this England side, but there are certainly goals within whichever three attackers start the game.
The likes of Jadon Sancho, Marcus Rashford and Dominic Calvert-Lewin have hardly had a sniff during the tournament – highlighting just how well the selected attackers have impressed Southgate so far.
And the fact that Raheem Sterling has scored three goals already, and now that Harry Kane may well kick-on in goal scoring terms after finding the back of the net against Germany, it is hard to see England struggling to score against Ukraine – who have conceded six goals in their four games so far.
There is no doubt over the fact that Ukraine enters this game as the underdogs, but we have seen several times already during this tournament that the underdogs have excelled. Think of Switzerland knocking out France, for example.
The pressure is on England to perform on Saturday, and Ukraine could play with the shackles off as they look to cause a huge upset by defeating the now-favourites to lift the trophy next weekend.
This added motivation could pay dividends across the game, and Ukraine are more than capable of winning this match.
Andriy Shevchenko's side are a very defensive outfit that are comfortable in sitting behind the ball for prolonged periods of a game before using an explosive counter-attack to beat teams in their transitions.
They used this strategy efficiently during their unlucky 3-2 defeat to the Netherlands. Frank de Boer's side, however, played expansive, open football, and somewhat invited Ukraine to play this way.
England won't give Ukraine the same freedom, but they could easily damage Southgate's side through set-pieces – which is one of their main strengths.
Ukraine have scored two set-pieces so far in the tournament, whilst England have capitalised on none of theirs.
Shevchenko is also a tactically flexible manager, and he surprised everyone on Tuesday night by using a surprise 3-5-2 formation which saw his team eliminate a strong Sweden side.
Ukraine's ability to excel in several formations will keep Southgate guessing, and it will be interesting to see if the two managers switch formations and tactics throughout the game to counteract each other.
Oleksandr Zinchenko and Andriy Yarmolenko both have experience in playing against England internationals, and they have already found the back of the net during the tournament – the latter's being one of the best goals of the competition.
And whilst this is England's first game away from Wembley since Euro 2020 began – something that could only work in Ukraine's favour – the onus is on Southgate and his men to beat what is in front of them and reach their first and only European Championship semi-final since Euro '96.