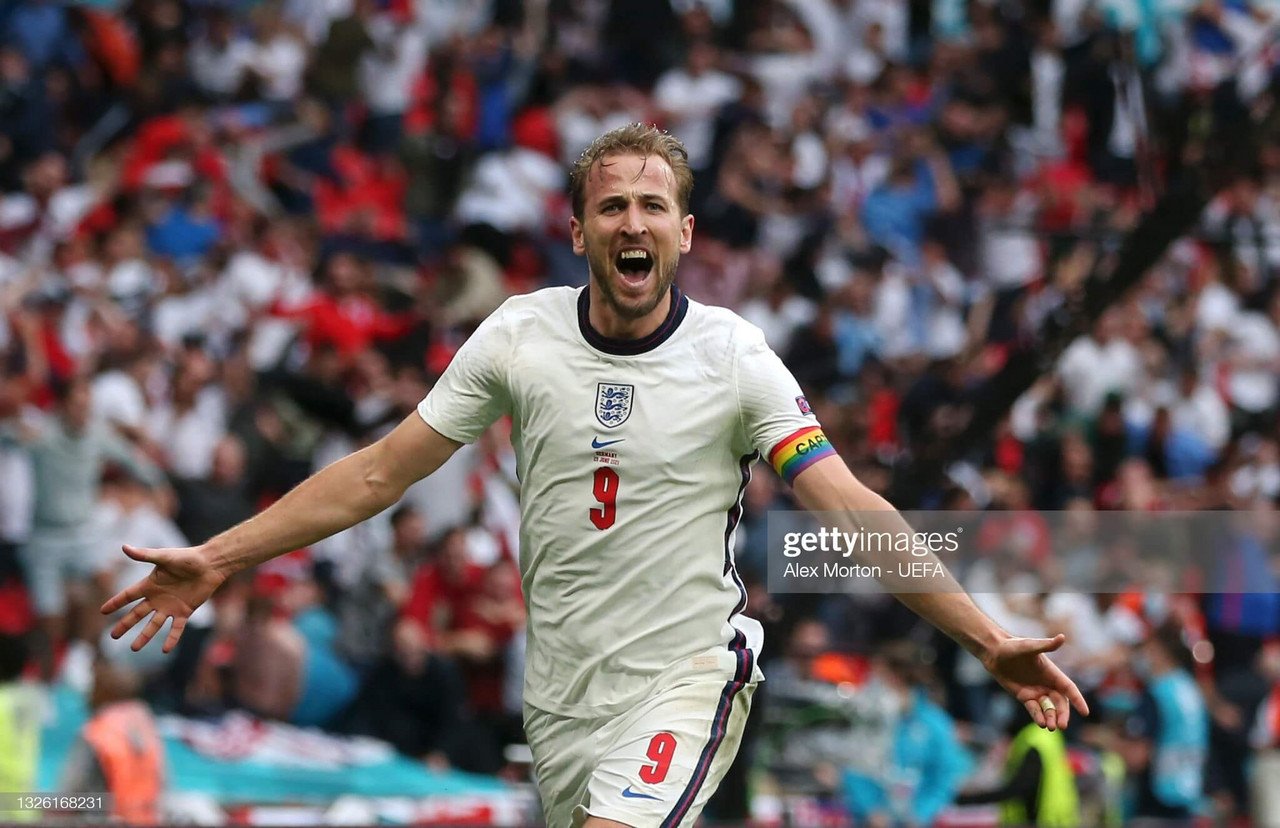 When Harry Kane leads England out at Wembley stadium this evening, he will do so with continued expectation on his shoulders but the mindset to deal with it. With a goal against Hungary Kane will equal Wayne Rooney's record of 37 competitive international goals.
Kane is fifth in England's overall goalscoring charts with 41 goals, but the striker continues to show that he scores when it matters. Setting such a new standard in competitive action would be pleasurable for the Tottenham Hotspur striker. Not only is he a patriotic player but he's also experiencing somewhat of a rough patch with his club, having not scored in the Premier League this season so far — albeit he has notched five in cup games.
After such protracted rumours about his future during the summer and the lingering effects, Kane is most likely enjoying the slight change of scenery and being with Gareth Southgate's squad. He didn't play a part in England's 5-0 rout of Andorra on Saturday, mainly because neither Southgate nor the player wanted to aggravate the striker's knees on the plastic pitch.
Back on the lush turf of Wembley, however, Kane will return to the lineup and go in search of more goals. He has scored 15 times in his past 15 competitive matches for England to underline his prowess, regardless of the strength of the opposition.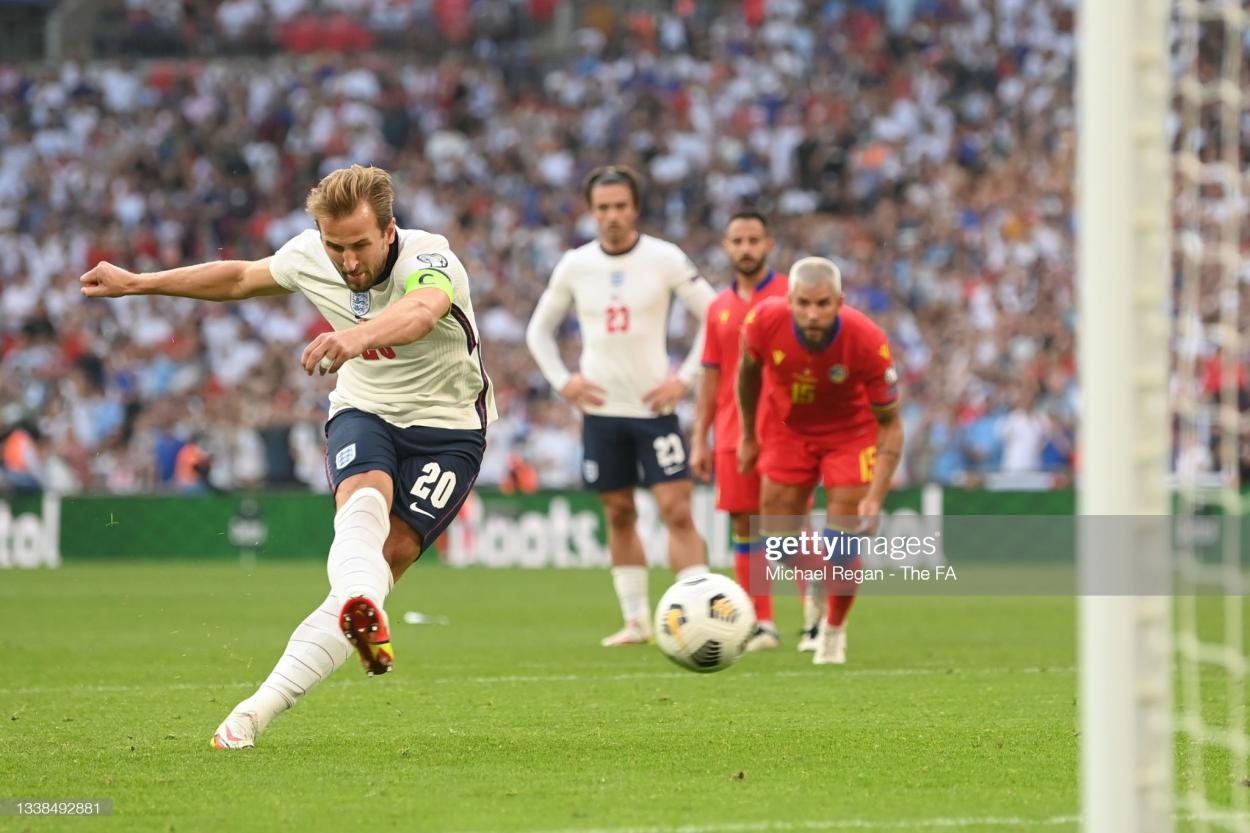 Scoring in this match will also take him closer to Jimmy Greaves, England's fourth-highest goalscorer. The late Greaves, who scored 44 goals in only 57 international games, will be remembered at Wembley ahead of the game along with Roger Hunt who have both passed away since England last played at home. The duo were goalscorers of the quality Kane can match.
"When you put that scoring chart and that other five names, it is a reminder of how much Harry has already achieved," Southgate said, "and I know it is more important to him that the team has got to two semi-finals and a final."
Goalscorer surrounded by young tyros
England's current No 10 is surrounded by talent too. Away in Andorra Phil Foden put on a show and set up two of England's goals. Jack Grealish came off the bench to win a penalty and also score the visitors' final goal. Bukayo Saka scored the second and Mason Mount also showed his qualities. Meanwhile, Raheem Sterling will join Kane in returning to the starting XI for this evening's game.
Throw in Jesse Lingard, Tammy Abraham, who scored on his first game back with the squad after a year's absence, and Jadon Sancho along with Marcus Rashford and Mason Greenwood, who will both return to the national team fold when injuries and opportunities arise, and Southgate has tremendous attacking options.
The opportunities are boundless and Southgate has time to tinker and strategise ahead of next winter's World Cup. Nevertheless, one senses that it is the couple who dovetail Kane to the greatest effect that will be given the starting berth. Sterling has shown that he can link-up with his long-term collaborator whereas Grealish's fine footwork can create an opening from very little.
As Southgate realises his decisions in attack are both a boon and a pain. "I have a headache and I commit a crime every time I pick a team," the England manager said. "It is very difficult every time. We have so many good players and such good, strong competition for places. There were lots of players that did their own confidence and their own reputations a lot of good and that is pleasing to see.
"We will definitely make changes [for the Hungary game]. We have got a very strong squad and part of the reason we made the changes we did the other night is there were some specific profile of players we thought could help us win the game. Also, we want the squad to feel involved and it is important they know they are valued, that they can contribute."
England cannot qualify for the World Cup just yet but will close in on the feat should they defeat Hungary. Southgate, who took over the national team shortly after the infamous loss to Iceland at Euro 2016, believes that his team do not get the credit they deserve for making qualifying look so easy and the uptick in achievements under him.
"I think across Europe we have gained a lot of respect," Southgate said. "When I travel in Europe and talk to European coaches there is probably a greater recognition of what we have done and how we have played than there is here. That is always reassuring because you want the respect of your peers."