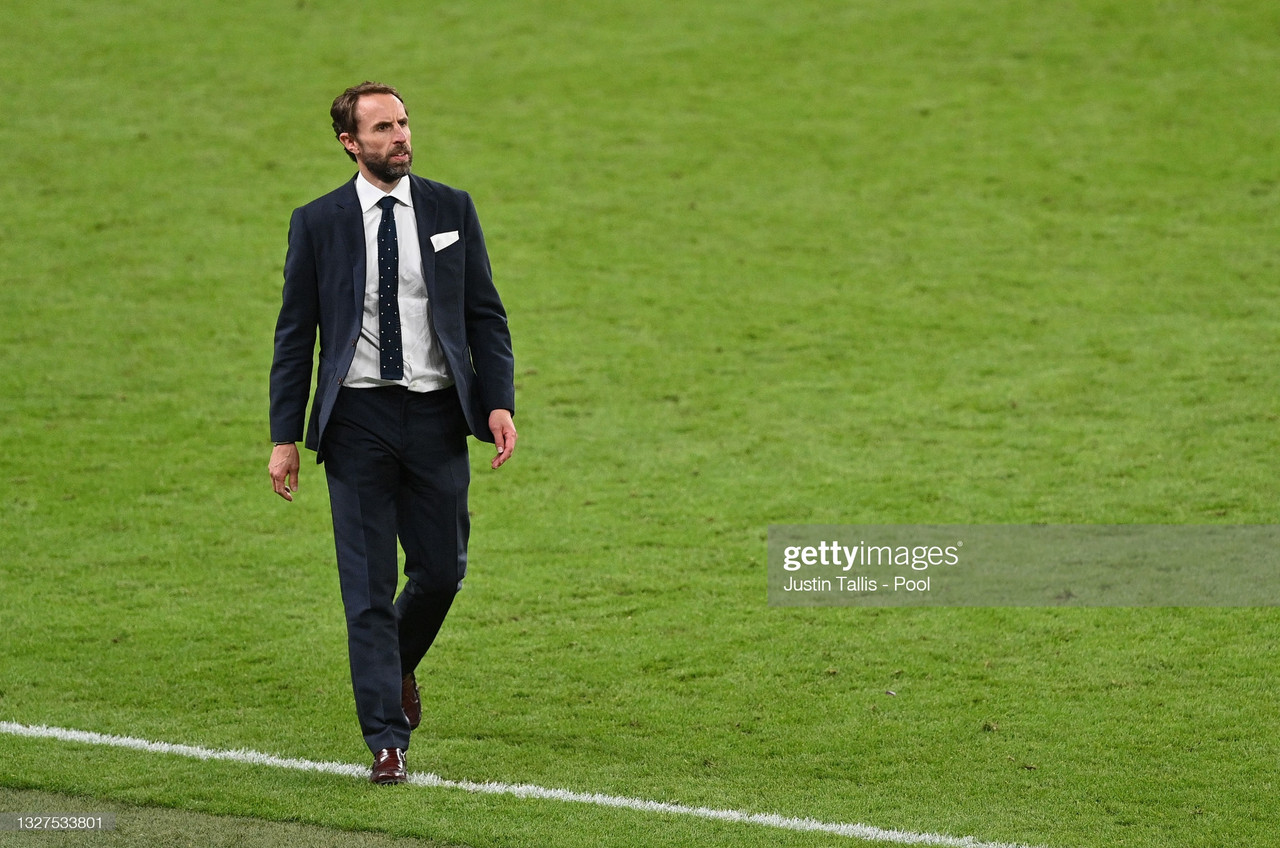 Dear Gareth,
Just over a month ago, you wrote a touching letter that addressed the England supporters ahead of a football tournament, that, in the grand scheme of things, was minor when compared to the world's issues over the last eighteen months. This is a point which you mentioned:
"When you think of the grand scheme of things, perhaps football doesn't seem so important."
In the last month, after six competitive football matches, the goal you intended to reach has been met, a feat many will be confident of regardless of how tomorrow evening's final unfolds. Win or lose, this competition has made many across the country proud to call themselves English. It's been a difficult period of turmoil and division, politically and socially, with socio-economic splits that have caused deep tears in people's lives.
There are many that have lost friends. Family. Loved ones. It's been a year-and-a-half of tragedy and collective pain. This tournament has helped many to remedy that pain with joy.
When you think back to the progress made in Russia three years ago, it felt that a collective healing process was being taken on, as political disharmony ripped through Great Britain as a result of a referendum.
And now, when racial abuse has increased as a result of attempts to raise awareness of injustice, when different perspectives are being raised on what it means to be English are discussed, it feels this England team, with their excellent football, has brought a lot of that anger to bed.
It isn't gone. Of course not. We should continue to strive to eradicate such injustice from society and allow everybody, regardless of race, sexual orientation or gender identification to live free from concern about how they are going to be judged by society. This is but a basic human right.
This is especially relevant today. Les Reed, the former technical director at the Football Association, believes around 80% of England's academy players on their pathway hold dual nationality. The ground that Viv Anderson broke in November 1978 by becoming the first black player to play for England is still being felt today. Raheem Sterling was born in Jamaica. Marcus Rashford is of Kittitian descent.
And in your letter, you argued why England's aim outside of competitive success should be to unify and bring people together.
"It's about how we conduct ourselves on and off the pitch, how we bring people together, how we inspire and unite, how we create memories that last beyond the 90 minutes. That last beyond the summer. That last forever."
Frankly, this summer will be remembered for many years to come and provided so many with memories for life. Regardless of the result, it's been heart-warming to see England play with desire, and determination to succeed; for the first time in over a generation, it is visible that these players are proud of playing for England.
This moment had me 🥺 @masonmount_10 👏🏾 pic.twitter.com/tzWWlPijW6

— Rem Williams (@remmiewilliams) July 8, 2021
There are no divine rights in this world. If life had dealt a different hand, you or I could be in the position of migrants escaping war-torn nations. The letter you wrote four weeks ago has brought into perspective how lucky the current crop is to play for this country, given only 1,200 players have pulled on the England shirt.
Until full-time on Sunday evening, the nation will hear about stories from those failed attempts to recapture success felt on that warm afternoon at Wembley Stadium in 1966. Whether it's the despair of 1970, where Bobby Charlton was substituted before full-time and England fell to West Germany, or the pain of the 1980s and failure to qualify. It could be the heart-breaking penalty shoot-out defeats in 1990 and 1996 to Germany once again.
But this team does not carry those defeats on their shoulders like some insurmountable burden. This side is fearless, confident without cockiness with chips on their shoulders. Tomorrow's opponents, Italy, are the establishment. One of world football's finest lineages and historic squads. England may be underdogs. But that isn't a mantle on which England have collapsed this summer.
And that is in large part to you – the manager. The fans are delighted to have a team that they can cheer for again, in person rather than at home. After fourteen months of doom and isolation, this is a time where this island nation can begin to look outwards once more, at the future that holds so much promise. This footballing squad is just a microcosm for that.
So, for tomorrow – this team has captured the hearts and minds of young and old people alike. Black or white. Leave or remain. Men or women. You've made us proud.
Good luck tomorrow,
England.