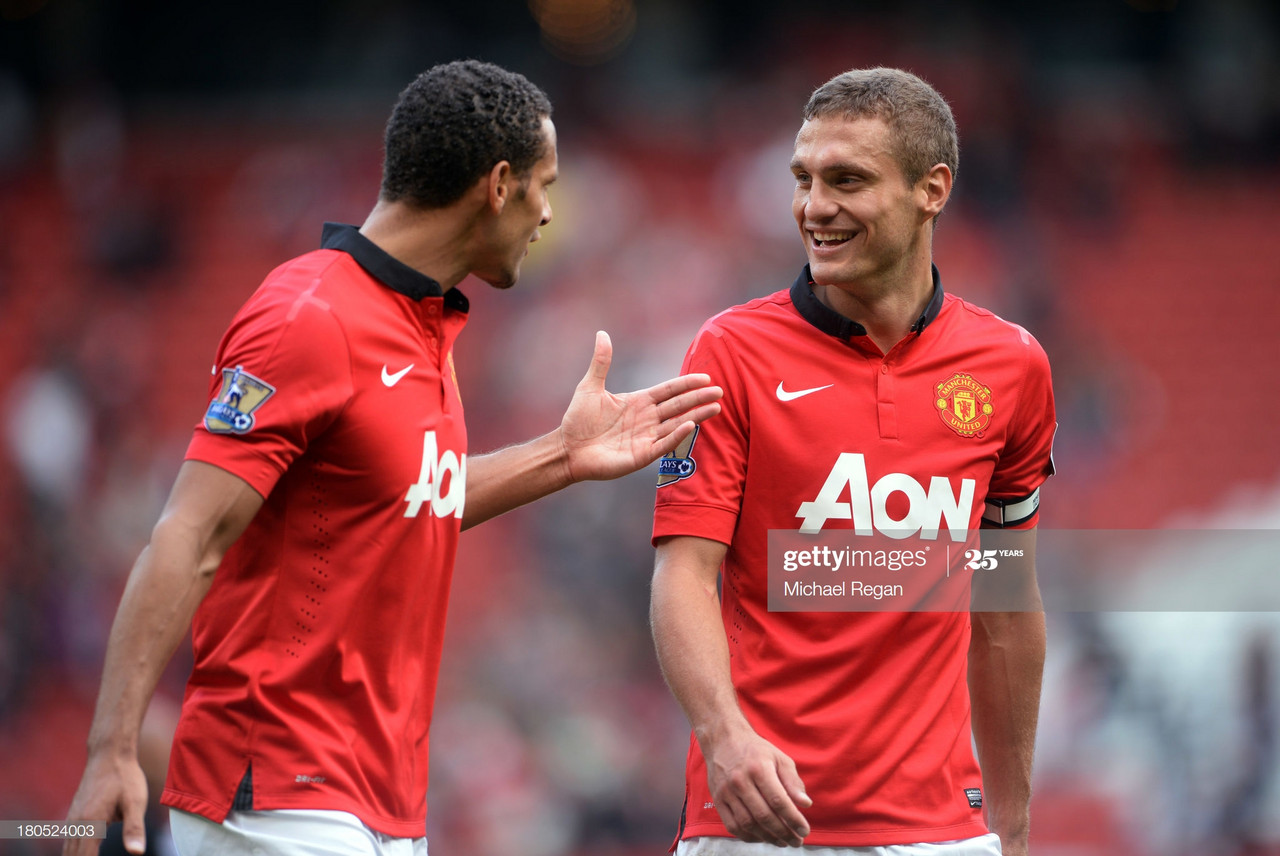 For years Manchester United have been looking for their new Rio Ferdinand and Nemanja Vidic without much luck.
Harry Maguire signed a six-year contract with The Reds on August 5 2019.
With the departure of former captain Ashley Young in January 2020, Maguire was made the captain of United and has continued with a very impressive first season under Man United manager Ole Gunnar Solskjær.
The Red Devils have managed eight clean sheets in the Premier League so far this season with Maguire featuring in every single one of those games.
That's already one more than last season and there's still nine games left to go, however, it is still not at the standard of previous seasons, in particular the one's where the defence had the likes of Vidic, Ferdinand, Patrice Evra, Gary Neville and others.
Aside from the Premier League, United are still in the quarterfinal of the FA Cup where they have Norwich City at Carrow Road as well as still being in the Europa League where they have a round of 16 second leg fixture against LASK, who they put five past whilst earning yet another clean sheet in the first leg.
Who do United have currently?
Phil Jones
The 28-year-old has spent nearly nine years with the club and has been in and out of the team throughout that spell, with his first season being his busiest in the Premier League with United, making a total of 29 appearances.
It's fair to say that the former Blackburn Rovers defender has had a mix of good and bad times at United, however he has won one FA Cup, two FA Community Shield's, one English Football League cup and one UEFA Europa League Cup in the last nine years as well as winning one Premier League title in Sir Alex Ferguson's last season.
Since Sir Alex left the club, Jones and his teammates have only managed to finish as high as second once under Jose Mourinho.
David Moyes, Louis Van Gaal and now Ole Gunnar Solskjær have also since tried to guide United back to where they should be, but between them have only managed one top four finish with their lowest finish being seventh under Moyes.
However, in his early days as a Red Devil, Jones was compared to a Manchester United great in Duncan Edwards by Sir Bobby Charlton.
Former England manager Fabio Capello also compared the England international to former Italy captain Franco Baresi and former Spain captain Fernando Hierro.
Ferguson was also an admirer of Jones, especially when his United team faced Blackburn in the 2010/11 season where they were held to a 1-1 draw at Ewood Park, United also clinched the title that season with this result.
The defender currently has a contract lasting until 2023, however, United may feel like they should cash in on Jones whilst he is still relatively young so they can allow other players to step up or to help fund a move for a more appropriate defender.
Chris Smalling
Obviously, Smalling is currently away from the club on loan at Roma.
The 30-year-old has been with United for nearly 10 years now, he has made 219 Premier League appearances for the club and has scored some very important goals along the way, with him netting three times against rivals Manchester City in all competitions.
During his time at United, Smalling captained the side on many occasions and picked up the Manchester United Players' Player of the Year in the 2015/16 season as well as winning one more Premier League title and one more Community Shield than Jones.
The English man has impressed whilst at Roma, playing 21 times in the Serie A, scoring twice and keeping six clean sheets.
Roma manager Paulo Fonseca told ESPN: "I will do everything I can to keep him at Roma next year too.
"I know he wants to stay, let's see what happens.
"He's an amazing man, so humble, so professional. He is adored by the fans and established himself as one of the leaders in the dressing room.
"It's not easy for English central defenders to adapt so quickly to Italian football, the record there isn't good. But he has been amazing."
After regaining his confidence again in Italy and with the possible return to the England national team on the cards, Smalling could be a good partner for Maguire.
Marcos Rojo
Like Smalling, Rojo is currently out on loan.
Rojo returned to his boyhood club Estudiantes de La Plata in January 2020.
The Argentine is best known for his hard tackling ability and aggression, and has question marks surrounding his lack of discipline.
With the 30-year-old's wages in mind and him not being able to make his mark in the first team at United, he could well be on his way out of the club permanently.
Although, Rojo has won four cups as a Red Devil.
In his last three seasons, he has only made 17 appearances for the club, in the league, with six of them being substitute appearances.
In his other three season's at Old Trafford, in the league, the Estudiantes defender played 59 times out of a possible 114 times.
Rojo has shown that he can also play left-back, however, his playing style has never fitted well into the United team, but it is always handy to have players who can play various positions, Daley Blind springs to mind.
His versatility could keep him a place in Solskjær's squad, maybe not as a first team player, but when injuries come into the team, Rojo could be a massive help for the Norwegian's team.
With the defender struggling with injuries and poor form throughout his United career, and with Solskjær not picking him, Rojo will most likely be wanting to exit the Manchester club and will be wanting to stay at Estudiantes.
Victor Lindelöf
Lindelöf's career at United so far has been somewhat hot and cold, with the Swede still developing as a player.
However, this season the 25-year-old has started 26 out of 29 Premier League games.
The defender is the youngest out of his other teammates who have been mentioned so far.
Maguire and Lindelöf seem to have struck some sort of solid partnership this season and this shows as the young centre-back has collected more clean sheets this season already than his last two Premier League seasons, where he got five clean sheets out of 17 games in his first season and in his second campaign, he got six out of 30 matches.
When speaking with Manchester United's Official website about his partnership with the Man United Captain, Lindelöf said: "It's very important to play a lot of games together and you learn a lot from each other. The more games you play, the better you get as players and so it's been great as we've been helping each other a lot and getting some good results.
"I think we've been improving lately as well, before the break, we had a lot of clean sheets and performed well.
"It's been great but I've played with some others as well this season and we have some really good players in that position.
"It's always a pleasure to play alongside everyone. But I've played with Harry a lot this season and it's been great."
Comparing The Iceman to the other three defenders mentioned previously so far, he seems to be the best fit for Solskjær's men out of the four and whilst he is still young he could get better with age.
Eric Bailly
Like Lindelöf, Bailly is still young at 26-years-old and still has room and time for improvement.
However, the Ivory Coast international also has a lot of aggression, like his teammate Rojo.
Anyone that's watched United over recent years could describe how exciting Bailly can be at times, with his overhead kick clearances, his diving headers and how he is not scared of diving in to win the ball, which ultimately either leads to him getting the ball back, getting sent off, booked or injured.
With some close one-on-one coaching on the defenders discipline, Bailly could be an important player for United.
The former Villarreal centre-back has been unfortunate with injuries since joining the red half of Manchester, managing just 52 Premier League appearances for the club out of a possible 143, with eight of those matches being from off the bench.
Out of those 52 games, Bailly has managed to rack up 21 clean sheets, which is impressive for a defender that's been a part of a side that's been struggling for good defenders since the departures of Vidic and Ferdinand in 2014.
When Jose Mourinho signed Bailly back in 2016 the current Tottenham Hotspur manager told manunited.com: "Eric is a young central defender with great natural talent."
Without the injuries and with the suggested discipline control, Bailly could be integral for United, if the likes of Rojo, Jones and maybe Smalling leave the club, Bailly could be the first choice back up for United.
Timothy Fosu-Mensah and Axel Tuanzebe
Both Fosu-Mensah and Tuanzebe are 22-years-old and have both spent time out on loan.
Fosu-Mensah went to Crystal Palace for the 17/18 season and Fulham for the 18/19 campaign, and Tuanzebe went to Aston Villa, joining them on loan in January 2018 and then rejoining them again in the summer for the 18/19 season.
The young defenders are still developing and are getting some good experience.
However, both of the former United academy players need more time out on loan, preferably in the top flight of English, German, Italian, French or Spanish football, where they can experience what top flight football life is like on a week-by-week basis.
The club has a number of centre-backs at the moment and therefore, will get limited chances in the first team.
Jadon Sancho and Reece Oxford are two good examples of players who have taken a chance in moving countries to get game time and to gain experience.
Obviously, both of them moved on a permanent basis, although if the two young defenders take the chance of going on loan to another top league then they could benefit massively.
Out of the two, Fosu-Mensah stands a better chance of fitting into the squad, even if it's just as a back-up, the Dutch international can play centre-back, right-back and also as a central defensive midfielder.
Like Rojo, having that kind of versatility could catch the United coaching staff's eye and could earn Fosu-Mensah a place in the squad over Tuanzebe.
For Solskjær, he currently has a long list of centre-backs at the club, with Maguire being the best, both Tuanzebe and Fosu-Mensah would face a tough task of getting into the team over their teammates due to their lack of experience.
However, they're two players to keep an eye on, if they develop as well as they are thought too, then they could become fantastic players for the club.
The importance of the Vidic and Ferdinand relationship
Vidic and Ferdinand arguably formed one of the best defensive partnerships of all time.
Ferdinand was obviously already with the club when the Serbian defender joined United in 2006, but the two of them bounced off of each other so well and were a crucial part in United's success for nine seasons.
The pair are fondly remembered for their Premier League title wins, domestic cup wins as well as their massive win in Moscow against Chelsea in the 2008 Champions League final.
Both who have captained The Red Devils were known as fantastic leaders who controlled the dressing room and since their departures United have failed to get a leader at the back like them.
Although, the current captain of United, Harry Maguire, has impressed and has shown that he is a fantastic leader for the club and could be what United have been looking for.
There's plenty of transfer talk, with United being linked to defensive players like Napoli's Kalidou Koulibaly, Swansea City's Joe Rodon and RB Leipzig's Dayot Upamecano.
But for the likes of Koulibaly and Upamecano United will have to compete with the likes of Arsenal, Tottenham, Liverpool and Barcelona.
To attract these kind of player's United must press on and try to get a Champions League place for next season, whether that's through the league or by winning the Europa League.
With Koulibaly turning 29 this month, 21-year-old Upamecano might be the better option.
Koulibaly could be an experienced addition to the back-line, although, with Maguire already there, someone upcoming and exciting like Upamecano might be a good addition.
To conclude, when it comes to United, anything could happen, everyone loves a good, exciting signing, however, looking at United's current options, Ole Gunnar Solskjær has a lot to think about.