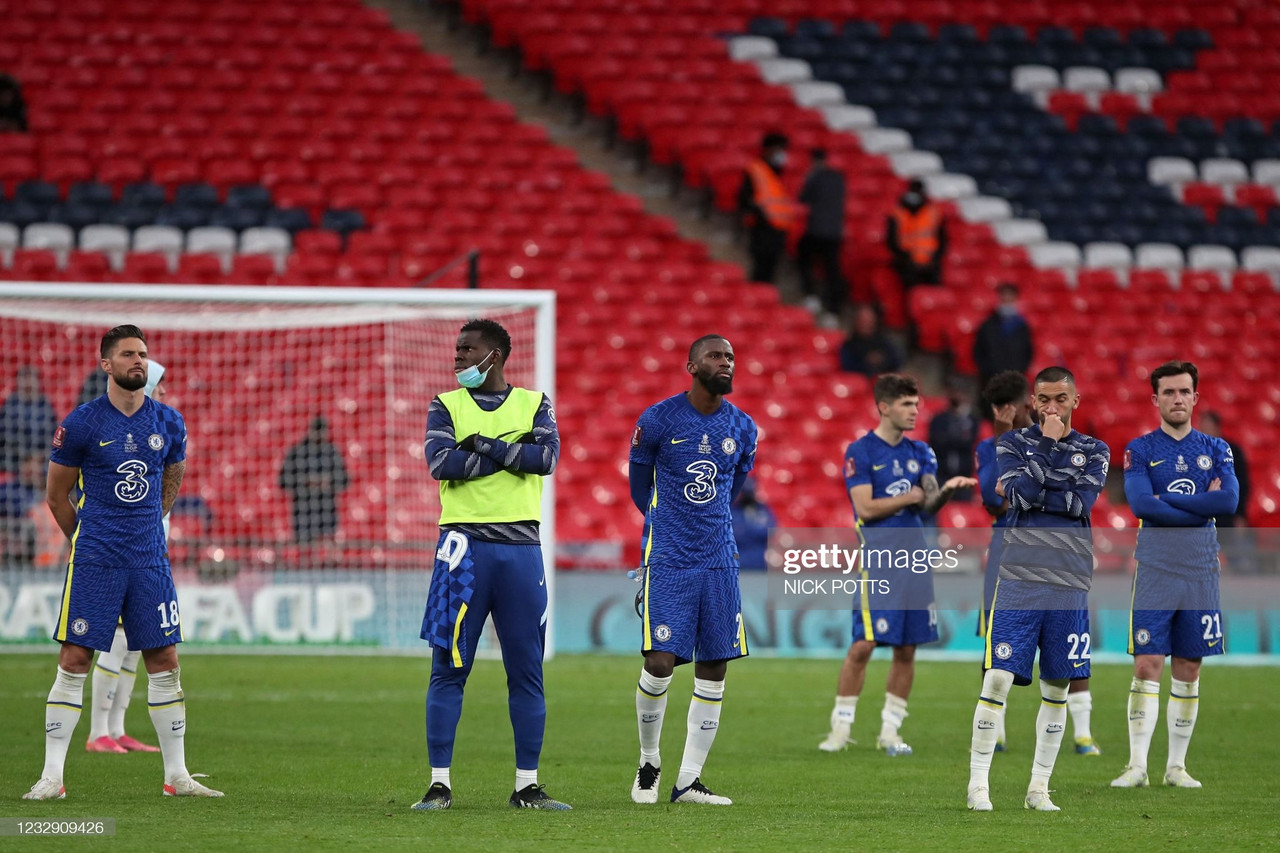 It's the penultimate set of Premier League fixtures and the fans are back in the stadium. Hooray! Only a small amount of home supporters will be allowed to watch, however, in line with the coronavirus guidelines. Nonetheless, the steady return to normality is brilliant to see.
Game of the week
Chelsea vs Leicester City: Stamford Bridge, Tuesday 20.15 (Sky Sports)
It's amazing when the footballing calendar does this to us! Just days after these two faced each other in the FA Cup final at Wembley, they are thrust back into battle in a fight for the Champions League.
Thomas Tuchel has been a revelation since taking over from Frank Lampard as Chelsea manager, and yet everything could unravel in the final moments of this crazy season. Tuchel has victories over Pep Guardiola, Jurgen Klopp, Diego Simeone and Zinedine Zidane but everything now boils down to three matches. His chance of a trophy double has gone up in smoke and his Champions League place is under threat.
Bizarrely, the situation is rather similar in the other camp.
Brendan Rodgers is trying to achieve a top-four finish alongside his FA Cup trophy. Not only is it the first time that Leicester have won the prestigious tournament, it's also the first time Rodgers has won a trophy with a Premier League club. Everyone at that football club will be the very definition of cloud nine, however, there is a danger of over-celebration. Anything less than perfection in the next two league matches will put their Champions League hopes on ice.
Leicester played the perfect match at Wembley. Can they do it again? Only time will tell. That post-match euphoria was very wild, as you'd expect, and to keep on the ground will be very difficult. Chelsea will be more determined and focused than they have been in a long time.
Manchester United vs Fulham: Old Trafford, 18.00 (Sky Sports)
United are in the comfortable position of knowing that they will be partaking in the Champions League next season. The pressure is off for these final two league matches. There is also little anxiety for Fulham fans, although that is because they have already been relegated to the Championship. A different set of emotions. Scott Parker's team will probably give a good account of themselves at Old Trafford, passing the ball around with confidence and taking the game to the Red Devils, but quality should prevail in the end.
Southampton vs Leeds United: St Mary's, 18.00 (Sky Sports)
Leeds were tremendous against Burnley and they are now one win away from ten victories on the road. Marcelo Bielsa's men were defensively strong against Burnley's physical attack and they had a real punch in attack. Rodrigo came on for an ineffective Patrick Bamford and the substitute bagged a brace. Strength in depth! They should be too strong for this Southampton team, even if their opponents are coming into this having won back-to-back matches.
Brighton & Hove Albion vs Manchester City: AMEX Stadium, 19.00 (BT Sport)
Pep Guardiola outdid himself with the selection of third-choice goalkeeper Scott Carson, in his team's 4-3 victory over Newcastle United. The Spaniard heavily rotated his line-up, including Barcelona bound Eric Garcia amongst the starters, but it was Carson's inclusion that caught everybody's eye. By that token, City's line-up should feature a few more big hitters in this match on the south coast. It should be a closely fought match but Guardiola's men have the quality advantage.
Everton vs Wolverhampton Wanderers: Goodison Park, 18.00 (Sky Sports)
Everton have always been on the peripheries of a Champions League spot but they have flattered to deceive. In truth, Carlo Ancelotti has overseen a big improvement at the club. The Toffees are now talking ambitiously instead of worrying about slipping towards the bottom of the table. The Italian will hope that Everton can seal a Europa League spot but there are a number of teams in the mix for that. They should beat Wolves but this is the exact type of team that they have struggled against.
Newcastle United vs Sheffield United: St James' Park, 18.00 (Sky Sports)
Callum Wilson is on the sidelines again but Steve Bruce will be grateful that relegation concerns have now been eradicated. To be fair, in Wilson's absence, the Magpies were involved in a seven-goal thriller against Man City! Who said they aren't entertaining? If they score three against the Blades then they will almost certainly be taking the three points. Paul Heckingbottom has done well to avoid too many embarrassments but whether he is the man for the long-term remains to be seen.
Tottenham Hotspur vs Aston Villa: Tottenham Hotspur Stadium, 18.00 (Sky Sports)
Ryan Mason is unlikely to be in the managerial hot seat in a few months time so he has to make the most out of every match. The interim coach has front-loaded attacking stars in his team selections, stressing a return to the Spurs DNA seen under Mauricio Pochettino. However, it's clear that this squad is a long way away from the best days under their former messiah. Key men have left, others have aged, and the investment has dried up. It's a nothing game but, with Jack Grealish potentially starting, it should be an entertaining affair.
Prediction: 4-3
Crystal Palace vs Arsenal: Selhurst Park, 19.00 (BT Sport)
A London derby that probably means a little more to Arsenal. Mikel Arteta has had a disappointing first full season in charge at the Emirates, but the Gunners could still gain access to the Europa League, or UEFA's new tournament, the Europa Conference League. Palace looked like they were on the seaside but they have won two out of their last three matches. It should be a fun match at Selhurst Park!
Prediction: 2-3
Burnley vs Liverpool: Turf Moor, 20.15 (Sky Sports)
A huge game for Liverpool, who are very much in the frame for a top-four finish. Burnley weren't at their best against Leeds but, with fans back in Turf Moor, they should be more pumped. The Clarets enjoy being annoying and Sean Dyche would enjoy the prospect of bursting Liverpool's Champions League bubble. However, their success at this challenge depends on who starts between the sticks. Nick Pope is touch-and-go for the clash. Liverpool will be praying that he just misses out; early suggestions are that he might.
West Bromwich Albion vs West Ham United: The Hawthorns, 20.15 (Sky Sports)
Albion are down and West Ham's Champions League hopes have evaporated. The pressure's off in this one and that could lead to an exciting gung-ho kind of clash. Both teams have goals within their ranks and it doesn't make sense to overly complicate tactics. David Moyes and Sam Allardyce will simply be asking their players to go out and enjoy themselves. Both teams will be a little disappointed that there is nothing to play for but hopefully the supporters who travel to the match will be in for a spectacle.
Prediction: 3-3