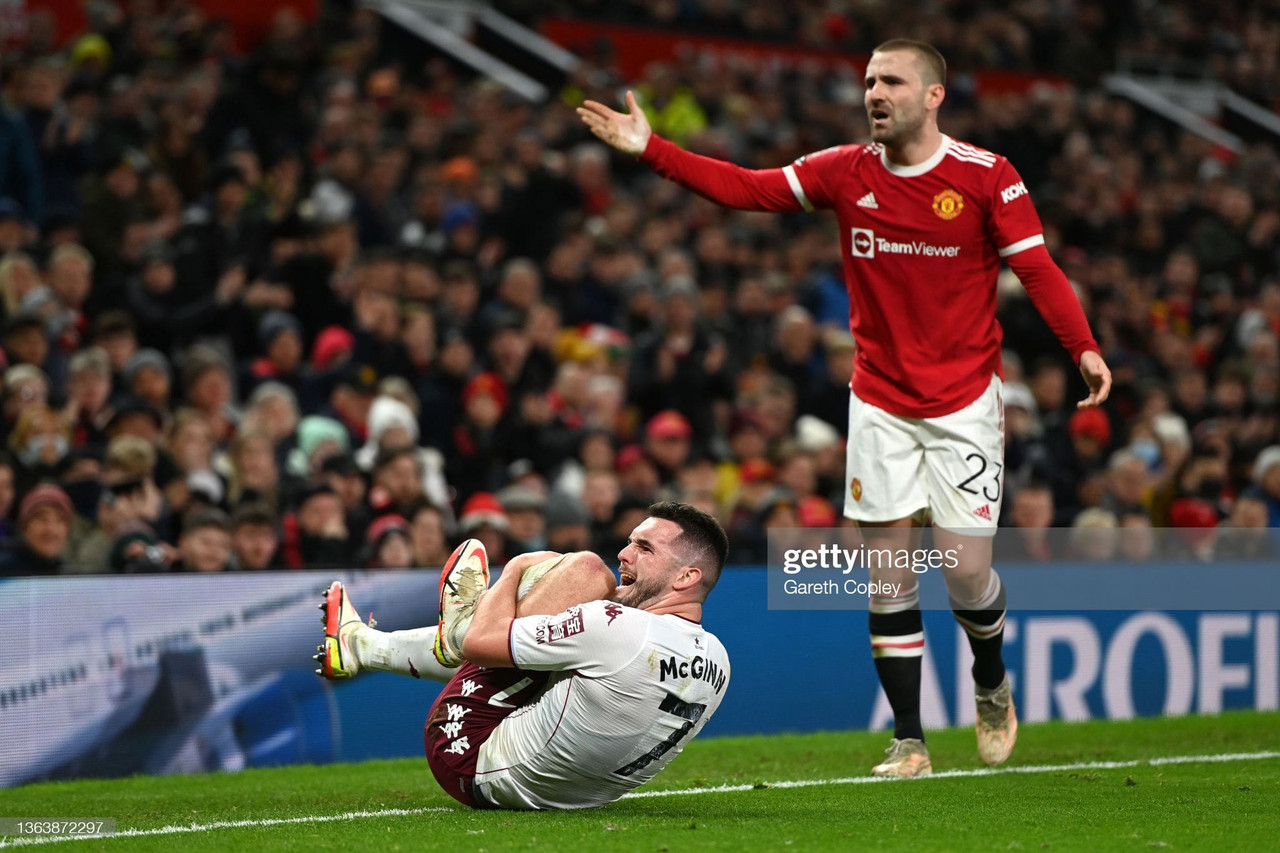 Manchester United may have set up a fourth-round tie with Championship side Middlesbrough following a 1-0 victory over Aston Villa on Monday night, but it was a far from convincing performance from Ralf Rangnick's side once again.
Midfielder Scott McTominay's deft header on eight minutes was the eventual match-winner despite Villa's best efforts, seeing Danny Ings' goal vetoed by VAR before Ollie Watkins' effort was chalked off for offside.
But after a bright opening 20 minutes, United returned to their self-inflicting, non-encouraging selves and coming out of Old Trafford you were left scratching your head, thinking, 'did Man United really win that?'
The Red Devils certainly look devoid of confidence or fludity, but from an objective point of view, a win's a win, right?
A bright beginning
Quick to put last week's defeat to Wolverhampton Wanderers behind them, Rangnick's men flew out of the traps and came at Villa.
McTominay's early chance got the crowd going before the Scot's subsequent opener soon had Old Trafford bouncing.
Assisted by the support, United kept that pressure coming with Luke Shaw and Marcus Rashford racing down the left and Diogo Dalot and Mason Greenwood attacking the other flank. Bruno Fernandes was aggressive just behind Edinson Cavani and a real intensity was created.
To what extent, though, did this reaction come from Rangnick's change in formation, starting with a 4-2-3-1 as opposed to his tried-and-trusted 4-2-2-2. Arguably, not too much but it was a response, nonetheless.
In the end, however, it felt like false hope with how they conducted themselves after 20 minutes had passed.
The drop of heads
The indicator to this change in momentum came on 19 minutes, with United being at the forefront of their own downfall.
After Villa sent a scare to United when Emi Buendia and Ings threatened just before, Fred was cheaply dispossessed in the centre by Douglas Luiz and Villa countered.
John McGinn, who remained unchallenged during his voyage, carried the ball towards the centre and, from 25 yards, he rifled an effort towards the far corner that was clawed away from the target by David De Gea.
That sloppiness with the ball and sluggish defending seemed to be the common factor as the Red Devils hid away in their shell like they were afraid of doing something wrong.
De Gea – who many expected to be replaced by Dean Henderson for the cup tie – had a busy evening to keep his clean sheet intact; the Spaniard has bailed United out not only in this game but during much of this season.
Again, their problems came from themselves as Victor Lindelof attempted to control a high ball whilst facing the Stretford End. The Swede instead sent Watkins through on goal with a miss-control, but the England forward hit his shot against the frame of the goal to spare Lindelof's blushes.
An uninspiring second period
The second half gave a little-to-no indication that United would do what Rangnick normally demands from his side: to gain complete control of a game.
Steven Gerrard's team would continue to pepper De Gea's goal in search of an equaliser, but the Red Devils rode their luck again following two disallowed goals, and once the Villans ran out of steam, United got back on the ball and had several opportunities to kill off the tie.
These ventures forward often lacked aplomb, and they frequently faded out because of either poor decision making, putting the ball into wrong areas, or overhit cross-field passes.
Their play was mirrored with sighs of exasperation and irritation from the Old Trafford crowd, who were left feeling like it was 'more of the same' from United.
There is also growing concern for Rashford, who has produced several disappointing performances in a row. He is showing signs of a dejected footballer and looks very low in morale, but that could be said for a large chunk of this side amid rumours of large unrest in the camp.
For the Old Trafford faithful, they will be delighted in the end that United handed Gerrard his 21st defeat in 36 games as a player and now a manager against their club: every cloud, perhaps.