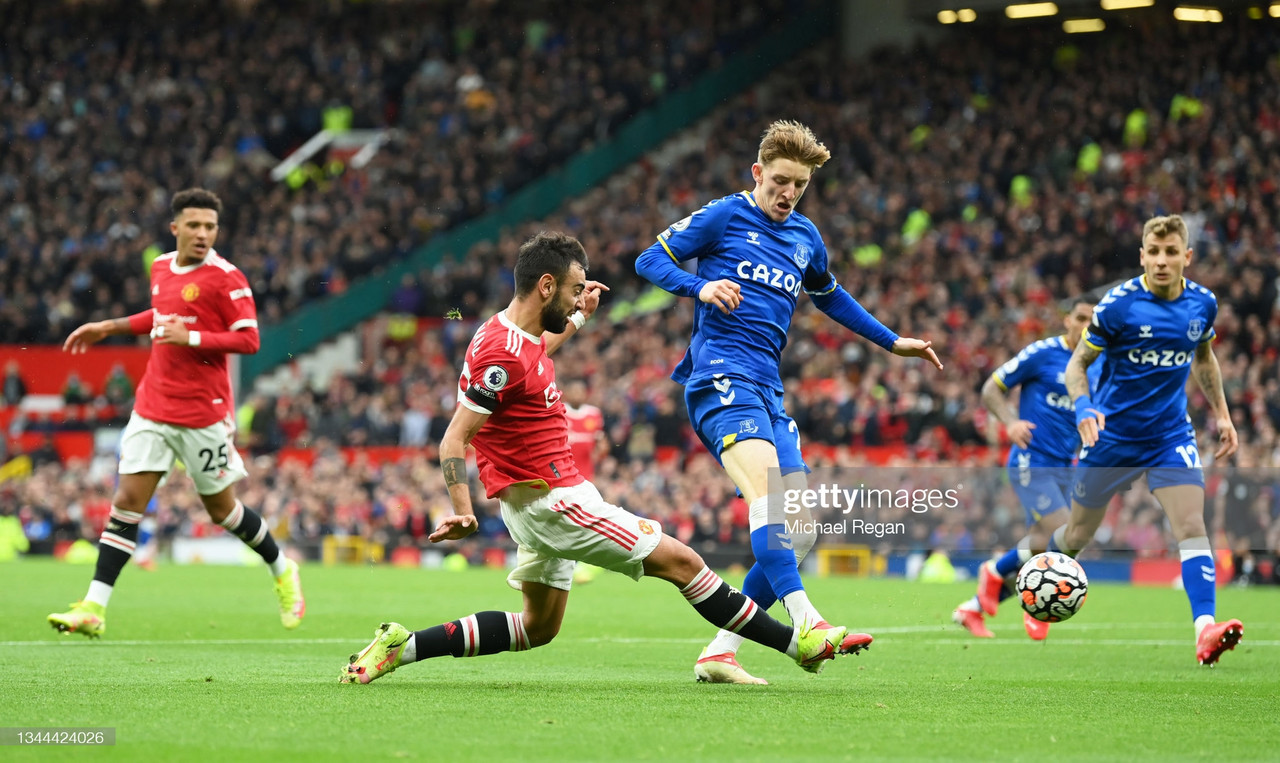 Manchester United's woe's continued as they only managed a point against Everton in an exciting encounter at Old Trafford.
Coming off the back of a turbulent 10 days, the pressure was on for United to recapture the home form seen at the start of the season, where the Red Devils easily brushed aside Leeds and Newcastle.
Rafa Benitez's side were without many of their key players including star forwards Dominic Calvert Lewin and Richarlison.
Ole Gunnar Solskjaer may have naively seen this as an opportunity to rest his stars, with Paul Pogba, and matchwinner in midweek Cristiano Ronaldo, being confined to the bench.
As the game kicked off United were on top, and the decision by Solksjaer to start Anthony Martial seemed to pay off, as the Frenchman opened the scoring just after five minuites.
However, this didn't deflate the visitors. They remained strong in searching for an equaliser, consistently a threat on the counter attack.
In the end they got the breakthrough, Fred was outmuscled by Demarai Gray, before a clever piece of play led to an Andros Townsend goal.
United introduced Jadon Sancho, Ronaldo and eventually Pogba to the field in desperate search of the winner.
It never came, and in the end the best chance for victory saw Everton find the net only for it to be ruled out for offside.
'Second half we lacked cutting edge'
Much has been said about United's ability to come from behind and win, but today it was about keeping hold of a lead and getting a second goal to put Everton out of reach.
Despite pushing men forward, the Red Devils never really looked like they wanted to score in the second half.
Hardly any clear-cut chances were created, but the pressure to get the winner and the chants from the home crowd to 'attack, attack, attack' meant they had to risk it.
In the end it was their downfall, and although the Toffees only managed two shots on target, United's defensive frailties meant that was all they needed to get a goal.
The standard not just expected by United, but what these player are capable of producing, wasn't met today.
This team struggle to create much when coming up against defensive, low-block sides. It was the case against Villarreal as well as today.
There were many mistakes made and Solksjaer reflected on this in his post-match interview with BT Sport. "We didn't concede many chances today, but we conceded a goal. We had to deal with one or two moments, but we didn't."
The Norwegian went onto to say how being better at 'knowing when to risk it' was the key lesson learnt.
Issues defensively continue
Legend Sir Alex Ferguson once famously said "Attack wins you games, defence wins you titles."
At the moment United don't have a defence that is capable of winning a title.
They have conceded at least once in each of their last nine league matches at Old Trafford, it's their longest run of games without a clean sheet at home in the top flight since February 1971.
To get anywhere near the title this season, they need to improve at the back. When four-time Champions League winner Raphael Varane was signed in the summer from Real Madrid, the defensive issues at Old Trafford looked to be solved.
So, what's the problem?
Yes, captain Harry Maguire was out with an injury today but even when he's been playing, they've conceded.
The issue could well arise from the midfield. When you're prone to a counter-attack, and when out of possession, having a strong midfield partnership is key to protect the defence.
Solskjaer has entrusted the famed duo of Scott McTominay and Fred with this task for a long time, and while it has worked against some sides, today their performances were below par.
Fred was at fault for the goal, being outmuscled by Gray who was able to get away and launch the attack.
It's a key area that United failed to address in the transfer window and it may end up being the reason they don't lift the title come May.
Stand in captain Bruno Fernandes highlighted the mistakes made, in his interview with the BBC saying "We should have more points."
"If we want silverware at the end of the season, we have to do much better."
What's next
Everton host West Ham at Goodison Park in their next Premier League fixture. The Toffees now sit fourth in the table having only lost one of their last fives games.
They'll be hoping to keep up that form and do all they can across the rest of the season to try and push for a European place.
For United it's a tough run of games to come. First, they travel to Leicester before games against Liverpool, Spurs and Manchester City. Not to mention the crucial Champions League double header against Atalanta in between.