This is Noel Alberto signing off this live of England and Russia. England dominated the game and duly earned the lead but Russia struck back late to get a point! Keep up with VAVEL for the best coverage of the 2016 European Championships .
Group B standings Country (points, GD): Wales (3, +1), England (1, 0), Russia (1, 0), Slovakia (0, -1)
England now have failed to win their last eight European Championship openers. Five draws and three losses. For Russia, this is the latest regulation goal that the team has scored in a major championship.
90'+4': That's it! Russia get the equalizer and feel that this draw is a win while England feel this is a loss.
90'+3': Russia force Hart out of the net, and Hart clears.
90'+2': RUSSIA EQUALIZE late! The captain Berezutsky gets onto the header from a ball from over 40 yards out and loops it in over Hart! Another England heartbreak!
90'+1': Kokorin's cross cleared away by Smalling for a corner.
Three minutes of stoppage time.
88': Berezutsky's long diagonal ball goes out as his teammates stare the captain down.
James Milner comes on for Raheem Sterling.
85': Sterling begins the counter but slows up and does not send the cross in and fouls the defender.
Dier's goal is the first ever goal for England off a direct free kick in European Championship history.
84': Kane hits it well over the bar.
84': Kane on it this time.
83': Kane wins a free kick. Another chance for England.
82': Great linkup play between Wilshere, Kane, and Sterling but the striker is offside.
81': Kane wins a free kick.
England's last win over Russia in the Euro was in 1968.
Jack Wilshere in for Wayne Rooney who gives the armband to Gary Cahill .
Roman Shirokov in for Aleksandr Golovin.
77': Russia look to bring on a sub as Sterling latches on to the ball and gives it to Kane as Berezutsky blocks it.
73': ENGLAND LEAD! Dier hits it over the wall and over Akinfeev! Kane runs over it before Dier hits it into the back of the net! 1-0 England!
73': Kane, Dier, and Rooney on the ball.
73': Alli fouled by Schennikov who goes in the book. Free kick in a dangerous area.
70': Rose's ball is sent in and is cleared only as far as Rooney who hits it but Akinfeev stands tall again! Lallana latches on to it but is offside. The captain didn't it hit with the pace he wanted as anywhere in the corner and England are up
70': Free kick to Russia as Sterling pulls down Smolnikov. The Russians try a training ground move and Hart gathers to begin the counter.
68': Smalling does well against Dzyuba and Sterling runs through the center of the park before it's picked out by Russia.
67': Walker's cross once again picked out by Ignashevich, who is on his 117th cap.
66': Walker great burst down the right-hand side but could not pick out Lallana.
65': Sterling does well to send the cross in but no one there at the near post.
64': Daniel Sturridge warming up on the sidelines.
63': Smolov nearly! Ball falls to the Russian who tries to curl it but is just a yard wide though Hart was there to cover.
62': Cahill first in the books, fouling Dzyuba from behind.
60': Another Russian corner with Shatov taking it but Berezutski's header goes wide.
58': Golovin gets on the next corner but lashes it well wide.
58': Ensuing corner forces Hart to save as Dier's head last to touch it.
58': Kokorin gets the ball and volleys it but blocked for a corner.
57': Sterling with a great run down the left after Rose won the ball. He cuts it onto his right but went for the nutmeg on Ignashevich rather than the smart play of giving it to Lallana.
55': Rooney and Dier both on the ball but the captain takes it and never threatened, dipping too late.
54': Kane taken down and wins another free kick for England.
53': Kane's free kick fizzes across goal but no one gets the touch. The ensuing header back finds Sterling but is offside.
52': England finally with a good spell of possession in the second half. They look to threaten on goal. The ensuing long throw gets to the Russian's but the folliwng header falls to Sterling who was in on goal but couldn't get the touch to it. He does win a free kick on the edge of the box however.
49': Rooney caught in possession, giving it away. Kokorin with a nice move in the box and sends it across but England clear away.
46': Russia kicks off the second half and almost threatens but Kokorin comes in behind the defense but is offside.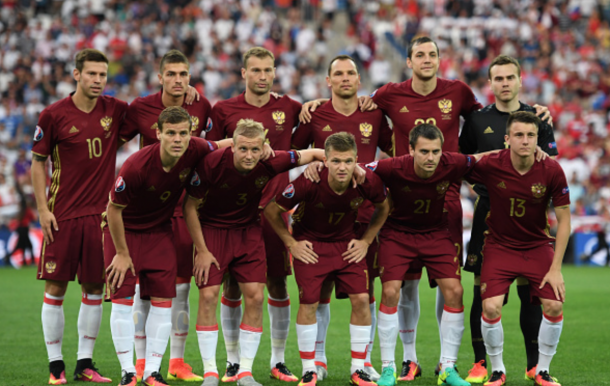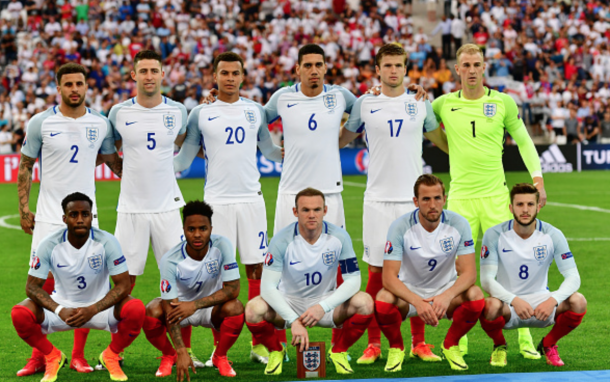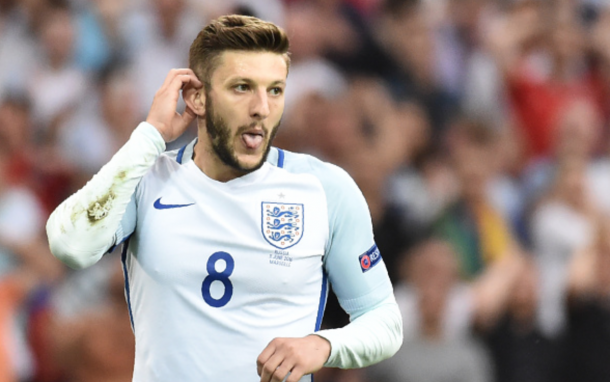 Group B live standings: Wales 3, England 1, Russia 1, Slovakia 0.
Russia's standout players in the first half: Dzyuba, Ignashevich
England's standout players in the first half: Sterling, Walker, Rose, Lallana, and Dele Alli.
England created eight chances compared to Russia's lone one in the first half. Russia happy to have not conceded yet. As talked about earlier, Akinfeev had a shot at redemption this tournament after a poor 2014 World Cup, and he's earning all the billings so far.
Halftime whistle blows. England 0-0 Russia.
England fans belting out their national anthem, trying to match Wales' enthusiasm earlier. Seems like their matchup will be a battle of the choruses as well as a battle of the bordering contries on the pitch.
43': Walker with a long throw with Kane now in the center but to no avail as Russia get the ball.
42': Akinfeev once again tested. Rose whips in a cross which takes a bounce as the Russian keeper punches it away after Sterling gets there but not getting the best of touches.
41': Rose receives the ball on the left and lashes at it. Kane just not quick enough to get there at the far post.
39': Dele Alli looks to find Kane who makes a run down the center but the pass just a bit heavy as it rolls into Akinfeev's arms.
37': England go short on the corner with Kane hooking up with Lallana. Lallana feeds it back to the striker who whips it in straight into Akinfeev's arms but one touch from anyone would've seen that in the back of the net.
36': Sterling and Rose continue their dominance on the left. A great ball was delivered to Kane but Ignashevich had to do well to concede the corner and does.
35': Akinfeev with another denial! Dele Alli does brilliantly to get past the two defenders on the right-hand side. He finds Rooney who turns then hits in on the volley but right to the Russian keeper.
33': Kane's corner sent well long over everyone. His corners today have been so-so, some good, some bad. Still a mystery why their big man is taking corners over Sterling
32': Rooney with a wonderful find of Alli. The youngster tries to get the touch on it but it isn't good enough though Akinfeev gets a final touch on it for a corner.
31': Game has opened up as Alli's pass gets intercepted to begin the counterattack for Russia. Kokorin sends in a cross but finds no one then England begins the counter but an error from Sterling stops it
30': Russia with a little more of the ball. Dzyuba gets a header on the ball but Cahill knocks it down for Hart to gather.
28': Adam Lallana one-touches it to Harry Kane but the striker is well offside despite burying it in the back of the net. Lallana should've done better, seeing Kane was in an obvious offside position.
England dominating the tempo and the possession. Many more passes and nearly 70 percent of the possession. All England in the first 27 minutes. Have to find the breakthrough though to really open up the Russia defense.
24': Kane and Sterling hookup in the center with the left winger running towards goal before Smolnikov gets there to clear for a corner.
22': Great buildup between Alli and Walker as the Spurs players connect down the right-hand side before the right back finds Adam Lallana who sends his shot wide of the far post.
21': Another good run from Sterling who leaves it for Rose to cross but it was poor to say the least with three men in the box but leaves it on the ground.
17': Sterling has looked lively to start. His run was brilliant, leaving the ball for Danny Rose to whip across the face of goal but no one is there to get on it.
16': Russia wins a free kick and Ignashevich gets a good head to it but sends it right to Hart who knocks it down before beginning the next England move.
13': Kane gives it a go from distance but sends it well wide.
12': Sterling once again terrorizes that left-hand side wins a corner but nothing comes out of it.
12': Kane's corner find Chris Smalling who gets a firm head on it but sends it straight to Akinfeev who has been busy already.
12': Kyle Walker has looked strong so far and his backheel flick finds Spurs teammate Eric Dier, whose cross is blocked for a corner.
11': England with the better of the attacking chances so far as their midfield runners have been giving the Russia defensive midfielders and backline are hard time.
9': Raheem Sterling doing damage on the left-hand side. His cross found Dele Alli in the center who headed it down for Harry Kane who could not get on the end of it but he looked offside anyway had he gotten the touch.
7': The ensuing corner by Harry Kane was sent well long.
7': Rooney's ball for England takes a deflection but finds Kyle Walker whose run down the right-hand side allowed him past some Russian defenders. He found Lallana who had a good look at goal but Akinfeev stood up to the task. Should Lallana have scored, it would've been his first international goal.
6': Another threatening move by Russia down the right-hand side
6': Joe Hart lucky that no Russia player was there to pick up his goal kick which he drilled off Chris Smalling.
4': Russia's first attack offered a bit of danger with Cahill getting caught in a one-two as Dzyuba took a hit but was blocked.
3': Sterling plays a nice lifted ball which Lallana wins the air. It falls to Dele Alli who hits it with the bottom of his shin, sending it out.
3': Lallana wins a header as Neüstader fouls him and gives England a free kick.
2': Sterling with a nice run down the middle of the pitch trying to find Harry Kane but his ball was too heavy as Akinfeev gathers.
England looks to win their first ever opening game at the European Championships. They have four draws and three losses in their previous seven Euro openers.
1': England kicks it off and an early foul on Russia as Kyle Walker draws the foul.
Nicola Rizzoli of Italy is the main official.
Russia's national anthem first to play. Now England's to play, "God Save the Queen".
Teams are walking out now as they await the playing of their respective national anthems.
He finished that off by saying that he would never play for England and that playing for them would not vindicate anything.
Never one to mince words, the Welshman continued to take shots at England, the day before their 2-1 victory, discussing their showdown against England on Matchday 2. "I had a chuckle, not going to lie," Bale says, smiling. "I knew it was going to come. It is an amazing game to be involved in. For me it is probably the standout game in the tournament in the group stage. It is one we are looking forward to. There is no pressure on us. They big themselves up before they've done anything, so we're going to go there and we believe we can beat them. They believe they can beat us. I'm sure it will be a very good game; hopefully we can come out on top."
Pressure is now on England to try and match Wales' victory, especially after the Gareth Bale -led side backed up their talisman's smack talk of England with their win. Here's what Bale had to say about England, "It is like any derby – you never want to lose to the enemy. I think we've got a lot more passion and pride about us than them. We'll definitely show that on the day."
As expected, Jamie Vardy and James Milner were dropped for Raheem Sterling and Adam Lallana respectively. In their last friendly against Portugal, Vardy, Kane, and Rooney all had a hard time trying to fit in together as all three are natural strikers. Though the captain was in his usual number ten role now while Vardy was on the wing, things did not work out as planned, forcing manager Roy Hodgson to make the switch.
Wale's kicked off Group B play with a 2-1 win over Slovakia. Gareth Bale kicked off the scoring off his trademark knuckleball free kick. Ondrej Duda leveled in the second half, off his first touch before substitute Hal Robson-Kanu scored the winner for the Welsh, giving them three points. Now the pressure is on one of these side's to deliver three points as well in this wide open Group B.
Russia's confirmed starting XI (4-5-1): Akinfeev; Smolnikov, Ignashevich, Berezutski, Schennikov; Golovin, Neustadter, Smolov, Shatov, Kokorin; Dzyuba
England's confirmed starting XI (4-3-3): Hart; Walker, Cahill Smalling, Rose; Alli, Dier, Rooney; Sterling, Kane, Lallana
We'll have confirmed team news for you at around 7PM but before that, the build-up can continue. Or you can move around VAVEL UK to our live coverage of Wales - Slovakia, the other game in Group B tonight.
Russia Predicted XI [4-3-3]: Akinfeev; Smolnikov, Ignashevich, Berezutski, Schennikov; Shatov, Neüstader, Golvin; Kokorin, Dzyuba, Smolov
England Predicted XI [4-2-3-1]: Hart; Walker, Smalling, Cahill, Rose; Dier, Alli; Sterling, Rooney, Lallana; Kane
Russia's results in the pre-Euro friendlies weren't as strong as England's. They lost to the Czech Republic 2-1 and then drew 1-1 with Serbia.
For Russia, they look to better their last international tournament, the 2014 FIFA World Cup. Like England, they crashed out in the group stages. It was a nightmare for star keeper Igor Akinfeev, who's blunder may have cost them three points against South Korea, who scored off that blunder before the Russians struck back. The split points were duly costly as the Russians finished with two points, third in the group, two points behind Algeria who had four points. This is redemption time for Igor Akinfeev. At 30-years-old, it's highly unlikely he makes a big-time move out of CSKA Moscow, but this will be a chance at validation.
Outside of the two potential starting lineup question marks, the question for England is, will captain Wayne Rooney be able to fire them to glory? The Manchester United man is now playing the number ten behind Tottenham Hotspur talisman Harry Kane. Despite not playing the striker role anymore, Rooney has notoriously failed to deliver in big international tournaments. At 30-years-old, this is his chance to finally cement himself on the big stage being England's all-time top scorer.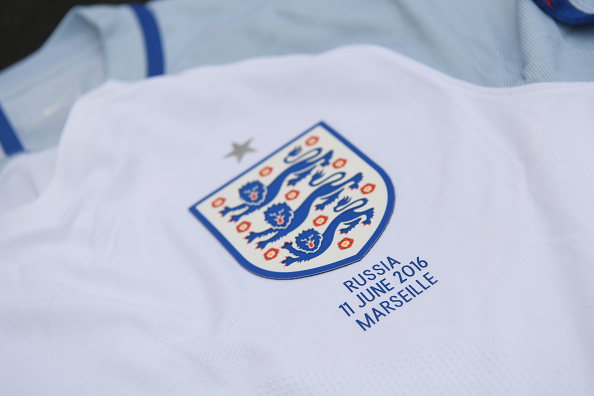 Both James Milner and Jamie Vardy have been getting starts for England as of late but it's been rumored that they will be dropped for Adam Lallana and Raheem Sterling respectively.
In the leadup, England went 3-0 in the friendlies before they were off to France to set up camp. A couple of 2-1 wins over Turkey and Australia before a 1-0 win against Portugal.
Leonid Slutsky's side wasn't as strong as England but still got the job done. The Russians finished second in their group, finishing behind Austria and just edged out Sweden by two points to avoid the dreaded third-placed playoff.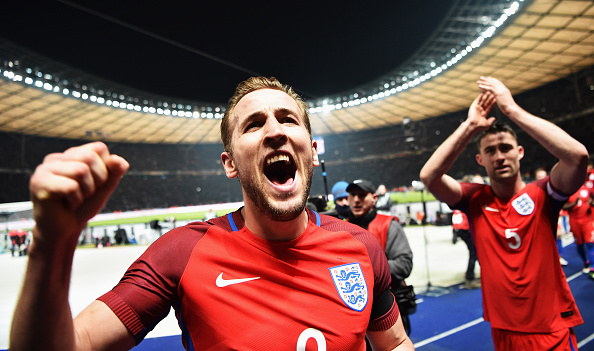 Roy Hodgson's men flew through Euro 2016 qualification, smashing through a group that didn't have many challenges outside of Switzerland. The group of Slovenia, San Marino, Lithuania, and Estonia was one Roy Hodgson's men flew through, with a perfect 30 points.
With more teams and more knockout stage spots, both teams look to better their Euro 2012 results. Russia crashed out of the competition in the group stages falling to Greece. Despite tying Greece on points and leading them on goal differential, the Greeks stunned the Russians in the final group match, sending them through via the tiebreaker. England won their group and met Italy in the quarterfinals. And not a surprise, England went out on penalties with Andrea Pirlo putting the dagger to English hearts with a cheeky panenka past Joe Hart.
This is a group where it is wide open for anyone to grab. All four of the teams are more than capable of advancing to the knockout stages so three points for anyone in their first group game is absolutely key.
Group B play will begin earlier on Saturday with Wales and Slovakia taking the pitch in Bordeaux, three hours before England and Russia kickoff. Both sides will know what they have to meet as they will know the full-time result before they kickoff.
Hello everyone, this is Noel Alberto here to give you live updates of the Euro 2016 Group B matchup between England and Russia. In the leadup to the game, I will be giving a preview to the match and during the game, I will be giving minute-by-minute updates of the action that will be going on. The match is set to kickoff at 8PM GMT at the Stade Velodrome in Marseille.