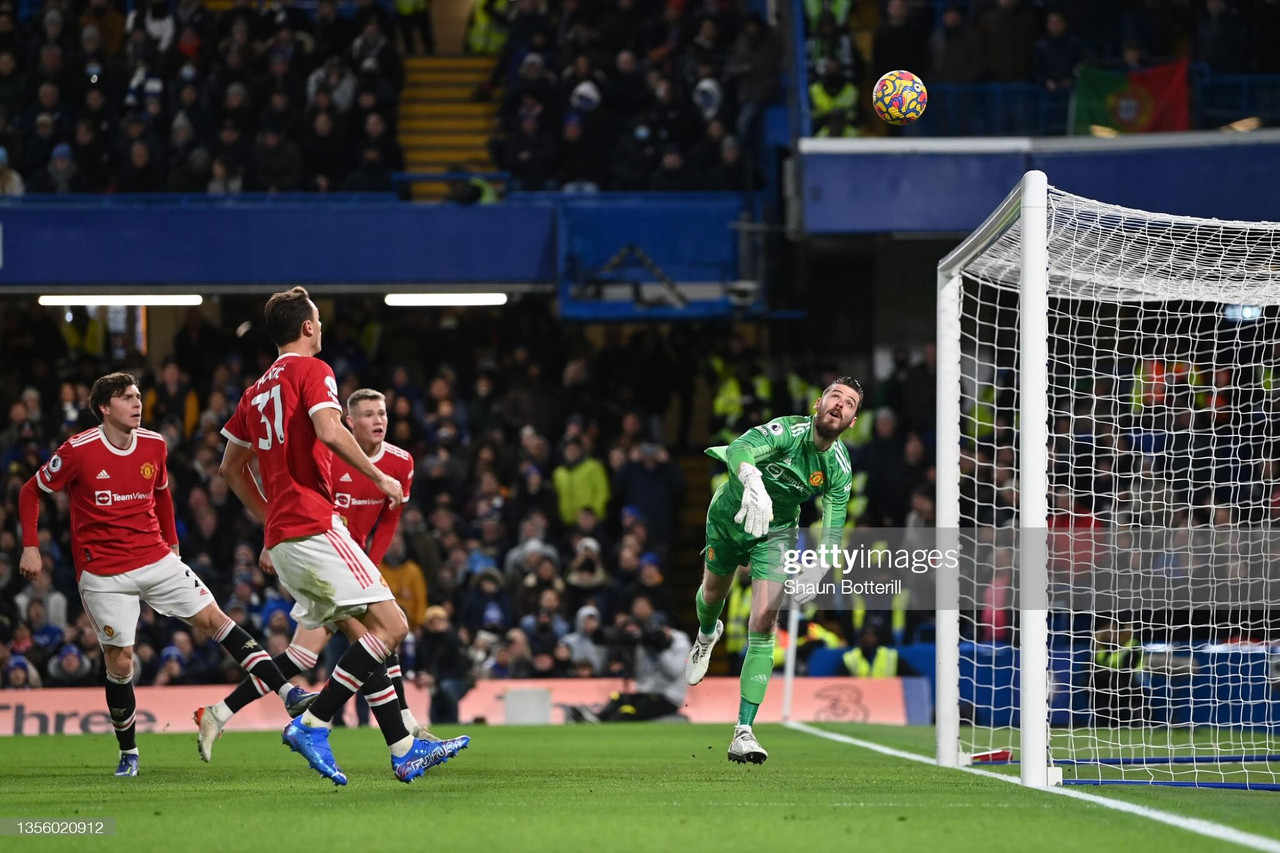 Confidence easily escapes us, even the elite in the football community, and Manchester United, despite securing a smash-and-grab point against Premier League leaders Chelsea, will take some time to restore their inner steel. When Ralf Rangnick does arrive to steer United for the next six months, he will do so with a team that needs a renewed drive.
Under Ole Gunnar Solskjaer, United were often criticised for not having a plan when it came to matters on the pitch. When Michael Carrick handed in his team-sheet for this game at Stamford Bridge, he did so with an eye on limiting any damage that Thomas Tuchel's team might inflict.
Carrick, who was part of the coaching staff under Solskjaer, hasn't forgotten last week's defeat to Watford, nor the humiliation against Liverpool, or the one-sided domination that was the Manchester derby either. And that told in his lineup against Chelsea.
Carrick sides with defensive approach
The interim to the caretaker manager opted to start three — yes three! — defensive midfielders in Nemanja Matic with Scott McTominay and Fred slightly further forward either side. Up front, Carrick selected Marcus Rashford to lead the line and Jadon Sancho and Bruno Fernandes flanking — Cristiano Ronaldo was left on the bench. Some suggested that this had the fingerprints of Rangnick on it, but the soon-to-be-appointed interim is not normally this pragmatic.
Rather, this highlighted a coach who had recent experiences of been pummelled by the Premier League elite and didn't want to make it three in a row in the space of a couple of weeks. Carrick managed to bring United home from Villarreal with a victory in midweek and will look back on this draw with an element of accomplishment.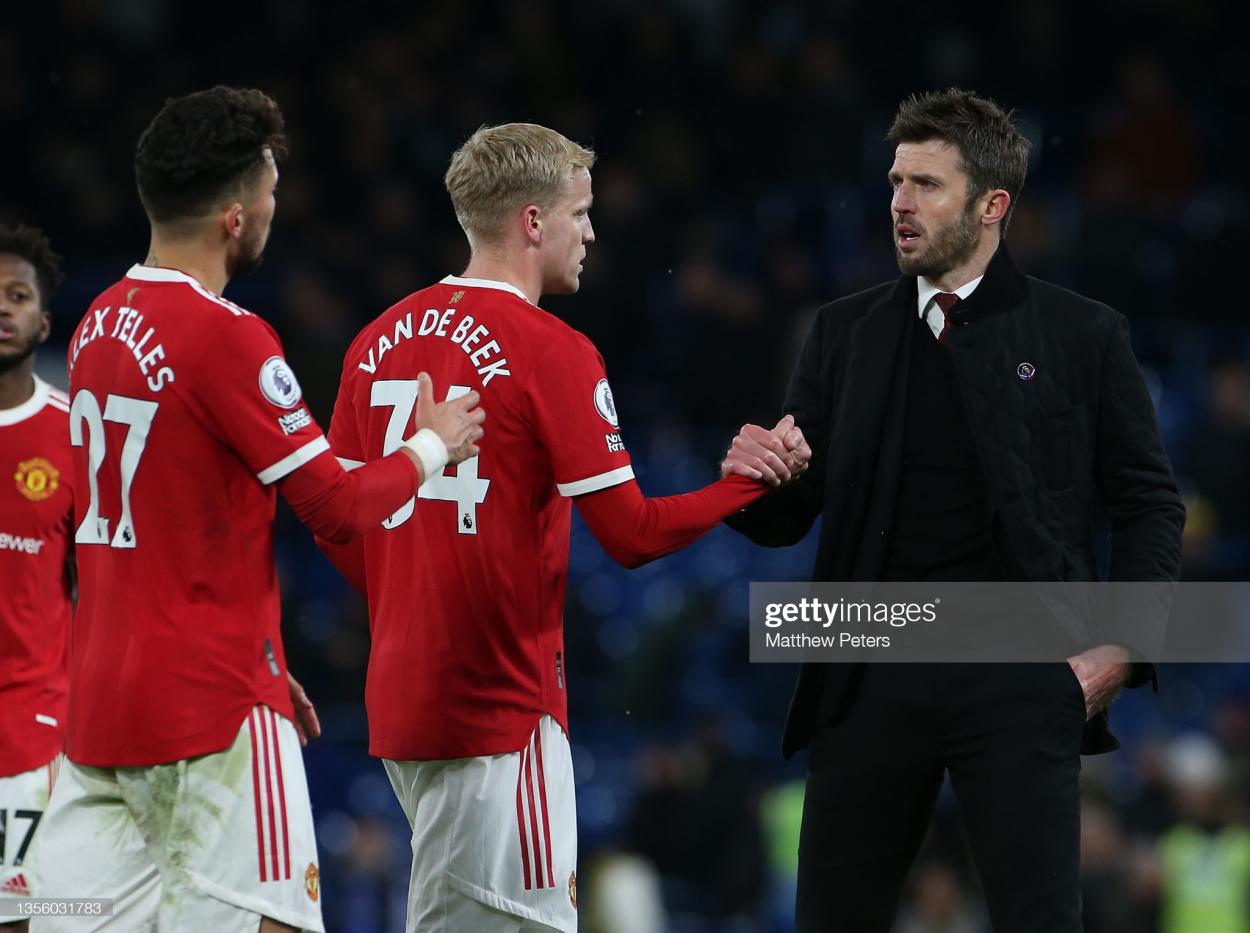 Against Tuchel's in-form side, United attempted to press with more vigour than in their previous games, hence the inclusion of the younger legs in Sancho and Rashford, but it looked like a case of them being instructed to do that rather than being coached to execute it well. Fernandes attempted to set the tone, directing his teammates on when and whom to target, but it was just as incohesive as it had been during previous attempts.
Chelsea were able to play around United and that was also aided by the visitors spending the majority of the opening stages dropping deep and inviting their hosts to control possession. United's numerical advantage in the central areas of the pitch did help them to win the ball back but, when in possession, United were erratic.
It's difficult to say that United were content to leave with a draw, because a club such as United never should succumb to that eventuality, but from the team selection to the approach, it all signalled at frustrating Chelsea and trying to stay in the contest.
The rights and wrongs of that can be debated but when Rangnick arrives he will want to extract more from United's attacking players. Such was United's set-up against the league leaders that they tried to take advantage of the counter and punish Chelsea on the break.
Sancho starting to settle
Perhaps such a game-plan benefitted Sancho more than anyone else. Had David De Gea not pulled off a string of saves in the first half, United wouldn't have been in a position to snatch a goal on the break five minutes into the second half. Jorginho's error allowed Sancho to pounce, scoring his second goal of the week. United's best period of the match was when both Sancho and Rashford were at their brightest straight after the interval.
Sancho is the type of player which Rangnick will aim to centre United around. Since arriving at the club from Borussia Dortmund in the summer, the 21-year-old has struggled to settle in to the United team. Now, having backed up his first goal for the club in midweek with another here, he appears to be finding his feet.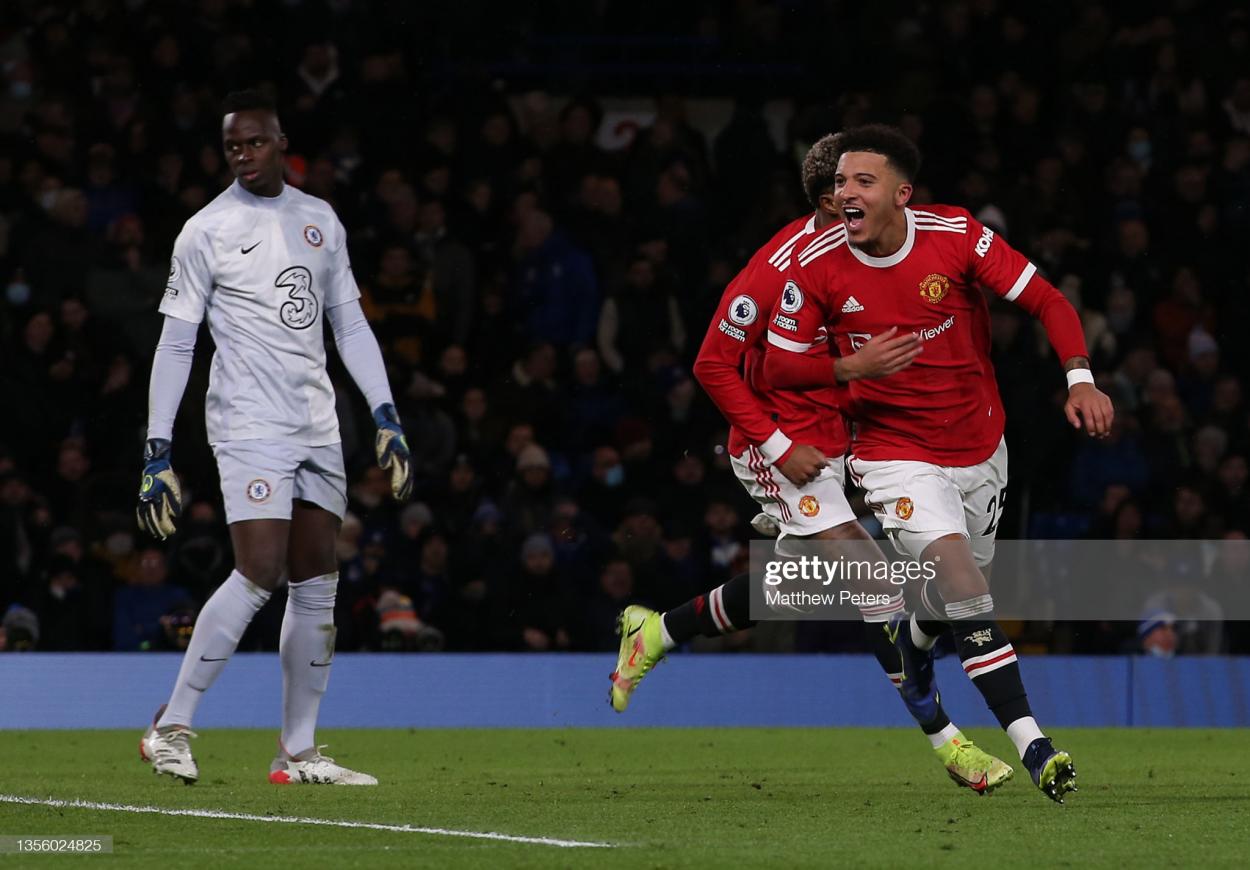 A sense of continuity, amidst all of the drama and managerial turmoil, has arisen with Sancho now having started United's last three matches in his favoured position on the right wing. That has undoubtedly helped his recent displays. In an ideal world for United supporters their fully functioning front three would consist of Rashford, Sancho and Mason Greenwood.
Which begs the question of where does Ronaldo fit in. He started this game out of the starting XI, something which hasn't happened too often during the Portuguese's career. It was a strong move by Carrick but one that Rangnick will continue to abide by should he aim to turn United into a team that functions with quick transitions, speedy counters and players with their futures ahead of them.
Still, United looked vulnerable at the back. Without three of their four usual starters, the only regular starter, Aaron Wan-Bissaka, gave away the penalty from which Jorginho netted the equaliser. The manner in which the United full-back caught Thiago Silva in the area was clumsy. He was also caught out in the first half when Callum Hudson-Odoi stepped inside and fancied his chances.
Overall, this was a good result for United, the way they obtained it, however, does offer more questions for Rangnick to try and find an answer for. Recent experiences have affected this team and it is down to Rangnick in the short term to try and extract them and get them back on the front foot.