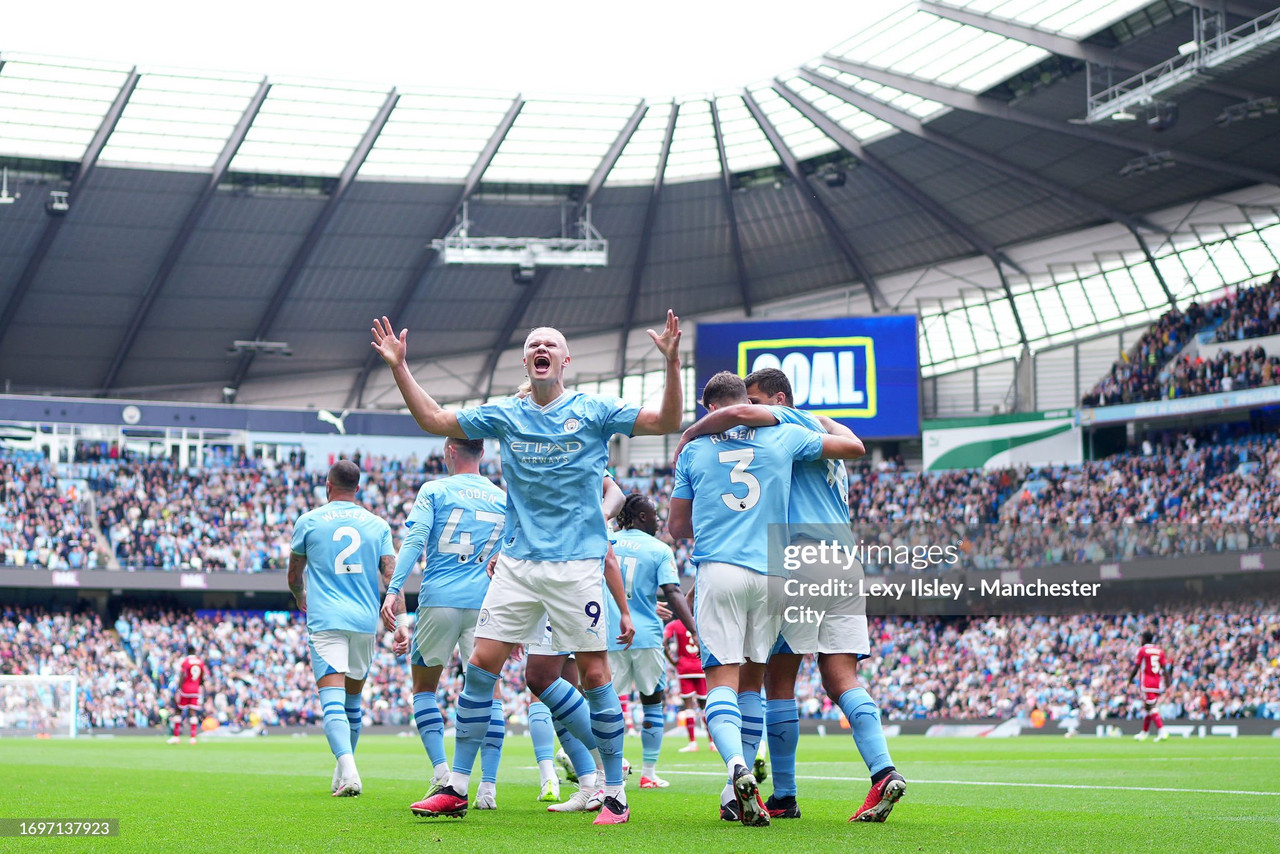 Manchester City have kept their perfect start to the season going after getting the better of Nottingham Forest at the Etihad. The game started off as most would've expected with City dominating possession, at one point in the game around the 10th minute mark achieving 99% possession.
City managed to achieve this even after they had netted the opener of the game, which came from a wonderfully floated pass from Rodri into Kyle Walker, who slowed the ball down in a shooting position to then quickly cut it back to Phil Foden, who struck the ball cleanly into the bottom right corner of Matt Turner's net.
City's only other goal of the game came seven minutes later when Matheus Nunes was played into the box by a threaded pass from Foden to then dink a cross over the Forest centre-back's into Haaland, who met the ball with a comfortable header - his eighth goal in six Premier League games.
Julian Alvarez tested Turner in the first half with a freekick which was comfortably parried away by the American international, and Haaland missed the chance to secure a brace when a Nathan Ake cross into the box was sent over the bar by Haaland - a rare miss from City's talisman.
After City had gone down to ten men for Rodri's violent conduct against Morgan Gibbs-White, Forest quickly became much more of a threat, creating chances for the likes of Taiwo Awoniyi, Anthony Elanga and Divock Origi, however Forest just couldn't make good on their chances.
Here are four things we learnt from today's game.
Pep Guardiola continues to make perfection even more perfect
Ever since Pep Guardiola took the reins of City in 2016 he has made a point of systematically and meticulously improving the squad year after year, and this process culminated in the almost unstoppable City squad of 2022/23 which became the second English team ever to complete the historic treble.
What is incredible however is how Guardiola has continued to improve on an already near-perfect team, adding specific profiles to the team as well as replacing profiles that may have left or had been moved on in the summer. City had lacked a dangerous one-vs-one threat on the wing so they brought in Belgian international Jeremy Doku to compete with Jack Grealish. Ilkay Gundogan left so they brought in Mateo Kovacic. Kevin De Bruyne was injured so they brought in Matheus Nunes.
Every signing brought in by the club over the summer transfer window can be justified in raising the technical floor of Guardiola's City, as their performative ceiling is arguably already as high as it can be. As evidenced in the game, the City new boys have managed to adapt seamlessly to how Guardiola wants his team to play. Doku held width very well and was consistently helping city move play into Forest's box, Gvardiol was a useful asset in circulating possession and Nunes adequately filled the void left by De Bruyne in how he manipulated play in the final third.
What is even scarier is that the average age of the City starting 11 was 25 years old. This City dominance isn't going anywhere.
Foden and Rodri were key to dominant first half display
Foden was excellent in the first half, finding himself involved in all phases of play and picking up the ball in pockets to help disseminate possession. In settled possession Foden and Nunes were almost working in tandem in and around the box to cut open the Forest back-line, which ended up resulting in Nunes assisting Haaland for City's second.
As a team City also counter-pressed vehemently in an effort to completely suffocate Forest players whenever they managed to gain possession of the ball - for large parts of the first half whenever Forest had possession it was for under 20 seconds. Foden won almost all his ground duels, completed most of his dribbles and most of his passes.
Rodri was arguably the best player on the pitch in the first half. In this game and since the start of the season he's been at the heart of everything good City have done. Rodri was the key to City being as comfortable as they were in possession and was impossible to press. He was only dribbled past once and provided the key pass in the build up to Foden's opener.
Forest invited too much pressure in the first half
From the get-go Forest simply sat back and didn't apply nearly as much pressure to the City players as they could've, or perhaps should've. Steve Cooper would've undoubtedly been aware of the fortress that the Etihad has become since the beginning of last season, but it was almost as if Forest were showing City too much respect.
As mentioned earlier, by the tenth minute mark City had already garnered 99% possession, completely restricting Forest of the ball. Every time a Forest player did get on the ball they were sloppy, and it seemed as though they were scared to hold onto the ball for extended periods as they risked losing the ball in high areas.
Once City camped in Forest's half it was easy for them to thread passes through Forest's settled defensive structure. Forest still lack the sufficient profiles needed to counteract pressure against the bigger teams. This was even more evident when they were 2-1 up against Manchester United in GW3 at half-time, but ended up losing the game 3-2.
Forest improved when City went down to 10 men - attackers key
Forest got the encouragement they needed when Rodri was sent off, because not only were City a man down, their most important player was now off the pitch. Cooper wasted little time in flooding the pitch with attackers as he smelt blood in the water. City weren't keeping possession as well as they were in the first half and were prone to more transitional attacks from Forest.
Forest's three shots on target came in the second half after the likes of Elanga and Callum Hudson-Odoi were introduced to the pitch. They both added some much-needed dynamism to Forest's attacks - especially Hudson-Odoi who adapted to the game state especially well and looked a technical level above all of his teammates:
It should be eminently clear now that Forest's best moments this season are going to stem from the likes of Hudson-Odoi, Elanga and Gibbs-White being on the pitch at the same time. These three players will be key in Forest avoiding another relegation battle this season.