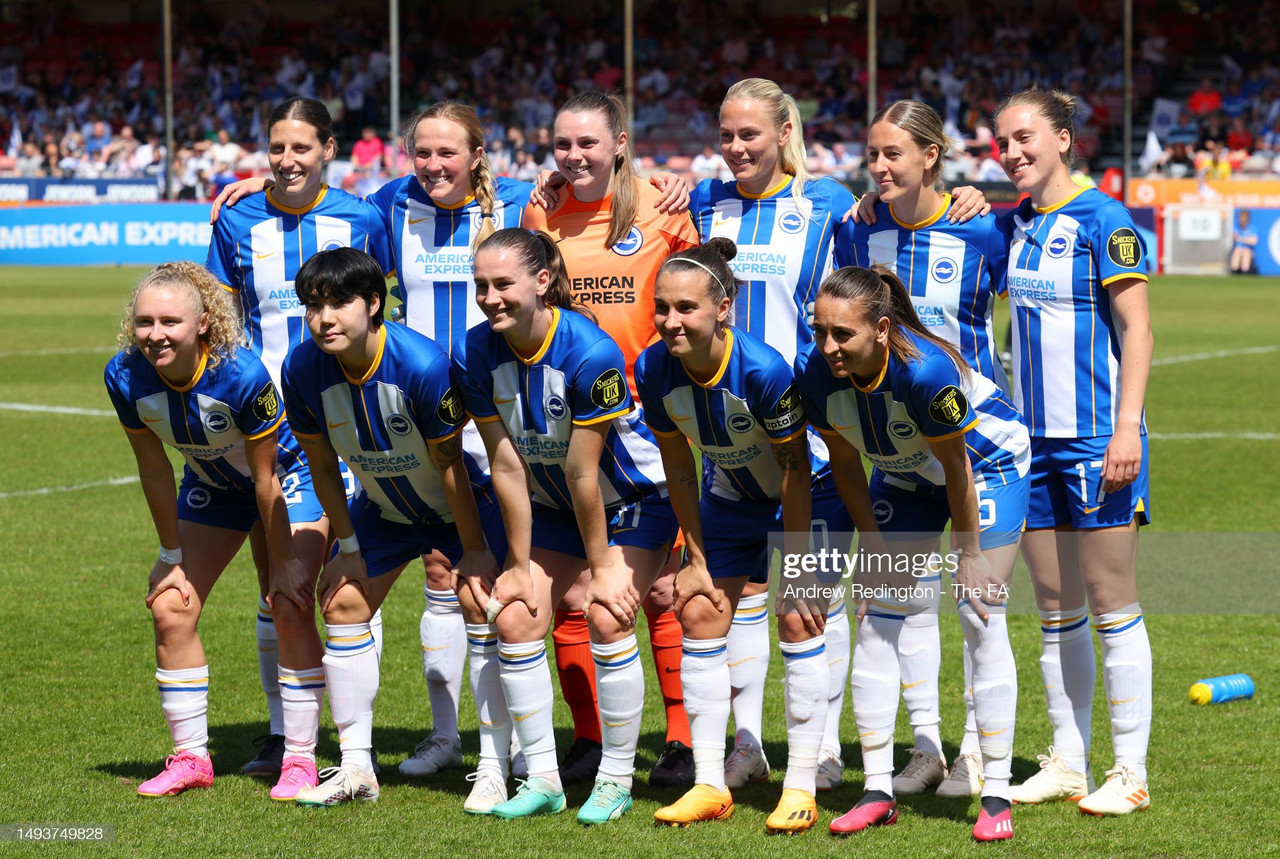 You won't find many clubs who have had a more whirlwind season than Brighton and Hove Albion.
It feels like eons ago that Hope Powell was in the dugout at the Broadfield Stadium.
After one win in her opening five games, Powell's time at the Albion ended after an 8-0 tonking by Tottenham.
Amy Merricks was placed in interim charge, before former Bayern Munich manager Jens Scheuer took charge at the end of 2022.
But in another twist of fate, Scheuer was removed from his role after failing to win any of his WSL games, leaving Brighton on the brink of full collapse.
After another cameo role from Merricks, Melissa Phillips was tasked with guiding the Brighton ship away from the rocks.
A solid performance against Manchester United in the FA Cup semi-final showed that this Brighton side were up for the fight under the American.
Wins against Everton and West Ham eventually pulled Brighton away from the perils of the Championship, a destination that looked certain for the Seagulls at many points in the season.
For an ambitious club like Brighton, battling in the lower echelons of the WSL is not a position that they will want to be in again.
However, with Phillips now in charge and implementing her style of football, things are looking up for the south coast club.
We take a look at some notable players and results that have helped to guide Brighton to another season in England's premier competition.
Player of the Year – Katie Robinson
It certainly won't come as shock, but Robinson as been nothing short of spectacular this season.
The winger has played like a player beyond her years at times this season and has really stepped up in the crucial moments for Brighton.
Robinson has played every game this season in the WSL, scoring four and assisting on six occasions.
Her six assists puts her joint ninth this season in the league, above the likes of Sam Kerr, Rachel Daly, and Frida Maanum.
Her callup to the World Cup is thoroughly deserved, and an acknowledgement of how important a role she plays in this side.
Unsung Hero – Elisabeth Terland
The Norwegian has popped up at crucial times this season for Brighton.
Her double against Everton was certainly a highlight, but with seven goals, she is Brighton's top scorer.
Her tally of seven also puts her ahead of the likes of Chloe Kelly, Lauren James, and Fran Kirby in the scoring charts.
Terland has proven that she works well in Phillips' new system, and if she can score another seven next season, Brighton will be in a good place.
Moment of the Season – West Ham games
Brighton have not had joy against many opponents this season, but doing the double over West Ham has certainly been a highlight.
Their first meeting this season was simply unforgettable.
In a game that resembled a basketball match rather than a football one, the Seagulls came away from Dagenham with a 5-4 win.
The two met again at the back end of the campaign in Crawley. In a tight affair, a header from Kayleigh Green clinched a vital win for the Albion, a win that ultimately kept them up.
Turning Point – Brighton 3-2 Everton
In the game prior to this one, Brighton had performed well in Phillips' first game against Manchester United.
While Rachel Williams did score an 89th minute winner for the Red Devils, there were positive signs for Albion fans.
While the United game was a free hit, the acid test would be against an Everton side who found themselves in midtable obscurity.
The first half performance from the Seagulls was free flowing and everything seemed to be coming together, and they deserved to be two up at the break.
The second half was nervier as they allowed Everton a way back into the game, but they held on to win 3-2, and there was a feeling of relief as well as excitement after the final whistle went, a true turning point.
How will they fare next season?
In terms of outgoings, a lot of experience is heading out the door at Brighton.
It was revealed that the contracts of Megan Walsh, Danielle Carter, Victoria Williams, Kayleigh Green, and Megan Connolly would not be renewed at the end of the season.
Between these five players, they have donned the blue and white shirt over 400 times and filling that level of experience will be a tricky task.
In regard to the incomings, there haven't been many names banded about, but one name mentioned is Anna Patten.
According to Emma Sanders, Brighton will look to sign her when her contract at Arsenal expires.
There is also talk of a goalkeeper coming in too, as Phillips looks to mould her side into shape.
There is no doubt that the WSL will be a lot stronger next season, especially with the promotion of Bristol City.
If Brighton can nail the transfer window, they could certainly replicate what Everton and Liverpool have done this season, as they look to establish themselves as a stable WSL club.