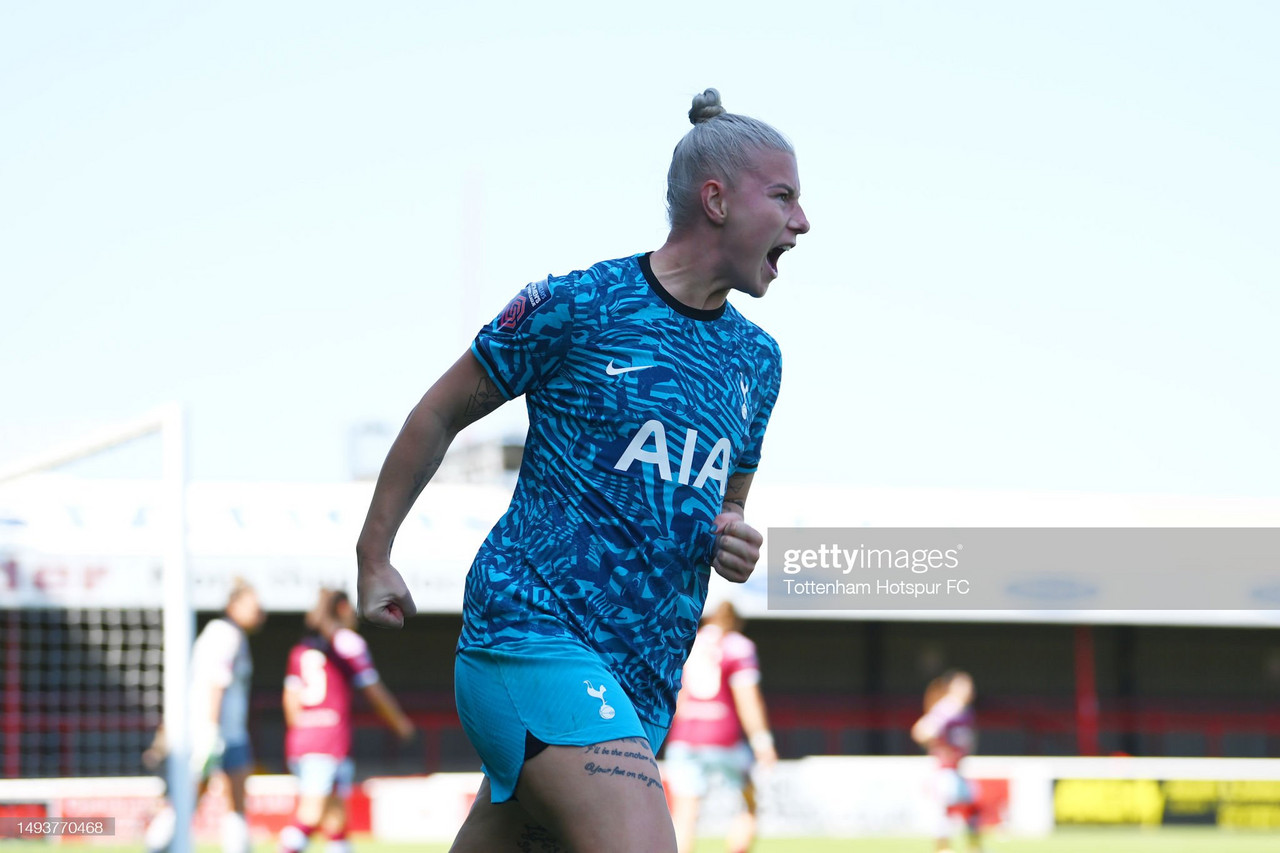 Beth England struck twice from two Rosella Ayana crosses to give Spurs a point at the Chigwell Construction Stadium, as they drew 2-2 to West Ham United.
Tottenham took the lead against the run of play, in a game where West Ham arguably had the best of the chances.
Back-to-back goals followed for West Ham just before half time. Emma Snerle fired home after a high press by the Hammers before Kit Graham headed into her own net from a West Ham free-kick.
Despite West Ham having the best spells of the game, it was the same combination of Ayana and England again which would ensure both sides ended the season without a defeat to their name in the last weekend of WSL football.
The visitors made two changes to their starting lineup, with Kerys Harrop and Eveliina Summanen dropping out for Asmita Ale and Kit Graham, with Spurs already safe after their victory last time out against Reading.
Paul Konchesky made no changes to his side after West Ham's 2-1 victory over Leicester City last time out, with Kate Longhurst starting on the bench for the Hammers in her last game for the club.
It was West Ham who were in control in the opening stages. Viviane Asseyi was causing problems for the Spurs backline down the left but could not find an end product.
Despite not having much of the ball, it was Tottenham who took the lead against the run of play.
Rosella Ayana played a brilliant cross into Beth England, who headed down towards goal to put Spurs in front.
However, West Ham remained in control and would eventually get their just rewards in the closing stages of the first half.
A good free-kick into the box was headed into her own net by Kit Graham, giving Spurs goalkeeper Rebecca Spencer little chance at keeping it out.
Just six minutes later, West Ham went in front. After a good press by the Irons, Emma Snerle found space to strike at goal and despite Spencer's best efforts could not keep it out, meaning the Hammers had the lead going into halftime.
Three minutes into the second half and Spurs were back level, and once again it was England who added to her tally.
It was the same combination which created the goal. Ayane found space down the left to fire a powerful cross into the box, which found England who headed home past Arnold to bring the game back level.
Tottenham defended much better in the second half, with Amy Turner making an important block to deny Brynjarsdottir.
The hosts continued to cause problems. Viviane Asseyi could not be dealt with at times by the Spurs backline, but she could not quite find an end product, in a game where West Ham will feel they should have claimed all three points.
Whilst West Ham defended well against the duo of Rosella Ayane and Bethany England, their quality can be unbearable for teams at times.
Two crosses of the highest quality from Ayane would prove vital for Spurs. Two headed goals from Beth England were matched by the crosses to help Tottenham on their way to a point to end the season.