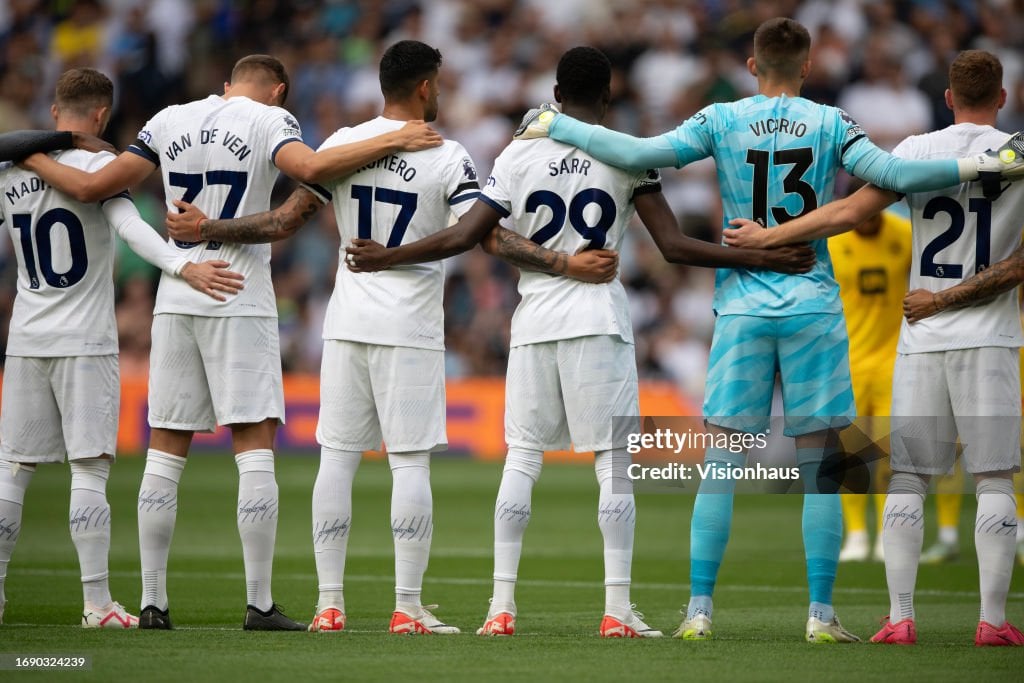 This week a lot of the Tottenham boys are playing with their respective national teams and competing in different competitions.
Tottenham's last two fixtures have been very dissapointing losing to Chelsea and Wolves. From going unbeaten to losing back to back games isn't what Tottenham fans and players expected.
An international break couldn't have come at a better time for Spurs , as their injury list is longer than we've seen before. Two key players - James Maddison and Micky Van de Ven - both got substituted in the first half against Chelsea after respective ankle and hamstring injurues, with both the attacking midfielder and central defender out until the New Year which is not good news for Spurs.
12 of Tottenham's first team players have been selected to compete with their nations for this international break.
Guiglielmo Vicario - Italy
A man in great form for Tottenham this season, Guiglielmo Vicario, will be hoping to make his debut for Italy in this international break as they face Malta and North Macedonia.
With Italy needing to qualify after missing out on the most recent World Cup, a win is vital as is a hopeful start for Vicario.
Despite conceding four to Chelsea, it was a standout performance from Tottenham's new number 1, bringing back the sweeper keeper and making some vital saves to keep the score as low as possible.
World Cup winner Romero returns to Argentina for their upcoming fixtures against Uruguay and Brazil. The champions look to continue their unbeaten streak since they last lost to Saudi Arabia in November of 2022.
A red card in a crazy derby versus Chelsea ruled Cristian Romero out of the game against Wolves last weekend but he will be able to represent his national team as they compete in the World Cup Qualification and sit on top of the 10-team group on 12 points.
The Argentine is yet to concede a goal in his last 7 games for his nation and also scored and was assisted by teammate Giovanni Lo Celso.
Giovanni Lo Celso - Argentina
Despite not playing a significant amount of football for Spurs this season Giovanni Lo Celso has also been selected to play for the Champions of the world.
Most recently appearing in Tottenham's defeat against Wolves, The number 18 returns to the Argentina team, and after suffering an injury which resulted in him not being included in the World Cup squad, he has a point to prove.
The road to recovery for Rodrigo Bentancur has been completed and with several substitute appearances he is back and ready for action. Since getting injured in March he has been a big miss for Tottenham but an even bigger miss for La Celeste.
Although Uruguay were able to beat Brazil in their last international break, a tough challenge awaits them versus an unbeaten Argentina team including two of Rodrigo's club teammates. They also face Bolivia who have lost their last 5 matches.
Bentancur last appeared for Uruguay in December 2022 for their final group stage against Ghana in a 2-0 victory. An injury cut Bentancur's game short and despite the win, Uruguay were knocked out of the World Cup.
Emerson Royal had to step in at left-back for the suspended Destiny Udogie and is another South American for Tottenham who has been called up for their national team.
Two tough games coming up for Brazil against Colombia and Argentina. Emerson last played for Brazil in March and faced a World Cup semi-finalist - Morocco.
Minutes for Royal during this international break will be vital as he has not got much game time for Spurs this season with Pedro Porro being in great form.
With Danilo not in the squad , game time will be looking likely for the Tottenham right back.
Pierre-Emile Højbjerg - Denmark
A man so crucial for Denmark, Pierre-Emile Højbjerg. Consistently performing for his national team, Pierre has lacked club football this season compared to other years, but for Denmark, he will be a certain starter in their upcoming games against Slovenia and Northern Ireland.
Two goals in the September international break versus San Marino and Finland for Højbjerg earned Denmark six points as they sit 2nd in EURO Qualification Group H, level on points with Slovenia.
With 69 Caps for Denmark, Hojberg has the 5th most caps for his country with plenty more to come being only 28 years old.
Yves Bissouma joins up with Mali for their World Cup Qualifiers facing Chad and the Central African Republic in their last international break before the African Cup of Nations in January.
Appearing off the bench in September for Mali, Bissouma completed three dribbles and made a brilliant assist to help his nation beat South Sudan 4-0.
Bissouma has been a new player compared to his former self at Tottenham, revolutionised by Ange Postecoglou and cementing himself in the current Tottenham team.
Despite a few suspensions this season, Bissouma has been in top form for Spurs and has been very exciting to watch for the Lilywhites when partnered with Pape Matar Sarr.
Sarr is another man who has been in top form for Tottenham this season. The Senegalese boy rejoins with his national team for their World Cup qualifiers against South Sudan and Togo.
Likewise, with his midfield partner, Bissouma, Pape Sarr will also be leaving in January to compete in the African Cup of Nations. Senegal are the most recent champions of the competition and with Sarr in the middle, they are looking to keep the trophy.
Minutes for Sarr in the World Cup last year was huge progress for him to replace the injured Rodrigo Bentancur at the back end of last season and start of this under Ange.
The captain returns to South Korea under the management of former Tottenham striker, Jurgen Klinsmann.
With over 100 caps for His country, Son has also been in brilliant form this season scoring 8 goals and assisting 1 in the Premier League. With 38 goals for his country, many of them have been crucial in leading his country to an Asian Games trophy and multiple World Cups. His last national goal most recently came against Vietnam in a 6-0 win.
South Korea face Singapore and China in World Cup qualification before they play Bahrain, Jordan, and Malaysia in the Asia Cup in January.
Ranked one place higher than Sonny's South Korea - Sweden have two big games against Azerbaijan and Estonia although qualification looks off the cards.
Dejan Kulusevski has been a member of the Swedish national team for four years now making his debut at 19 years-old. 33 caps later, Dejan is a key part of the Sweden squad.
In the September international break, Kulusevski picked up two assists and one goal whilst in the Premier League he has scored three goals so far.
The Spurs summer signing has been called up for Wales as they face Armenia and Turkey, needing to win to have a chance to qualify for the Euros. Wales currently sit second in Group D on 10 points.
The new number 22 for Tottenham scored his first goal for the club on Saturday in their 2-1 defeat to Wolves. Johnson last played in Wales' 2-0 win against Latvia and although he didn't score or assist he played very well. With just over 20 caps for Wales, he will grow into an exciting player with his electric speed.
Ben Davies - Wales
Just Like his teammate, Ben Davies has also been selected in the Welsh national team, a big part of the squad since 2011, Ben Davies has 82 caps for his country.
Davies is an all-round solid player for Wales, who rarely disappoints whilst performing for his country.
Last time out he was able to score and keep a clean sheet versus Gibraltar earning Wales valuable points for their qualifiers.
Joe Rodon, the Tottenham centre-back on loan at Leeds has also been included in Wales squad for these upcoming games.
Injured Players
Unfortunately for Tottenham James Maddison, Richarlison, Micky Van de Ven, and Destiny Udogie have either left their national team or have not been picked due to suffering from their respective injuries.